Exertis Announces Spring 2021 Virtual Big Book of AV Dealer Show Dates, Locations
Virtual Big Book of AV tour kicks off March 11 in Miami, then to Memphis March 18, Montreal in April and Dallas, Denver and Phoenix in May.
Leave a Comment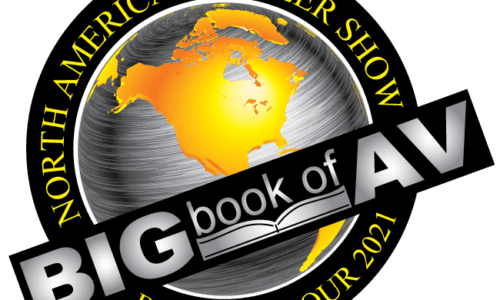 Exertis ProAV today announced the initial dates for its spring 2021 North American Virtual Big Book of AV Dealer Show schedule that includes six virtual stops in the U.S. and Canada, as well as one retail channel-focused event.
The Virtual Big Book of AV Global Dealer Show tour kicks off March 11 for Miami resellers and then moves on to Memphis on March 18, Montreal on April 15, Dallas on May 6, Denver on May 13 and Phoenix on May 20.
In between, there will be a retail channel event on April 8. More details will follow about that event.
More dates are expected to be added to the Virtual Big Book of AV schedule over the next four to six weeks.
Registration for the 2021 Virtual Big Book of AV spring dates is now open here.
"We are excited to take all that we learned during our first virtual tour and make the 2021 virtual tour even more engaging and compelling," said Exertis Pro AV president and CEO Kevin Kelly in the company announcement.
Related: Exertis Announces Acquisition of JB&A
"The critical component that makes our tour a must attend event is that attendees get to meet 1:1 with leading manufacturers to discuss their unique needs as opposed to other distributor virtual events where resellers have to attend group presentations by a manufacturer," he said.
This ability to engage on a 1:1 basis is "precisely what will take the spring 2021 tour to a new level of effective engagement that will immediately impact each participating reseller's business plans," said Kelly.
"Add to this 1:1 engagement the fact that we will be offering a full schedule of 45- minute CTS training courses, product presentations and general business sessions focused on helping resellers to leverage new technologies and new products into new revenue streams," he said.
More About Exertis Virtual Big Book of AV
Exertis' Virtual Big Book of AV Global Dealer Show features one-on-one meetings with manufacturers from every AV product category.
This full-day conference provides resellers the opportunity to meet one-on-one with manufacturers providing the latest technologies for audio, video, display, projection, lighting and staging, digital signage, conferencing, digital content creation, networking, signal distribution and more.
Each attendee receives a $500 Exertis Credit for attending the Virtual Big Book of AV Show. Limit one $500 credit per Exertis account. Credit can be applied to any order over $5,000 placed with Exertis within 30 days following the Big Book of AV Tour event. Limit one credit per customer account.
Each attendee can also earn up to $390 in Amazon gift cards (a $20 Amazon gift card for each 1:1 meeting attended and a $50 Amazon gift card for each manufacturer training session attended).  In addition, each attendee is automatically entered into a drawing to win a 55" 4K UHD TV.