The Girl Scouts are Bringing More Attention to Careers in Technology
Toyota, Lexmark, LGE-KU, Berea College Appalachian Fund and United Way of the Bluegrass contribute to local effort. Will other troops follow?
Leave a Comment
There's a lot of talk across AV about workforce development and recruiting the next generation of talent into the industry but seemingly far too few answers about how to start and where to turn to expose today's children to a potential career they might not otherwise be aware is possible for them.
You might be surprised to learn that the deepest inroads are not being made on college campuses or in the classroom, but within a Kentucky Girl Scout troop.
Girl Scouts of Kentucky's Wilderness Road (GSKWR) recently received nearly $50,000 in grant funding from Toyota, Lexmark, LGE-KU, Berea College Appalachian Fund, and United Way of the Bluegrass to provide STEM (Science, Technology, Engineering, Math) programs to 250 kindergarten through 12th grade girls in the state of Kentucky.
GSKWR offers experiential STEM opportunities through badge workshops, events and virtual programs that allow STEM learning to continue amid COVID-19 in-person limitations.
GSKWR's STEM initiative is a community collaboration that offers girls "the opportunity to build confidence in their STEM capabilities and succeed in these historically male-dominated disciplines," according to a recent group announcement.
GSKWR's local network of supporters include Morehead State University, Craft Academy, Nerd Squad, Challenger Learning Center, Kentucky Science Center, Microsoft, Toyota, Lexmark, Berea College Appalachian Fund, UK Healthcare, LG&E and KU Utilities, Kentucky American Water, and Dow Chemical.
These partnerships "provide necessary funding and also subject matter expert volunteers," according to the troop announcement.
"STEM-focused programs are a key pillar of Girl Scouting," said GSKWR CEO Susan Douglas in the announcement. "We are so grateful for our generous community partners who see the incredible value in STEM education and are willing to invest in Kentucky's future leaders."
According to the Center for Research and Evaluation, in 2019, women accounted for 1 in 4 STEM-qualified jobs. In the next decade, the U.S. workforce will need 1 million new STEM professionals.
The national Girl Scout STEM Pledge seeks to add 2.5 million girls to the STEM workforce pipeline by 2025. GSKWR's critical STEM-centric programs prepare girls to fuel the STEM workforce pipeline in Kentucky.
The Council is continuously seeking local STEM experts from the public and private sectors who are willing to mentor and teach local Kentucky Girl Scouts. Individuals or organizations interested in volunteering their time, expertise or resources should contact Tammy Durham, GSKWR's Director of Grants and Community Engagement at tdurham@gswrc.org.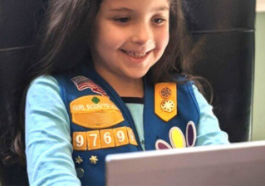 Girl Scouts are Future AV Pros
In July, the GSKWR and Girl Scouts of the USA (GSUSA) announced the launch of 24 opportunities "designed to help Kentucky girls practice ambitious leadership in the crucial areas of automotive engineering, STEM career exploration, entrepreneurship, and civics."
The press release noted many of these career paths "are male-dominated" and these badges are an attempt to expose young girls to the opportunities in those fields for them.
"In a year of unprecedented global change, our country's need for strong, broad-minded, and decisive leadership has never been greater," the Girl Scouts press release says.
The new Girl Scout badge opportunities include:
Entrepreneurship (grades K–12). Girls develop an entrepreneurial mindset as they build their own business plan and think about topics like production, cost, profit, marketing, and competition. Funded by Susan Bulkeley Butler and designed in collaboration with VentureLab.
STEM Career Exploration (grades 2–8). Girls explore their career interests in computer science, nature/environmental science, engineering, design, health, and agriculture. Funded by IF/THEN, an initiative of Lyda Hill Philanthropies.
Automotive Engineering (grades K–5). Girls learn about designing, engineering, and manufacturing vehicles, as well as the future of mobility. Funded by General Motors.
Civics (grades K–12). Girls gain an in-depth understanding of how local, state, and federal government works, preparing them to be voters, activists, and even political leaders. Funded by the Citi Foundation.
"Offering Kentucky Girl Scouts the opportunity to engage in new skill development and ambitious leadership opportunities enables the next generation of female change-makers here in Kentucky," said GSKWR CEO Susan Douglas in the announcement.
"From automotive engineering to STEM career exploration, we believe that providing our girls with these valuable experiences opens the door to a future of bold, informed, and compassionate leadership," she said.
Girl Scouts has made free self-guided activities from select new and existing programming available digitally to the public through Girl Scouts at Home and Kentucky Girl Scouts at Home, keeping families engaged and connected to their communities.
Girls can further engage through online videos, activities, or special live virtual events. In addition, beginning this summer, all councils will also have the opportunity to host their own Girl Scout Cyber Challenge, enabling middle and high school girls to learn cybersecurity skills.
These are programs that are available in most or likely every state across the U.S. and surely there are similar offerings in other countries that would allow young girls and women to learn more about a possible AV career at a time when their minds are open to all possibilities.
AV integrators would be wise to become partners with the Girl Scouts and other youth-based organizations in an effort to expose more potential future employees to the joy of a career in AV, one that has served them well, made them a good living and provided much enjoyment.