ASCII Group Expands Member Collaboration with ASCII-Link Community Platform
ASCII-Link member portal provides increased engagement and opportunities for ASCII members to directly connect with each other.
Leave a Comment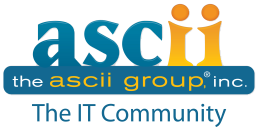 The ASCII Group, a membership-based community of independent North American MSPs, MSSPs and Solution Providers, recently launched an updated member community platform named ASCII-Link.
The new platform "provides increased engagement and opportunities for ASCII members to directly connect," according to The ASCII Group announcement.
Since its inception in 2008, ASCII-Link "has been a top exclusive benefit with ASCII members," the announcement says.
"ASCII built one of the largest IT community forums, where members communicate freely with fellow IT business owners to jointly solve technical issues, provide vendor recommendations, give input on revenue opportunities and more," according to the group announcement.
Vendors are not provided access to ASCII-Link and ASCII does not moderate posts.
"With messages exceeding over 3,000 posts per month, the IT community looked beyond its traditional list-serv for a modern, best-in-class tool," according to The ASCII Group announcement.
"Today ASCII's platform provides users with a more enhanced experience that includes a member directory, custom profiles, sub-groups and further personalization of the community," the announcement says.
"The new platform will help foster more partnerships and sharing of best practices within the ASCII MSP community," said ASCII Group president Jerry Koutavas in the announcement.
"ASCII continually looks at ways to help MSPs increase their ability to work together, and this is another step in raising the bar in driving more interaction amongst our members across North America," he said.
"ASCII is continually expanding on ways to help my business form partnerships and build upon opportunities with other like-minded MSPs in the group," said ASCII Group member Stephen Monk of Noverus Innovations.
"The new enhancements to ASCII-Link provide another way to connect and engage with other MSP members in the community," he said.
With the addition of the new system, ASCII users can share and work collaboratively on projects with others, from anywhere to anywhere. The group also has a community mobile app.
More ASCII Group Engagement Opportunities
The ASCII Group has several sessions of its Success Summit series scheduled for later this year, including stops in Cincinnati June 24-25; Washington, D.C. July 29-30; Atlantic. City, N.J., Aug 26-27; Boston Sept. 24-25; Chicago Oct. 7-8; Orlando, Fla. Oct 21-22; Houston Dec. 2-3; and a date to be determined in Toronto.
Registration for all scheduled ASCII Group Success Summit series events is open now.