CI Editors Get AV Version of Red Sox Fantasy Camp
Staffers create content to post to Fenway Park video boards using ANC's easy-to-use, drag-and-drop vSOFT software platform.
Photos & Slideshow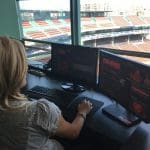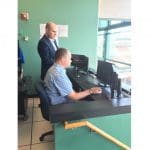 ---
Ever since I first started talking to ANC about getting a chance to run the Fenway Park video board using their vSOFT software platform in 2014, a phrase echoed in my head: "so easy even an editor could do it."
I knew the point of the endeavor and the invitation was to prove that the software was so user-friendly that you didn't need a bunch of acronyms after your name to figure out how it worked.
Even so, I was a bit skittish about being proven to be the exception to the rule, like when I try to buy hats that say "one size fits most" and they end up being too small for my well-publicized oversized noggin.
But, much to the delight of the ANC team, the five-minute training session I got in creating batches and moving those batches from the Fenway Park control room to the video boards installed by ANC was a huge success.
Photos: Inside CI editors' trip to Fenway
Web editor Rachel Quetti, who is certainly more proficient in these sorts of things than I'll ever be, learned how to create the opening sequence fans see before Red Sox games and display that on the video board too, even being bold enough to do it without any help from Jeff Paulson, ANC's director of platform integration, after he showed her how to do it the first time.
"People are used to certain timeline-based editing tools and we tried to make [vSOFT] look very familiar," says Paulson.
ANC's software platform is used by other Major League Baseball teams as well as some NFL and college football teams, says Paulson.
The key, he says, is planning ahead.
That preparation helped to make the training Rachel and I went through a success, certainly.
My endorsement of the ease of use for vSOFT is rooted in the fact Paulson made sure the folders we'd use for that training were ready well before we got there for our crash course.
Here's a look at what CI staffers learned in their vSOFT training session at historic Fenway Park:
ANC_Fenway from EH Media on Vimeo.
"Baseball is more of a day-to-day process, while there's more planning ahead with football," he says.
"Then it's a matter of putting things in the right folders so you know where to find them when you need them. There are always last-minute adjustments, but my goal is to be living in the batch tab."
Training for Red Sox staffers to learn how to be fully proficient in batch building and "other more elaborate things" takes about a day, says Paulson.
That's a great turnaround time for Jennifer Gahan, manager of Red Sox Productions, who notes some level of turnover on the gameday production staff necessitates the need to get up to speed quickly.
"After a while, I just let them run the show," says Paulson.
The pace of baseball games allows for some learning on the job, he says, while things can get "a little more complicated" at football games.
ANC installed eight displays at Fenway Park and has two at jetBlue Park, the team's spring training home in Florida.
ANC chief technology officer Mark Stross says the company "wanted to achieve the most simple-to-use system as possible."
Also See: 7 Baseball Teams Show Off Major League Technology for 2016
The vSOFT platform is based on Photoshop, Final Cut and After Effects, he says, with a hyper-resolution engine attached to a known interface.
"If you can make it as fast as possible to acquire good content, you've already won," says Stross. "You have to make complicated things easy for people if you want them to be able to use it."
And, while ANC remains proud of the way vSOFT works and how teams use it, they've made tweaks over the years based on feedback from the Red Sox and other partners, says Stross.
"Our relationship with the Red Sox has pushed our boundaries," he says. "The Red Sox pushed us to create better software. Today, what we have is a combination of notes from the Red Sox and other teams that use it."
This long-awaited training session was everything I expected and more, ranking among my top three Fenway Park experiences of all time, just behind being in the bleachers when the Sox won the 2013 World Series and playing a couple of innings in center field at Fenway during a charity game about 10 years ago.
As someone who's much better equipped to write about technology than actually program it myself, I was hoping I wouldn't end up doing something irreparable to the software by clicking the wrong thing or pressing the wrong button, but Paulson made it easy to understand and simple to do.
That said, now that Rachel and I have our crash course behind us, I can't help but wonder if Gahan and the Red Sox Productions team will invite us back to Fenway to create our batches during an actual game.
I think they said something about coordinating that with David Ortiz's comeback.