Growing a Green Culture Through Tech Integration
With technologies like solar panels, 3D printers and software, colleges are cutting costs and embedding sustainability in their campus culture.>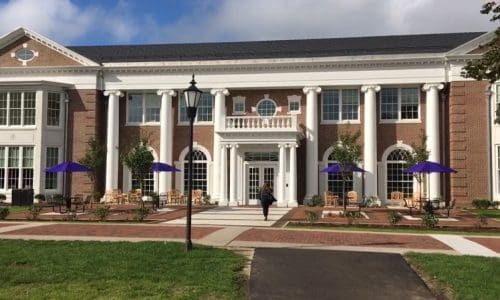 Stonehill College's campus is green — both literally and sustainably.
Like most colleges, North Easton, Mass.-based Stonehill draws its green culture from the ideas of faculty, staff, students, and technologies that save energy.
"Not only are we doing projects on water conservation and energy management, we're building solar farms and we're putting in electric vehicle charging stations," says Craig Binney, associate vice president for finance and operations at Stonehill. "We're doing a lot of different facility type projects. We have a very multi-dimensional approach to sustainability."
Binney says the college's 15-acre solar farm covers 20 percent of Stonehill's electricity consumption. He also says the school is looking to chop its electricity bill further by eventually adding parking canopies with solar panels to three campus parking lots.
"With the [current] solar farm, it covers about 20 percent of our electricity per year," Binney says. "These three solar canopy projects will cover another 25 percent. With some of the other roof tops units we have, we'll be close to about 48 percent of our electricity taken from the solar panels."
Binney also says Stonehill's largest leap towards sustainability is through its energy management system by Trinity Energy Management, which controls the air handlings in seven campus buildings. He says the college's energy manager uses the energy management system to cut back on wasted heat, air conditioning and money in empty buildings.
"If you asked [the energy manager], what is the number one thing you can do on campus, she would say energy management systems and scheduling buildings," Binney says. "We've had Stanger Hall (our computer lab and business building) — that used to be electric heat, and used to run 24/7. Now, it has controls on it and we've seen a great reduction in electric usage. It's now managed and the building is not heated or cooled when it is vacant."
Julie Reece says colleges like the Art Center College of Design exemplify a green culture on campus by investing in paper-based 3D printers for its students. She says these 3D printers create a green culture on campus by encouraging students to use recyclable paper for their printed models, and tossing paper scraps back into recycling.
"They can use pre-printed paper in the machines," says Reece, director of marketing for Mcor Technologies. "You print out a bunch of theses and you have all this paper. What do you do with it? You can toss it in the recycle bin, but you can also use it in the printer. We are the only company in the world that uses ordinary copy paper in a 3D printer."
Learn more about green technologies that integrators can and are implementing in colleges in an extended version of this article on HigherEdTechDecisions.com, plus much more higher ed market analysis.