Red Thread: Furniture Company or Change Agent?
Born out of an office furniture manufacturer, Red Thread is having different audio-video conversations than any other integrator — and clients like what it's saying.
Photos & Slideshow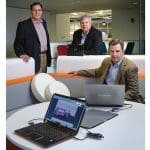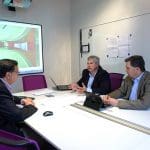 ---
It's not that Red Thread never considered just distributing Steelcase's technology products and working with third-party integrators.
It tried that, Corsi recalls.
"We originally started to partner with a small integrator in the market, but it was sort of a challenging conversation to have with a client. You're trying to implement this solution and you have to bring in somebody else to implement it. So we thought maybe we should invest in acquiring somebody or developing those resources ourselves."
It did both. Mitton, CIO at the time, had an appreciation and passion for AV technology. "I raised my hand," he says. "I saw the vision and was really excited about what it brings."
Integration wasn't really new to him. In his previous job he implemented ERP (enterprise resource planning) systems, including a $32 million project. He coordinated 78 employees. Meanwhile, he bemoaned the analog methods used back then to manage projects, and learned a lot about how AV can impact workflow. "It spoke to me," he says.
With the acquisition of two workforces and Mitton's leadership, Red Thread's AV division was off and running despite lacking some critical elements. "We launched with no [product] lines," Corsi recalls, so the group began courting manufacturers with the AFT concept. "They're looking at it and saying, 'That's interesting. There's this large company. They have this huge client base of the Fortune 100 of Boston, and now they're introducing technology to these clients.' They saw a home run."
Change Agents Earn Bloody Noses
It was in the early days of Red Thread's audio-visual integration group when it took the most lumps from competitors.
"I think they became nervous," Marshall says. "We were taking an innovative approach to the AV business and I think the traditional AV people started to look up and go, 'uh oh!' So they had to go to the market and say 'they're a furniture company.'"
That furniture company was not only talking to prospective corporate clients sooner because it was selling them office furniture; it was also getting involved in projects sooner — the Holy Grail of system design — because of a unique relationship with the architecture-design (AD) community.
Related: Top 14 Corporate Market Integrators of 2014
That probably did raise the eyebrows of competing integration firms, but the reality is that the AD community didn't immediately embrace Red Thread's AV approach. Marshall speculates that architects were nervous about how Red Thread was shaking up the way projects traditionally flowed. "We had to work even harder to educate them about AFT, and that we're not competitors — we're here to help them."
Red Thread considers it an obligation, Marshall adds, to take the global office trends research that parent company Steelcase provides and share it with the AD community. "When you think about the relationship between space, furniture and technology, we can be very instrumental in educating them on the value of what it does."
On a very basic level, what Red Thread is really doing with its audio-visual integration group is leveraging the resources it has that are unique compared to competitors. The Steelcase-funded research is considered an invaluable resource and Red Thread likes to use it to educate the marketplace on how space can be best utilized and how technology is part of that.
"We took advantage of that," Marshall says. "Nobody else can do that. Nobody is making those investments."
Those advantages don't come without risks. Part of the message that Red Thread delivers to the AD community and its clients flies in the face of traditional building — "a construction world that has done things the same way for 50 years" as Marshall puts it. "They had it down. They had the efficiencies down. They knew how much drywall was going in. They knew how to get wiring and cabling distributed to ceilings. We're coming in and disrupting that, so that's risky and we got a lot of pushback. We stuck with it because we believed it was right."