All the Benefits of Touch Technology from Samsung
With an exclusive price from Exertis Almo
Content from our Sponsor
Leave a Comment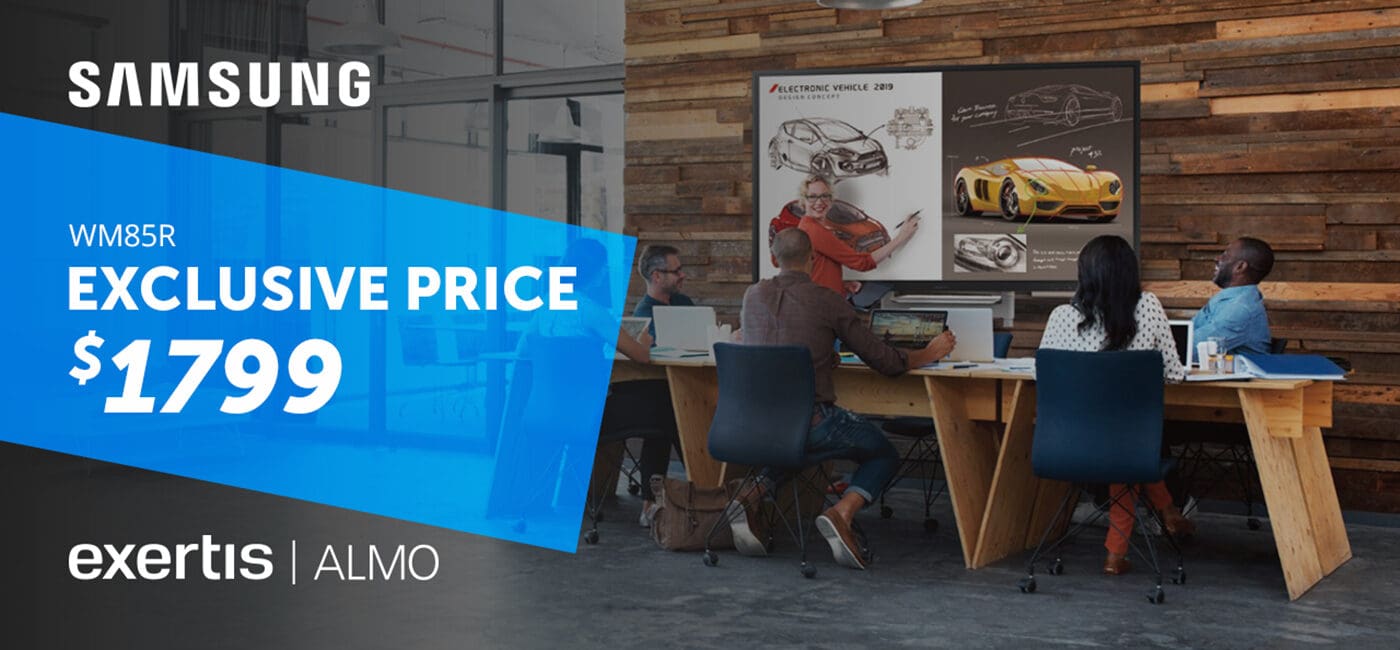 Ubiquitous mobile devices, with their ease of use and touchscreen interactivity, have evolved beyond what was once a "nice to have" into a necessity. Touch input is the new norm not only on personal devices but rapidly growing in commercial and educational applications. This growth isn't limited to personal devices and small screens but is rapidly expanding to large interactive flat panels displays (aka IFPs) aimed at multiple users. At this level it is about increasing productivity through unified communication and collaboration.
Perhaps the primary appeal of touch screen technology is the natural, intuitive, and direct interaction it facilitates. In a book by Steve Krug called Don't Make Me Think he shows that the more complex accessing what we want to share is, the less likely we are to use it. In many cases there is a learning curve and an intimidation factor. Touchscreens can make everyone an "instant expert," even for those that struggle with technology. With an IFP it is simpler to operate and far more intuitive to use. Touchscreens provide direct navigation and accessibility thus removing the need for a traditional remote or keyboard and mouse. They help the user and devices operate better and faster, eliminating the time thinking about and navigating where the mouse is on the screen. You point where you want to go, and you tap on the application you want to open; it's intuitive and instinctive.
While there are numerous benefits in touch and IFPs specifically, there are differences that relate to the quality of the touch experience. At the core of those differences is that the technology can still get in the way. Using the Samsung WM85R to illustrate the point we can see one major difference at the outset. The holy grail of touch is to make it appear as if you are manually writing on a white board just like you would a chalk board or actual paper. With many competitive models of IFP on the market you touch, annotate, or draw and there is lag or hesitation on screen between action and image. This becomes a distraction that causes you to pause to accommodate the disruption in your thought process. With the InGlass style technology of the WM85R what is on your mind to share is directly connected to the "whiteboard". Just think it, write it and consider it done. Nothing gets in the way, most especially the technology. This IFP is natural and easy to use with no intimidation and no learning curve.
Adding to the quality of the touch experience are built-in capabilities to consider (features that are benefits) crossing over the boundaries of corporate and educational IFPs. Once again using the WM85R as an example there is screen mirroring on every platform. Bring your own display or BYOD (phone, tablet, laptop) and you can share. Easy access of content is available via a network, internet, or a USB drive. Your IFP is more secure with Tizen built-in and for heavy duty applications there is an OPS slot available. Central hardware remote management is critical in all applications and this is done via MagicINFO RM.
IFPs are rapidly becoming a necessity in commercial and educational applications which are demanding the intuitive and easy to use benefits that interactive touch technologies can bring. While IFPs may look alike, they are not. There are differences and it begins with the quality of the touch experience evidenced in the WM85R. If you don't know IFPs, it's never been more affordable to dive into the technology with an exclusive price on Samsung's WM85R, only from Exertis Almo. While supplies last, pay only $1799 for this impressive and easy to use interactive Flat Panel Display. Contact your Exertis Almo sales representative today to place an order.

If you enjoyed this article and want to receive more valuable industry content like this, click here to sign up for our digital newsletters!