Bose Professional Control Space Audio Conferencing System: 9 Things You Need to Know
InfoComm 2017 attendees took note of these 9 features of newly released Bose Professional Control Space EX Dante-based Audio Conferencing System.
Leave a Comment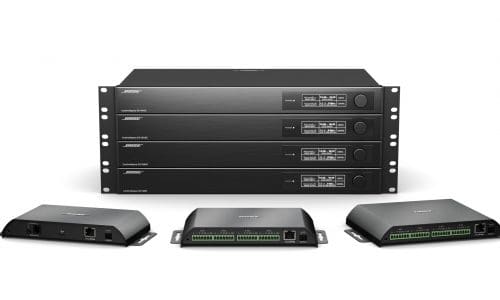 InfoComm 2017 marked the first time many got a first-hand look at Bose Professional Control Space EX, its system that includes Dante-based products for audio conferencing.
Commercial Integrator audience members, however, got a second hand look in March with our consultant-written, hands-on review of the ControlSpace EX line. Marc Happes, a senior engineer and consultant with ACT Associates, positioned Bose's entry as changing the landscape of Dante in conferencing solutions.
"The ControlSpace EX product line is an impressive competitor that offers many advantages over the popular products at a compelling price.
"Bose Professional's notable Dante DSP and three under table boxes, improved Dante features and new conferencing-specific DSP modules will save time throughout the design and installation of any integrated conference room."
As InfoComm 2017 attendees checked out Bose Professional's ControlSpace EX audio conferencing system first hand, they probably took note of some key takeaways via Bose Professional:
Until the release of the ControlSpace EX line from Bose Professional, there was a minimal price advantage for Dante conferencing processors –Marc Happes, ACT Associates
The ControlSpace EX system includes the ControlSpace EX-1280C conferencing signal processor and three ControlSpace EX Dante-based under-table endpoints (EX-4ML, EX-8ML and EX-UH).
Starting at the conference room table, the three low-profile under table boxes (UTB) with integrated Dante and PoE allow multiple microphones and codec connections from the table to the rack with just one Cat 5 cable.
The EX-8ML and EX-4ML analog microphone endpoints support eight- and four-channel microphone inputs respectively, with 48V phantom power, built-in Dante audio conversion, daisy-chainable PoE, and onboard 12V power and multiple GPIO per-channel.
The EX-UH adds USB and handset audio for expanded codec options and convenient plug-and-play connectivity at the table for BYOD applications.
The EX-1280C processor includes USB, VoIP, analog telephone, and Dante connectivity, eliminating the need to choose from different DSP models for different applications.
The 1RU design features 12×8 balanced analog I/O, 12 routable acoustic echo cancellers, 64×64 Dante audio networking, two-line VoIP, a USB port for PC soft codecs, PSTN for analog telephone connections, eight-channel Bose AmpLink output, serial control via RS-232 and UDP, and a convenient front-panel interface with OLED display.
ControlSpace EX components are configured and controlled with Bose ControlSpace Designer 5.0 software.
Onboard microphone preset configurations make designing with native Dante microphones easy, while new conferencing-specific algorithms, the Conference Room Combiner and Conference Room Router, offer time-saving presets and setups for standard conference room installations.
ControlSpace Remote 2.1 has been upgraded to support the new EX and includes a dialer for creating a complete tablet-based user interface for conference rooms. Drivers for popular control systems are also available.
Find more InfoComm 2017 coverage here.