BenQ Connects Workspaces With New Meeting Room Web and Conference Cameras
BenQ DVY Series conference camera bundles include AI-powered 4K, wide-angle 1080p, and 1080p PTZ cameras with omnidirectional mics and more.
Leave a Comment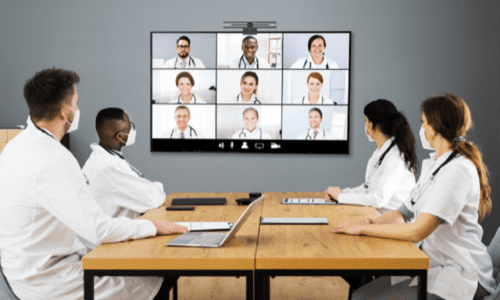 BenQ, a provider of visual display and collaboration solutions, is releasing its next meeting room solution, the all-new DVY Series video cameras. The new product ensures a seamless hybrid meeting experience with one click. It includes the DVY21 1080p meeting room webcam, DVY22 4K digital zoom conference camera, and the DVY23 1080p PTZ conference camera. They are also available as a smart videoconferencing bundle with the ST02 meeting room display series.
"A meeting room, no matter the size, must include the collaboration tools that guarantee productivity, collaboration, and simplicity to make the best use of time and inspire innovation," said Claire Lin, Senior Product Manager, Google Jamboard and Enterprise Collaboration Solutions for BenQ America Corp. "At BenQ, our goal is to develop solutions that complement every part of the meeting workflow and help users accomplish goals, no matter the evolving tools they may require. The launch of our DVY Series cameras is a continuation of our commitment to bring meetings to life with ease and confidence."
BenQ's DVY Series cameras are ideal for huddle rooms, the USB plug-and-play DVY21 1080p full HD meeting room webcam captures all meeting participants with a wide-angle 88-degree field of view, features omnidirectional microphones with noise suppression, and automatically adjusts to lighting conditions for the best onscreen visibility.
The USB 3.0 plug-and-play DVY22 4K 126-degree wide-angle conference camera for midsize meeting rooms features 4 times digital zoom, AI-powered auto framing that smartly senses everyone in the room, omnidirectional microphones with noise suppression, dual-stream support, and super-low-light performance.
Built for the AV system flexibility demanded in large conference rooms, the DVY23 1080p PTZ conference camera boasts 20 times optical zoom; option of USB 3.0, HDMI, 1GbE with PoE, and 3G-SDI video outputs; RTSP and RTMP streaming support; and an array of control ports, including RS-232, RS-422, RS-485, LAN, and remote control to ensure compatibility with any existing control protocol utilized in the room.
The 4K UHD ST02 Series displays combine BenQ's expertise in signage, display, and collaboration technology, including BenQ's renowned InstaShare 2 wireless presentation system, Device Management System (DMS), Account Management System (AMS), OPS slot, digital signage, and whiteboarding features.
The displays are compatible with any mainstream videoconferencing platforms, including Zoom, Google Meet, Teams, and Cisco Webex. When the DVY Series cameras are paired with the ST02 corporate meeting room display series, users are able to jump-start their meeting room IoT projects.