ClearOne CHAT 150 BT Speakerphone to Enhance Conferencing Experience
ClearOne's new CHAT 150 BT speakerphone features USB and Bluetooth connectivity, providing BYOD convenience and audio clarity.
Leave a Comment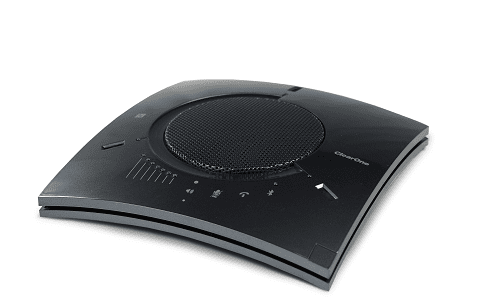 ClearOne has introduced the new CHAT 150 BT group speakerphone with USB and Bluetooth connectivity to enhance the conferencing experience.
According to the Salt Lake City-based company, the new product allows for a simple and instant connection to personal computers, mobile devices or Bluetooth-enabled desk phones. The CHAT 150 BT group speakerphone thus provides users with an affordable way to upgrade spaces with BYOD convenience. Examples of spaces include home offices, executive offices and mid-size meeting rooms. Moreover, the speakerphone provides audio clarity for audioconferences and video meetings.
Creating Clear, Consistent Audio
The CHAT 150 BT group speakerphone also has an audio-bridging feature that allows far-end conference participants connected via a software-conferencing application through USB; local users of the speakerphone; and far-end callers on a mobile call connected through Bluetooth, to all join the same call and hear each other clearly.
The CHAT 150 BT has a steerable microphone array with first-mic priority, With this, it intelligently activates the microphone closest to the person speaking. This then reduces interference from ambient noise. Like all microphone products, the CHAT 150 BT group speakerphone is compatible with popular collaboration platforms, says ClearOne. These include Microsoft Teams, Zoom, WebEx, Google Meet and many more.
Also Read: ClearOne Conferencing Solutions Improve Meeting Experience at McGuire Sponsel
Enhanced Compatibility
The new BT model retains all the features of the original CHAT 150 speakerphone, ClearOne proclaims. These include advanced noise cancellation, full-duplex, distributed echo cancellation and automatic-level control algorithms. These features help ensure highly intelligible, natural audio capture and playback. It also supports NFC tap-to-pair and includes a wired USB connection. This ensures compatibility with the full variety of modern devices.
At just over one pound, the CHAT 150 BT group speakerphone is easy to take wherever it's needed, ClearOne reveals. Moreover, its touch interface provides convenient control of volume, mute and Bluetooth functions. And it does so with a sleek, elegant aesthetic.
"Every product we design has the shared goal of making it easier for companies and individuals to communicate remotely with excellent audio quality and class-leading simplicity," says Derek Graham, CEO of ClearOne.
"The CHAT 150 BT upgrades our customer-favorite speakerphone to enable even more flexible usage that's ideal for today's ever-changing needs and reflects the growth of BYOD conference calls and meetings. ClearOne continues to evaluate the needs of businesses and individuals working in today's complex office environments; and we're proud to deliver innovative features and benefits to make every meeting easier and more productive," Graham adds.
If you enjoyed this article and want to receive more valuable industry content like this, click here to sign up for our digital newsletters!