5 Reasons Why Your Clients Should Be Using Portable Digital Flip Charts for Collaboration
The collaborative workspace is here to stay.
Content from our Sponsor
Leave a Comment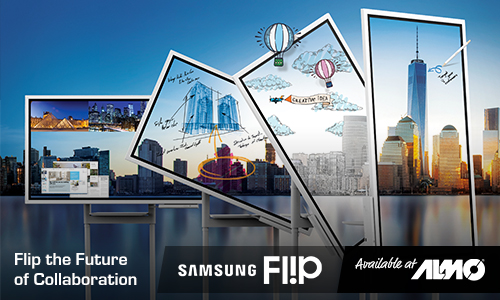 The collaborative workspace is here to stay. And while those spaces are continually being updated and changed, one thing is constant: there will always be the need for people to meet, whether it's to work through challenges, brainstorm, propose new ideas or share information and content.
Having the right tools for collaboration is essential.
Enter the Samsung Flip, a digital, interactive flip chart that helps to drive more productive and efficient high tech collaboration. It is an interactive UHD display that allows a communicator to work smarter and better than if they were using a traditional pen and paper flip chart. The Flip bridges the gap between high technology office tools and the old-school flip chart with results that are easily captured, archived and shareable.
The most likely application is for huddle rooms in a traditional corporate business environment. BUT DID YOU KNOW digital interactive flip charts are also ideal for use in many other vertical markets? Think about it:
Hospitality to list the hotelier's attractions, activities and notices throughout a property
Exhibit Halls to further showcase a new product's features, a company's messaging or events taking place on the floor
Retail as sales tools or for product demonstrations
Small Businesses to serve the technology needs of a bustling office
Professional Sports Organizations to review games, create plays and bring a team together
Education to teach a class a lesson or for a small group project
The list is endless!
5 reasons why your clients should be incorporating The Samsung Flip into their Professional AV projects:
It's Portable: Just like paper flipcharts on easels, the 55-in., 4K-capable Samsung Flip has an optional stand with wheels, making it easy to move around offices or hotel meeting spaces. And in locations with limited collaborative areas, the Flip can transform any environment into a fully functional huddle space.
It's Easy to Use: Walk up to the Flip and it just turns on, identifying someone's presence with an embedded smart sensor, letting participants dive right into the content. It uses touch-driven communication for the experience of smooth writing or drawing that is like working on traditional paper.
It's Presentable: The Flip can drive digital presentations. Imagine walking the team through a presentation deck, then pivoting it into portrait mode to develop notes and gather real-time feedback on the spot. Up to four people can write simultaneously using any object as a writing tool and sections can be cleared with a simple hand swipe motion, which is neater than crossing out notes and easier than using an eraser.
It's Sleek and Flexible: The Flip design is sophisticated and forward-thinking. With an ergonomic tilt of 4.5-degrees, it offers a natural and comfortable writing surface. It works in traditional flipchart orientation or can be pivoted to sit in landscape mode.
Notes Can Be Saved and Shared: Notes from a meeting can be recapped and shared straight from the Flip using built-in email, distributed over the network or saved to USB storage. It also has an intuitive interface to locate and view saved materials, eliminating the worry about lost or erased handwritten meeting notes.
The Samsung Flip and optional stand are available through Almo Professional A/V now. Contact your Almo territory manager to order today.