Almo Professional A/V Partners with ARHT Media to Offer HoloPresence and Virtual Global Stage
Partnership between Almo and ARHT Media on HoloPresence and Virtual Global Stage will help companies and groups hosting virtual events.
Leave a Comment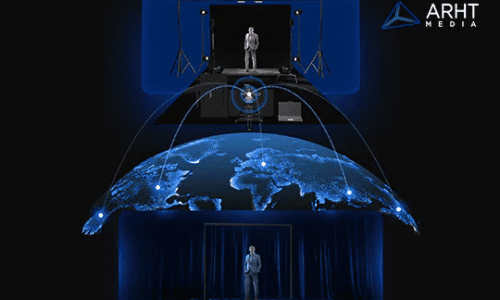 Almo Professional A/V is "taking virtual business and events to a new level through an exclusive partnership with ARHT Media," according to a joint announcement today.
Almo will offer ARHT's HoloPresence technology, which is "capable of delivering lifelike holograms, as well as ARHT's premium online presentation platform known as the Virtual Global Stage," the joint announcement says.
HoloPresence "enables presenters to appear remotely in front of an audience to speak and interact with people in real-time using ARHT's proprietary HoloPresence Displays that have been specially created to deliver lifelike holograms that give a sense of presence when in the room with you," according to the announcement.
The technology "allows for both live and pre-recorded holograms and offers a range of possible applications from being used to beam in speakers, for meetings, conferences and events as well as for lectures, tradeshows, advertising, marketing campaigns and more."
The Virtual Global Stage "leverages the proprietary transmission software that powers ARHT's HoloPresence platform to beam multiple presenters in real-time into a virtual environment online to appear in lifesize proportions with the capacity to interact with each other virtually."
The technology "helps amplify online presentations, with a much more engaging experience and the ability for presenters to utilize key aspects of natural communication like body language," according to the joint announcement.
The two products can be used together "to create hybrid events that take place both online and offline at the same time helping companies reach the largest possible audience and delivering a truly unique and highly engaging experience like never before," according to the announcement.
Why Almo Partnered with ARHT Media
Both HoloPresence and Virtual Global Stage are now available through Almo Professional A/V and can be used for panel discussions, fireside chats, training events, town halls, product launches, concerts and more—both online and in person.
"COVID-19 has taught us that even though we all miss that in-person interaction, it is no longer the only way to do business," said Almo executive VP and COO Sam Taylor in the joint announcement.
"It has, in fact, given our industry the opportunity to tap into new technologies that increase the quality of the virtual experience and augment live events while improving productivity throughout the day," he said.
"We have partnered with ARHT Media to bring this technology to our partners, specifically those focused on rental and staging as we know that 'live events' is currently one of the hardest hit segments in the market," said Taylor
"The technology is ready for prime time and is poised to truly enhance the way we interact, both now and into the future," he said.