DTEN Announces Windows, Android Versions of D7X Series Collaboration Display
DTEN is releasing an Android Edition of its platform-agnostic D7X Series all-in-one conferencing display for collaboration.
Leave a Comment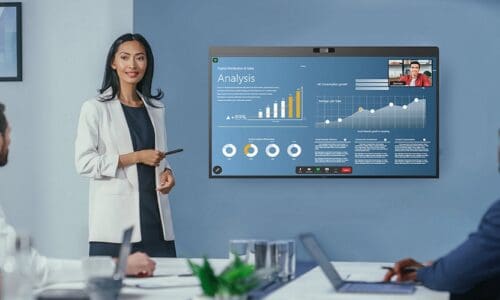 All-in-one collaboration device manufacturer DTEN is releasing the Android Edition of its platform-agnostic D7X Series video collaboration displays, shortly after releasing a Windows Edition last month.
Like the Windows Edition, the San Jose, Calif.-based DTEN bills the Android Edition as an all-in-one conferencing solution that provides enterprise-quality images, sound and more natural whiteboarding.
According to the company, both touchscreen displays feature all-in-one simplicity with built-in speakers and a 15-microphone array, as well as an extra-wide 4K, 129-degree field-of-view camera.
The device also comes with DTEN Smart Connect, which allows users to directly control meetings from their laptops.
Like other all-in-one collaboration displays, both editions of the DTEN D7X feature intelligent noise reduction and smart framing that keep unwanted noise out of meetings and help keep remote users connected to those in the conference room.
The devices are certified for Zoom, but can work on Microsoft Teams and virtually any other conferencing platforms, the company says.
This is a departure from the company's other collaboration displays, which are largely purpose-built for Zoom Rooms.
"The DTEN D7X Series offers a unique combination of advanced collaboration features, simplicity of set-up and intuitive use, and best-in-class affordability," says Nia Celestin, the company's head of marketing. "Every meeting room becomes a modern, inclusive workspace with the ability for the entire team to fully participate."
Celestin adds that the D7X series ins 100% in stock.
Last month, DTEN Founder and CEO Wei Liu called the D7X Series the "next level" of video collaboration.
"Our passion for true-to-life interactions, relentless focus on intuitive user experiences, and unparalleled expertise in product design all come together with DTEN D7X," Liu says.
The device is available with both 55-inh and 75-inch touchscreen displays.
According to the company's website, the Windows Edition is $4,999 for the 55-inch display and $8,499 for the 75-inch display. Prices for the Android Edition were not yet available.
This article originally appeared on Commercial Integrator's sister-site MyTechDecisions.com.