Exploring the Future of Work
The IMCCA's webcast titled "Collaboration Week: The Future of Work" revealed that collaboration, autonomy and flexibility will be keys to success.
Leave a Comment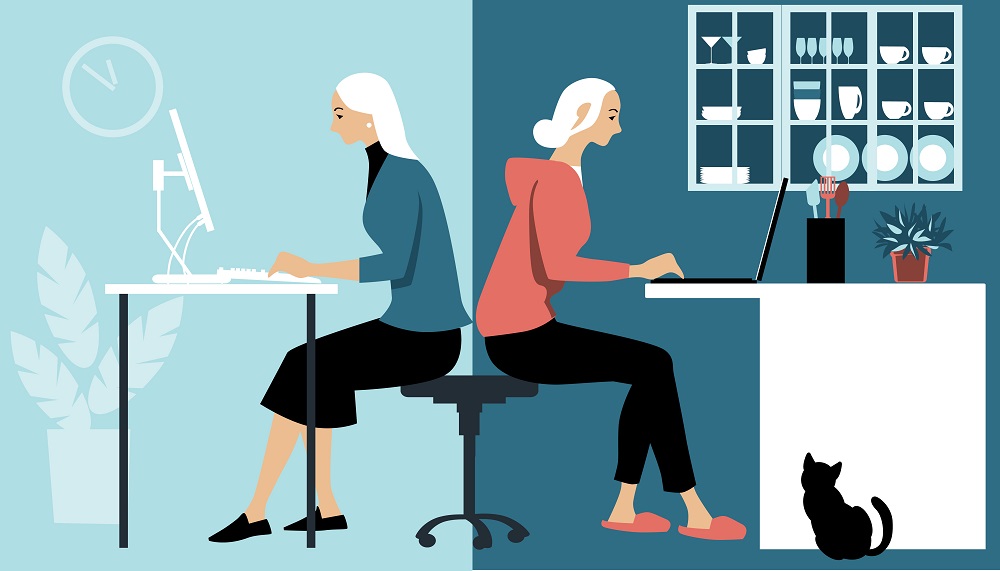 Since the pandemic began, phrases like "lockdown," "stay at home" and "bend the curve" became part of our everyday vocabulary.
However, other words, such as "hybrid," "remote" and "flexibility" have also become more prevalent. These words have since become ubiquitous in the workplace, with every company looking to incorporate them as part of their office culture.
The IMCCA, a nonprofit industry association based in New York, recently organized a webcast entitled "Collaboration Week: The Future of Work." The webcast aired on Nov. 16, 2021.
Panel discussions sought to determine the future of work with regard to various issues. These included the changing workspace, the dynamics of the current generation and incoming ones and the shift in collaboration technologies.
There were three different panel discussions chaired by Gary Sorrentino, global deputy CIO of Zoom; Dr. S. Ann Earon, president of TRI; and Michael Goldman, CTS, principal at Communications Design Associates, respectively. They are also on the IMCCA Board of Directors.
The discussions included prominent commercial AV thought leaders such as TD SYNNEX's Sandi Stambaugh and Crestron's Lauren Simmen. David Danto, IMCCA's director of emerging technology, emceed the webcast.
Decoding Hybrid Work and Collaboration Technologies
What do "hybrid," "remote" and "flexibility" mean today? This was the first question posed by Sorrentino in the first panel. For Simmen, hybrid and flexibility are very similar to each other. She remarks, "So, you see people coming in on their own. You have a dedicated in-office time and a dedicated collaboration time. The difference in hybrid is that you deal with people in remote locations. The flexibility is tied to how the business operates, whether it is being in office three days a week or once a month. That's the 'flexible' work schedule of hybrid work."
On the other hand, Tom Loza of Bluescape remarks that hybrid meant a change in technology from device-centric to people-centric. According to Loza, it's about technology being brought to the collaborator versus being sent to a destination. It essentially has become a tool to boost people's adaptability and flexibility in different environments.
Loza further adds that the most impactful collaboration technologies are the ones that allow both an asynchronous experience and real-time communication. This is evident when looking at Zoom, which has provided people the configurations to participate in calls from anywhere and at any time.
With collaboration platforms now the norm, companies can provide technology that is useful and usable for employees, regardless of where they are. Aurangzeb Khan of Jabra states, "New architectures and new technologies are enabling us to deliver this [collaboration] experience so that, whether you're at home or in the office, you have a pretty seamless sense of the virtual space."
But simply having the right collaboration platforms is not enough. A hybrid workflow must be ingrained as part of the office culture. It should emerge as an integral feature of a company's productivity.
Analyzing Office Culture for the Future
The pandemic changed the landscape of office culture when the work-from-home option became standard. As a result, employees now require an incentive—or, at the least, a good reason—to return to the office. Khan revealed that his company conducted a survey that found that 63% of millennials would change jobs based on the availability of flexible work schedules. Thus, the next question was how company culture could encourage people to return to the office.
As Sorrentino pointed out, most people (or their employers) have now invested in home-office technology. So, returning to office might not provide the same productivity boost as it used to.
According to Simmen, attracting people to the office environment is all about the experience. She says, "If we are asking people to come into the office, we need to make sure that they have a very good environment to come to. [That especially means] one that promotes collaboration and having a dedicated workspace. It's making sure that everybody has a setup that matches the home setup."
Embracing the Gen-Z Workforce
Another major issue that emerged from the pandemic is the significant differences among generations in the workforce. As Sorrentino points out, while the millennial generation is adapting to remote work, new hires are going through in-office experiences for the first time. Senior-level management is crucial in closing the generation gap and fostering an environment that is engaging for all.
Khan adds that his company introduced the concept of open-mic discussions where employees could come together and provide feedback on workplace policies and culture.
Joshua Obusek of Compunetix suggests that companies would be well served by embracing the thinking of the new college graduates and interns. It might be wise to adopt their principles outright.
Echoing Obusek's thoughts, Loza adds, "We were the generation that brought in the BYOB culture and the BYOD culture. But the younger generation has adapted extremely well to the asynchronous environment. My advice would be to really listen to that generation instead of conforming them to how we used to work."
Setting Up the New Workspace
Earon, who led the following panel, said that future office spaces should be tailored to the purposes of not only the enterprise but also the individual employees. She then asked, "How should office designs change to adapt to this future?"
Jason Moss of QSC remarks that office spaces should emphasize collaboration and a sense of community. He reasons that people return to the office to meet with people and engage in conversations. Thus, it is vital that office designs reflect those priorities.
According to Scott Srolis of Salamander Designs, there has been a significant rise in huddle spaces and agile spaces. He describes a project in which 300 "silent" rooms with no audiovisual technology were converted into conference rooms. "[While] there are fewer heads down in workstations on the open floor plan, there is more real estate to bring people together and have that community and collaboration. So, we are designing a lot of spaces that really resemble those elements," Srolis says.
Stambaugh of TD SYNNEX adds, "Video [and audio] is an absolute necessity. And it needs to be seamless, simple and that connectivity has to be there. But it has to be part of the room, as opposed to being the purpose of the room."
Read Next: How to Preserve Company Culture in a Remote Work Environment
Broadly speaking, the physical office needs to be a hub for nurturing company culture. As Moss puts it, "It's not necessarily about being there for the connectivity and productivity, but more for the human connection that builds that culture and camaraderie."
The panel also touched on sustainability and environmental consciousness. During the pandemic, several people noticed commuting's negative impact on the environment. However, those harmful effects decreased as people began working remotely. Moss adds that companies now need to be more cognizant of energy usage and consumption when making workspace decisions.
Additionally, it is evident that the pandemic is likely to continue in some form. As a result, employees need to be able to receive information on office-space population density. This is possible with tools like room-booking systems that help employees decide if they wish to be present physically.
"We are piloting a thing where I can tell if a room is booked or not…and if it's empty or not when I'm on my way in," Christopher Jaynes of Mersive recalls. "I can also reserve it from own home office so my engineers know that [I'm] coming in today and [they can] find another space."
Although meeting spaces and conference rooms are critical for those employees who return to physical offices, it's equally important to ensure that remote and hybrid employees can connect and collaborate with their in-office counterparts.
Factoring in the Home Office
Given that remote and hybrid work are here to stay, the final panel discussion shifted to the home-office setup. The panel, which Goldman led, began the discussion on office tools and their cost.
Michael Duda of Google stresses the need for effective and reliable videoconferencing tools, including gear such as microphones, headphones, webcams, decent lighting, bandwidth, etc. As most of this gear is expensive, it can potentially create an economic disparity between employees. From Duda's perspective, it should be the company's responsibility to provide such equipment for employees.
"It's interesting…the concept of investing in a setup," Duda says. "I'm fortunate to work for a company that actually dedicated a budget for each employee. [But] I think it's largely up to the senior management on what kind of money they should be investing. Whether it's capital from your own pocket or the company's pocket, it is a fiscal decision. Ideally, it should come from the company."
John Bailey of AVI-SPL brought up another factor—namely, the security of the home setup. "In corporate facilities, that was easier to accomplish," he explains. "We could put locks on doors and firewalls and things like that. [Now,] when we think about the distributed workforce and working from home, security is no less important. It's just more challenging to implement from a corporate enterprise standpoint."
According to Goldman, security will be the top priority for enterprises as the number of employees with remote/hybrid setups continues to rise.
Final Thoughts
For Duda, going back to office after two years was a surreal experience. He emphasizes that it was really important to him that there were other people in the office. "If there is a drive to be in the office with other folks there, and you can make an actual productive collaboration space, then absolutely let's go back," he says.
Bailey adds that, in the end, these decisions should be left to the employees on a case-by-case basis. He further explains, "We need to move forward with the idea of people first, not technology first. So, [we need to see] what's going to provide the best employee experience [and] the best user experience."
Bailey ended the panel by highlighting the notion of participant equity. "We never talked about this kind of stuff before hybrid, but it's always been a challenge," he acknowledges. "Even when we're all in the same space, we're not positioned equally in meetings, so it's super refreshing [to discuss], and it's something we need to continue to stay focused on in the future."
Carol Zelkin, IMCCA's executive director, echoed the importance of the webcast's messaging. Zelkin concludes, "Clearly, [the] global pandemic has shown that remote and hybrid working for knowledge workers…works. Companies did not go out of business. In fact, productivity increased [and] the environment improved. Disabled and homebound employees found that the increased use of collaboration tools now gave them a level playing field with everyone else. The onus is on the business world to adapt and evolve as we together create the new future of work."