Futureproofing Technology Investments
Lots of technology was acquired to cope with pandemic-era needs. CI shakes out the trends of how those tools are being leveraged today, and how they will be utilized tomorrow.
Leave a Comment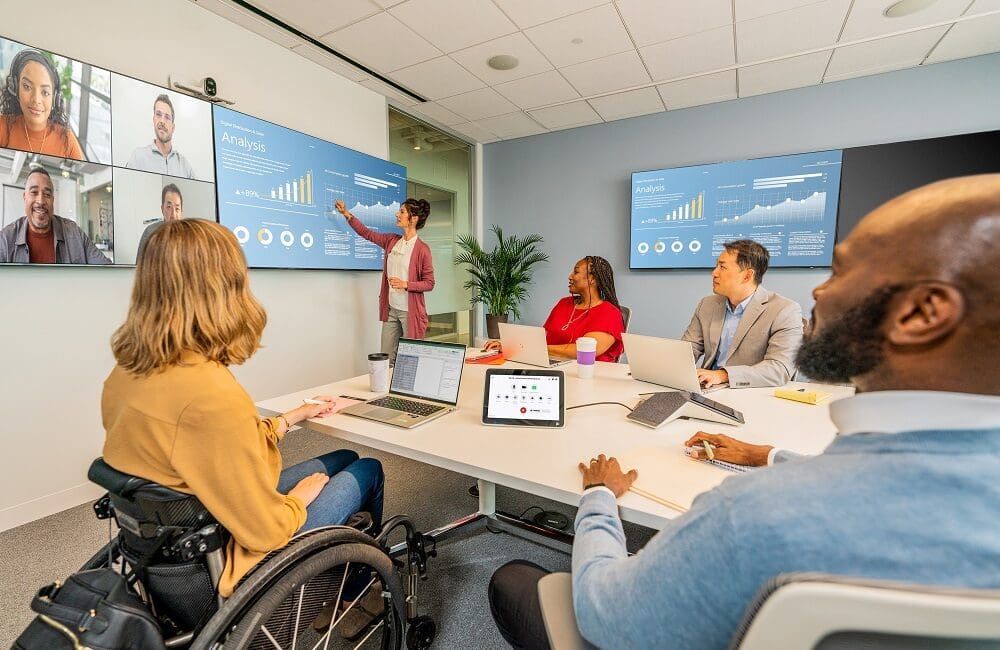 With the COVID-19 pandemic in the rearview mirror, employees are starting to repopulate physical offices. However, they're not doing so at the same level as before the pandemic. It's no secret that hybrid work is here to stay. That fact also means that there's no one-size-fits-all approach to meeting rooms today. 
Every hybrid meeting space has the same fundamental needs. Of course, it goes without saying that audio is a critical component of any hybrid meeting. In-person participants must be able to hear remote participants clearly, while also ensuring that their own audio is captured and delivered reliably. But high-quality video and an easy-to-use meeting interface are equally critical to collaboration success. 
Each meeting space needs the right mix of products to deliver an excellent experience. Huddle spaces, boardrooms, training facilities and auditoriums all need specific solutions optimized for the events and activities that they contain. Meanwhile, clients want a consistent and seamless experience across every room in the workplace. Clients expect technology to help maximize their productivity and collaboration effectiveness while enhancing their overall experience. To achieve those ends, technology must be scalable and flexible, requiring minimal setup time. 
Grand Technology Refresh
Erica Carroll, director, product marketing and training, Mersive Technologies, reflects on the beginning of the pandemic. "There was a mad scramble to make businesses and education institutions operational again," she recalls. Indeed, COVID-19 forced even the most recalcitrant institutions into the digital world. In a sense, then, the pandemic paved the way for what Carroll describes as "a grand technology refresh." She continues, "The investments made during that time were thoughtful, and [many organizations had] the time and space to truly plan for the future and what it might hold." 
So, let's try to differentiate thoughtful technology implementations from slapdash deployments. If you ask Beau Wilder, head of future customer experiences and product portfolio management, HP| Poly, the first step in finding the right solution is to do your homework on what hybrid work means in your client's business. "I think with that understanding of what a day [or a week] in the life is like," he continues. "It's about choosing purpose-built solutions to meet those needs." Wilder declares that, if integrators don't understand and empathize with the client's needs on a deep level, there's no way to effectively futureproof. 
As Wilder puts it, "You may have the best technology that can last five to 10 years, but, if you don't have the [vision of] what they're trying to accomplish, you're [just] making an expensive investment. Even if it holds up hardware-wise, it's not going to deliver the right experience." Thus, while upgradability is, of course, important to futureproofing, it's equally important to comprehensively understand the client's vision, needs and pain points. 
On the topic of upgrading and systems growth, Carroll speaks about how today's hybrid approach, which combines hardware and software resources, can provide the best of all worlds as clients anticipate manufacturers migrating toward cloud-based collaboration solutions. "The hardware/software approach gives facilities the option to upgrade the hardware or software independently, allowing for more granular control over the system's evolution," she says. This, Carroll notes, helps stakeholders pace systems with the demands of work and education environments. 
If you ask Jeff Bethke about the concept of futureproofed technology, you'll be met with some skepticism. The chief business officer at Level 3 Audio Visual (L3AV), a leading communications solutions provider, says, "Unless you have a crystal ball, there are no assurances that any technology is futureproofed." However, he adds that one way to avoid costly "rip and replace" cycles is to lean into standards. "This is pretty much the case when you invest in a UCaaS appliance running Android or Windows," Bethke explains. "If your business pivots from Teams to Zoom for video, you can change the application mode and be up and running on a new platform. Taking a different approach and focusing on USB connectivity for organizations embracing BYOD allows whatever the user brings in to connect to the room," he says. 
According to Bethke, L3AV has worked with customers who don't yet have a clear UCaaS platform strategy. "But," he notes, "Zoom is on the roadmap. So, starting with a Zoom-certified appliance like a Poly Studio X Series that also supports BYOD is a great way to improve the meeting-room experience on day one. [It also] allows for an easy transition to a native Zoom Room experience when the organization is ready." 
Interoperability 
Aligning with his advocacy for standards-based approaches, Bethke also points to interoperability as key. "Interoperability is a critical decision point and should be part of every discovery session with a customer," he declares. "We're seeing cloud video interop (CVI) discussions fade away as the major UCaaS platforms are releasing their own native interop. The best scenario for most is to have your native UCaaS experience but also [support] defined workflows to join meeting invites from other platforms with native interoperability from the main UCaaS provider." It's still a one-touch-to-join experience, Bethke reasons, if your organization's main platform is Teams but if you can still forward a Zoom or WebEx meeting to that room. "Making sure end users understand that is key," he underscores. 
Wilder further emphasizes the value of interoperability, especially amid the ascent of the cloud service provider model. "I think there's an opportunity for companies like HP that sit at the edge to be able to bring a more seamless experience," he says. In fact, if you ask Wilder, interoperability isn't so much a technology problem anymore; it's more a matter of business and politics. It's incumbent on integrators, then, to recenter conference-room design on customer needs and wants, bringing gear into the room that will streamline the front-end experience for users. 
After all, employees have gotten used to entering and exiting multiple applications with the click of a button. If we can do that in our personal environment, why not in an office environment? And yet, as return-to-office efforts continue, many of us are still finding dedicated rooms optimized for specific types of meetings. "There's a whole bunch of opportunities there to remove all that friction…take away all those pain points," Wilder says. Now might be the ideal time to upgrade those pandemic-built spaces for a more worker-friendly future. 
Evolution of Meeting-Space Design

 
Are the days of dedicated offices and desks nearly over? According to Wilder, today's offices seem to be much more about hot-desking than about dedicated personal space. Bethke agrees that today's workers are constantly on the move, and that fact manifests itself in conferencing and collaboration settings. He's seeing more desire for video-first focused rooms and less desire for long rectangular tables. According to Wilder, "People are probably going into more antiquated conference rooms than they want to be." 
There's good reason to believe that future meeting environments will be very fluid. "Most companies are asking for help right now on what the future of meeting spaces can and should be," Wilder notes. "I think where we'll ultimately wind up is the spaces will become intelligent enough to adapt to the people in [them] versus forcing the people to learn the spaces that they walk into." Already, spaces are starting to bend to the individuals who occupy them, rather than requiring team members to learn a new room every time they encounter one. "If one room has different gear, one room is set up for a Microsoft Teams call and another is set up for a Zoom call, we have to remove all that friction," he declares. "We have the capability now with the technology in our hands to do that." 
AI Investments
Another element of futureproofing to bear in mind is AI, which most everyone expects to be a long-term disruptive force and whose evolution is moving incredibly fast. "The horse has already left the barn," Wilder says. That being said, although AI is the shiny object capturing everyone's attention, it's still just another tool in the toolbox, enabling us to deliver better experiences. To that point, it's incumbent on integrators to leverage AI so that companies can better understand how their workforce is working. For too long, stakeholders have had to guess when people were coming in, how they were using collaboration spaces, which spaces were successful, who was actually working in those spaces (and with whom), etc. 
"I think, with AI and the pace that it's moving, we're going to have just a whole other set of insights that, frankly, we can't really anticipate just yet," Wilder says. "It's moving that fast. I think it'll be everywhere." 
Bethke agrees, adding that AI and automation will have an impact by moving beyond simply monitoring systems and toward creating micro-services and edge applications to gather data to drive reporting on whatever KPIs the organization values. "This type of thinking and architecture allows for any problem statement to be processed into a set of data to be gathered and processed to ultimately bring more value from our services to our customers," he states. 
A Brighter, More Connected Future
As AI continues to advance, today's conferencing technology can identify where people are situated in a room, thus helping to deliver very human experiences. Remote employees can have an equal experience, bringing about the best of meeting equity. "We can now do that in a mixed environment, as well," Wilder says. "I think that's just the tip of the iceberg." 
"Everyone has been forced to innovate and reimagine what could be and how people interact within these collaborative spaces," Carroll remarks. "The industry has already laid the groundwork for what's to come. We see a technology hybrid model that combines hardware and software continue to be the standard in education and corporate environments. Now, it's about hardware and software working to create an experience out of a solution. We're catapulting forward into a future that's brighter and more connected." 
If you enjoyed this article and want to receive more valuable industry content like this, click here to sign up for our digital newsletters!