InFocus Launches New Mondopad Line to Prove One Size Doesn't Fit All
12 new Mondopad models range from 55-inch to 86-inch and provide collaborative touchscreen solutions designed to meet the needs of any team or space.
Leave a Comment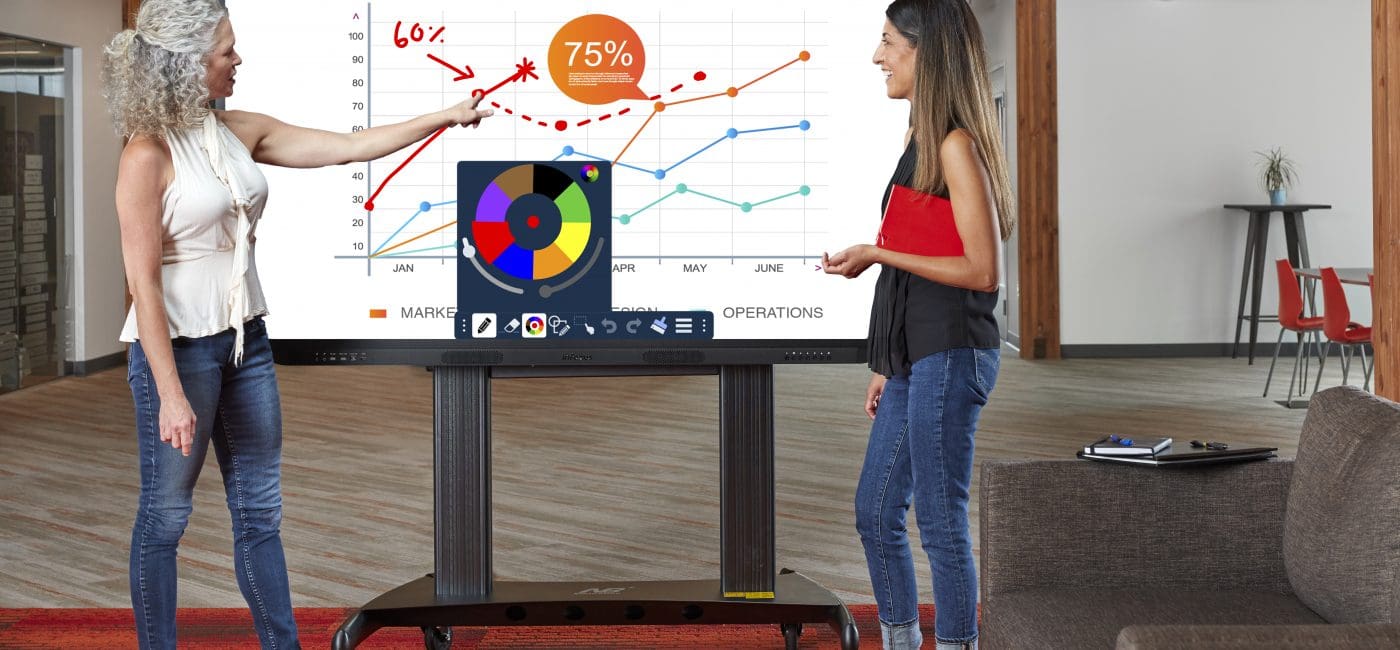 The Mondopad has come a long way since InFocus Corporation introduced it as the first large-panel display that was considered both "full-featured and highly collaborative." 
Today, InFocus unveiled a suite of 12 Mondopads "designed around the specific needs and budgets of various office environments and meeting spaces," according to the company announcement.
The new product family comes with three models—the basic Mondopad Core, the Mondopad Launch that allows users to choose their own collaboration tools, and the Mondopad Ultra [the original version with a swankier name] each available in 55-inch, 65-inch, 75-inch and 86-inch models.
"We created a space in the market that hadn't existed," says Loren Shaw, VP of marketing for InFocus in a call announcing the launch earlier this week. "But a lot of unmet needs remained."
InFocus director of product marketing Glenn Jystad says "the market was hungry" for an expansion.
"There are a lot of people in the meeting space who are wanting more," he says. "Most of our customers need something more flexible than what Google, Cisco and Microsoft offer, where you have to tie into their solutions to use it. They're adopting multiple types of technology."
The Mondopad Ultra is best suited for the traditional executive board room, says Jystad, while the Launch is for more "down-and-dirty" applications, such as small huddle rooms where only a handful of people will be meeting.
The Mondopad Core is a touchpanel that has an optional PC and includes all of the whiteboard and casting features of its more elaborate relatives in the Mondopad family.
Abigail Rath, InFocus regional sales manager for the western states and manager of interactive displays sales and training, says Core includes five HDMI inputs, 4K resolution, a built-in whiteboard and bi-directional touch, among other features.
Mondopad Launch comes with a 4K camera on the top of the display, the ability to add third-party applications, 10-point touch, printing and email capabilities and a dialog box.
Mondopad Ultra allows users to view, edit and annotate documents; features auto-shape cleanup for those who draw shapes; connection to up to four devices at once; five types of calling possibilities; and Office 365 log-in from an app or using a QR code.
Ultra and Core are shipping now. Launch will start shipping in November.
InFocus is also launching the Collaboration That Fits contest.
Small business owners, government agencies, university professors and tech managers can enter until Dec. 3 by submitting a written nomination telling InFocus how their organizations would use "a flexible collaborative touchscreen solution to work together more effectively."