Microsoft Introduces Mixed Reality Tech Microsoft Mesh
Microsoft's mixed reality product Microsoft Mesh is powered by Azure and could enable a new era of remote collaboration.
Leave a Comment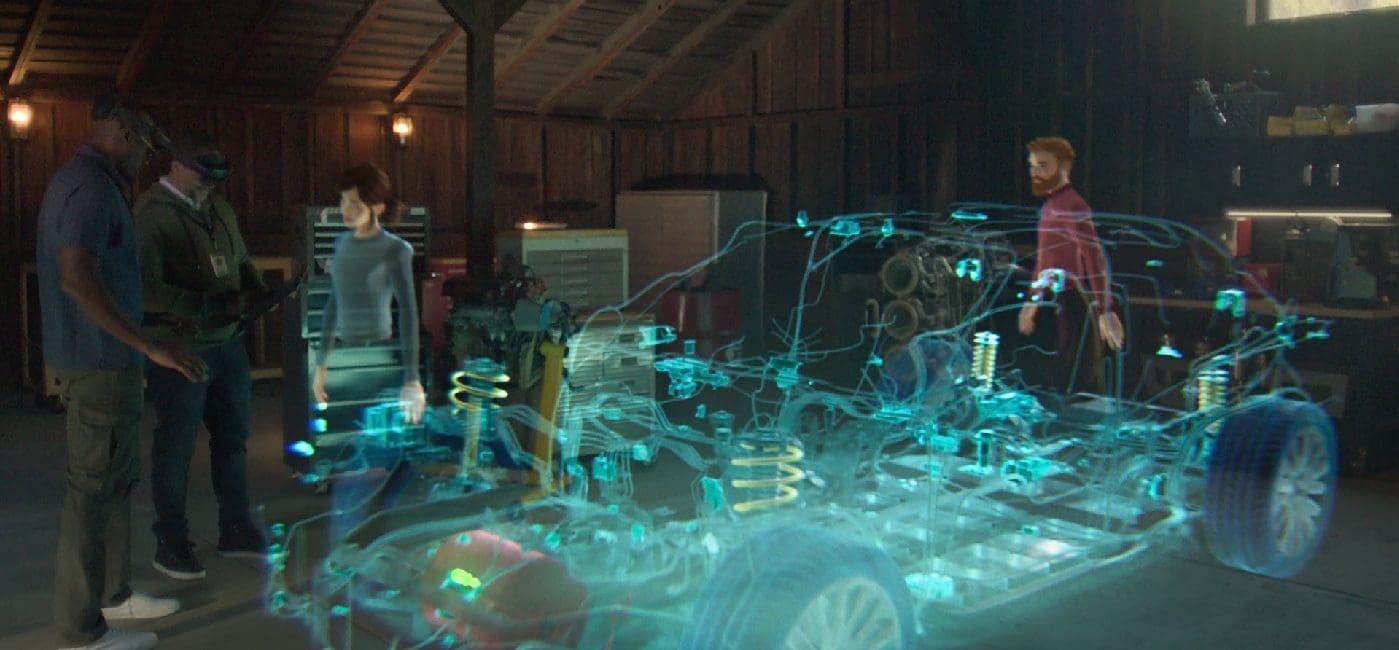 Videoconferencing and remote collaboration have been our best friends over the last year as the technology allows us to visually connect with one another and at least try to replace those physical connections we lost due to COVID-19.
However, new technology from Microsoft could enhance virtual collaboration even more via mixed reality powered by Azure that employs holographic content that make it feel like you're in the same space.
That tech is Microsoft Mesh, which Microsoft displayed Tuesday during its Ignite digital conference when Cirque du Soleil co-founder Guy Laliberté appeared at the conference via holoportation, using 3D capture technology to beam a lifelike image of himself into a virtual scene.
The applications of this technology are countless. It could connect live and digital entertainment and create shared experiences across the virtual and physical worlds. And, it could also make virtual meetings for collaborative.
Here's more from a Microsoft post:
Microsoft Mesh will also enable geographically distributed teams to have more collaborative meetings, conduct virtual design sessions, assist others, learn together and host virtual social meetups. People will initially be able to express themselves as avatars in these shared virtual experiences and over time use holoportation to project themselves as their most lifelike, photorealistic selves, the company said.

The new platform is the result of years of Microsoft research and development in areas ranging from hand and eye tracking and HoloLens development to creating persistent holograms and artificial intelligence models that can create expressive avatars.
According to Microsoft, Mesh is built on Azure, so it benefits from the cloud computing platform's enterprise-grade security, privacy and computational resources like data, AI and mixed reality services.
Related: How AR, VR and XR Are Reshaping the World One Vertical at a Time

This could be especially useful for designers and engineers who work with 3D physical models of products or buildings. They could appear as themselves in a shared virtual space to "collaborate and iterate on holographic models" regardless of their physical location.
Architects and engineers could physically walk through a holographic model of a factory floor under construction, seeing how all the pieces of equipment fit together in three dimensions, potentially avoiding costly mistakes.

Engineering or medical students learning about electric car engines or human anatomy could gather as avatars around a holographic model and remove parts of the engine or peel back muscles to see what's underneath. Colleagues could simply get together and chat in a shared virtual space, or companies could use Microsoft Mesh-enabled apps to offer virtual all-hands meetings or trainings to employees around the world.
Microsoft announced two new apps built on the Microsoft Mesh platform, including a preview of the Microsoft Mesh app for Hololens, which allows team members to collaborate remotely, and Mesh-enabled AltspaceVR, which allows companies to hold meetings and work gatherings in virtual reality with security and privacy features.
This technology has very clear applications in pro AV, and this could one day take the place of traditional videoconferencing in addition to other use cases like mixed reality concerts and other events. As it continues to advance and become more mainstream, I wouldn't be surprised to see this become a regular offering from some AV integrators.