New Barco ClickShare Models Help You Prepare for the Future of Work
Barco introduces two new ClickShare models focused on huddle spaces and 4K collaboration, increasing its interactive meeting collaboration offerings.
Leave a Comment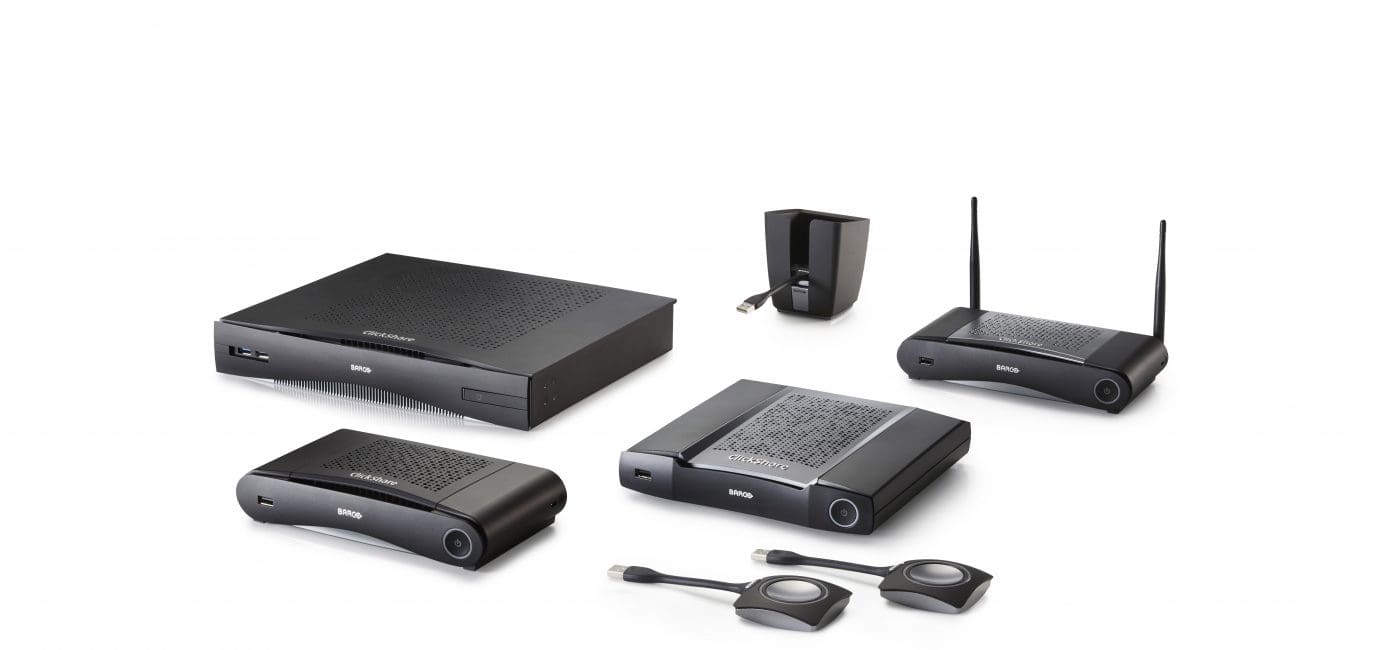 Barco today announced the release of two new enterprise products: a dedicated huddle proposition and a 4K collaboration solution.
With the addition of the ClickShare CS-100 Huddle and the ClickShare CSE-200+ to the portfolio, Barco ClickShare now has "a complete offering of intuitive, IT-friendly collaborative experiences for every meeting room in the enterprise—shifting its focus from wireless presentation to interactive meeting collaboration," according to the company announcement.
ClickShare: Enterprise-Wide Collaboration
The ClickShare CS-100 Huddle, designed for huddle and small meeting spaces, completes the ClickShare product portfolio. It brings "spontaneous, ad-hoc and swift content-sharing—ideal for short catch-ups or instant brainstorming with a limited group of employees," according to the Barco announcement.
"ClickShare now brings the exact same experience for every type of meeting room in the contemporary office environment: from a huddle space to a regular meeting room, from a collaboration room to a fully equipped large meeting room, such as a boardroom or conference room," said Barco product manager Gauthier Renard in the company announcement.
"Different meeting room sizes or types in both traditional industries and new businesses can all be given the same intuitive and uniform collaborative experience," said Renard.
New Ways of Working
With the ClickShare CSE-200+, new ways of meeting can be introduced in the current workplace. Brainstorming or more creative discussions are enabled by a wide set of features: annotation, blackboarding, touch back and 4K support with every type of device.
The integrated HD switch in the CSE-200+ model "takes away the stress and hassle of having to switch manually between wired legacy sources (such as cameras) and the ClickShare wirelessly presented content," according to the Barco announcement.
Choose Your Way
ClickShare also launched an app for PCs and Macs in addition to the ClickShare apps for mobile devices (both Android and iOS devices).
The combination of sharing content with both button and app "provides an intuitive way of collaborating, enriched by power-user functionalities in the ClickShare app, such as extended desktop, pause function, moderation, etc.," according to the Barco announcement.
The IT friendliness of Barco ClickShare is also underlined by its integration with existing company networks and legacy infrastructure. All models function both as standalone pieces and in a network, and can be remotely managed by the ClickShare XMS.
"We're dedicated to providing the most reliable, intuitive and innovative collaboration solutions, which means we can give contemporary companies a serious competitive advantage," said Barco head of go-to-market strategy and services Lieven Bertier in the company announcement.
"Investing in future-proof collaboration technology is investing in new ways of working, in attracting the best talent and in optimizing decision-making. Heightening efficiency and productivity keeps you one step ahead of your competitors. We offer customers new, more interactive ways of working, required by today's workforce and help businesses to prepare for the future of work, driving efficiency in the brightest, simplest and most productive way," said Bertier.
If you enjoyed this article and want to receive more valuable industry content like this, click here to sign up for our digital newsletters!