New Microsoft Teams Features: Meetings, Devices, Management
Microsoft has added new Teams features this month, including options for easier casting of presentations, a knock-knock feature, turning room cameras on or off, and more.
Leave a Comment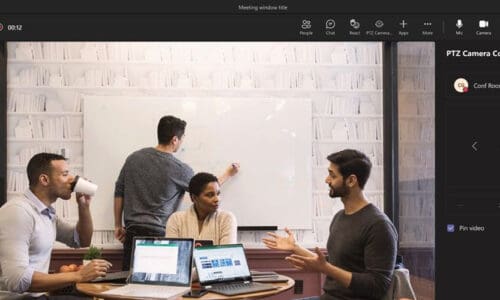 Microsoft has added a list of new Teams features this month, including options for easier casting of presentations, a "knock-knock feature, turning room cameras on or off and much more.
Meeting Features
When joining a Microsoft Teams meeting on an iOS device, the audio on the device will automatically be turned off to ensure echo does not happen. The landing page on an iPhone will be optimized for engagement activities, such as raising a hand, reacting, chatting, seeing all participants, and accessing the Microsoft whiteboard.
Users also have the ability to pin their own video on the meeting stage allowing them to see their own video and adjusting the size on their screen. Users can hide their own video during a meeting and on another's screen to reduce distractions during calls, while still having the video available for other participants to see. To hide video, click on the "…" in the video feed, and select "pin for me" or "hide for me."
When it comes to polling meeting participants, there's an option for attendees' responses to be automatically aggregated and displayed as a word cloud. Attendees' open-ended responses can be collected before, during, and after a meeting.
Devices
IT admins can configure Teams panels to release reserved conference rooms that are not being used. Meeting attendees can claim their reserve meeting room by tapping the check-in button on the panel. If no one checks into the room, it will be released allowing for others to reserve and use the room.
When a Teams panel is paired with a Microsoft Teams Room, the new check-in button on the panel can be used to send a "knock-knock" notification to the front of room display informing people in the room that the reservation has ended and others are waiting for the space.
Users can plug in an external device via HDMI into the Teams room on Android, where content will start sharing automatically. To stop the sharing, users can press the share icon on the call controls or home screen.
Remote meeting participants can control the zoomed orientation of a camera in a Teams Room on windows, using PTZ camera controls during a meeting. Attendees can control a variety of mechanical pan tilt zoom cameras by sending control signals to the camera, as well as offering 2.5x zoom for most of the cameras. IT administrators can determine which Teams Rooms are enabled for far end camera control.
When it comes to chat and collaboration features, users can mute notifications during a meeting. A user can choose to mute notifications for all meetings or on a per meeting basis.
Management Features
New tag management setting will update default tag management in the Teams Admin Center to include "Team owners" and not just "Team owners," reducing the burden of creating and maintaining tags. Learn how to manage tags in Microsoft Teams.
Other features include the following:
Local time added to profiles enabling users to check a colleague's time zone right from their contact card
Pin chat messages for quick access to important content
Walkie talkie function on Teams phone devices
For more of the new Microsoft Teams features, visit the Tech Community blog.
This article originally appeared on Commercial Integrator's sister-site MyTechDecisions.com.
If you enjoyed this article and want to receive more valuable industry content like this, click here to sign up for our digital newsletters!