ScreenBeam Introduces USB Pro Switch with Intelligent Switching
ScreenBeam's USB peripheral switching solution unlocks the power of Microsoft Teams Rooms and meeting spaces with intelligent sharing of room resources.
Leave a Comment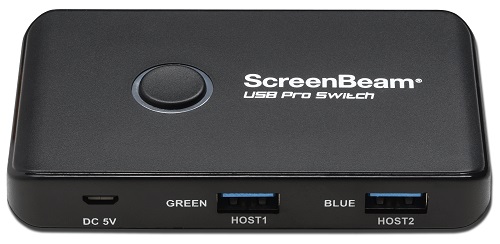 ScreenBeam Inc., the San Jose, Calif.-based wireless display and conferencing solutions provider, released the ScreenBeam USB Pro Switch, an automated intelligent USB switching device to expand room functionality beyond Microsoft Teams Rooms.
The Pro Switch enables wireless Bring Your Own Meeting (BYOM), wireless content sharing during a Microsoft Teams session, and in-room wireless presentation in other meetings not being run on a unified communications collaboration (UC&C) platform. Now in-room participants can switch between Microsoft Teams Room meetings and BYOM.
"Organizations are bringing employees back to the workplace, requiring flexible and reliable meeting spaces," says Mike Ehlenberger, VP of ScreenBeam. "Working meeting spaces are significant investments and should never be locked or limited to a singular technical solution. ScreenBeam USB Pro Switch combined with the ScreenBeam 1100 Plus unlocks the maximum value of your meeting room investment and expands communication options well beyond a standalone dedicated unified communications installation. The best part is everything is fully automatic, making user experiences natural and carefree."
The use case is not limited to spaces with Microsoft Teams Rooms. Combining ScreenBeam USB Pro Switch with the 1100 Plus receiver system allows USB videoconferencing devices to be automatically switched between wireless BYOM (enabled by ScreenBeam Conference) and wired BYOM using the HDMI input and USB Pro Switch.
According to ScreenBeam, the USB Pro Switch with the 1100 Plus receiver system includes advanced technology and features to meet the most commercial and higher education user requirements, including:
Automated and Intelligent Room Resource Switching
Intelligent switching, when combined with the 1100 Plus receiver, means room peripherals are available for any situation, without manual intervention. Microsoft Teams Room hardware can co-exist with BYOM and share room resources. Hosts and presenters are not locked into a proprietary UC&C experience, and instead are able to connect to room resources for BYOM, or in-room presentations.
For example, in an Microsoft Teams configured room, the USB Pro Switch will automatically switch the room's camera, microphone and speaker(s) to the ScreenBeam 1100 Plus for instant access by the BYOM host. Once the BYOM meeting has ended, the resources are automatically switched back to the MTR and ready for use.
Supports Touch Displays for Markup Collaboration
ScreenBeam USB Pro Switch enables annotation on touch displays beyond the capabilities of existing Microsoft Teams Room solutions. Because of a co-engineering partnership with Microsoft, ScreenBeam supports Microsoft Windows Ink across all Microsoft Office 365. Additionally, ScreenBeam's patented Ghost Inking technology eliminates all wireless inking latency for a natural pen-to-paper experience.
If you enjoyed this article and want to receive more valuable industry content like this, click here to sign up for our digital newsletters!