The State of Selling Collaboration Technology in 2020
Collaboration technology is booming while plug-and-play products are becoming well-known. Here is the state of selling collaboration tech.
Leave a Comment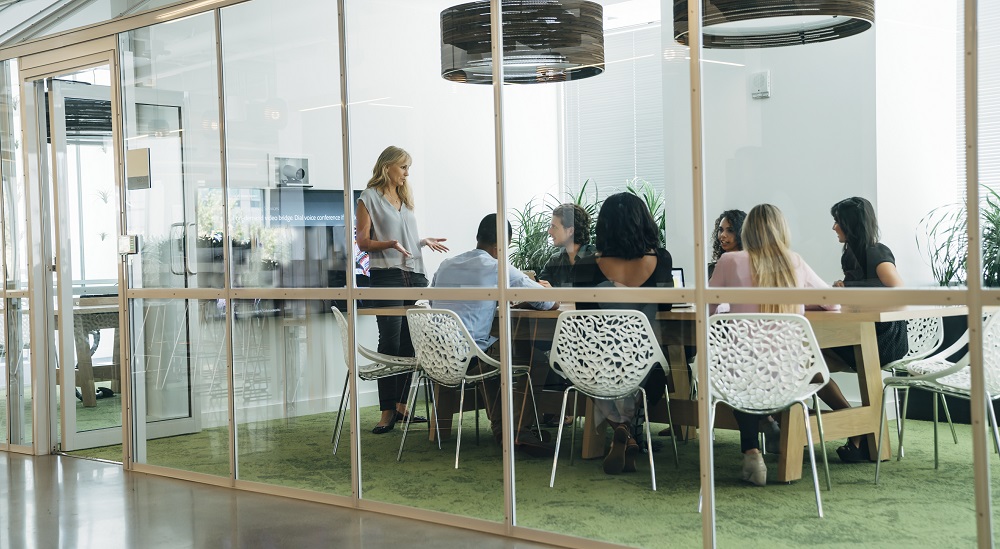 Collaboration technology is the name of the game for integrators and customers in 2019.
While robust, sophisticated systems are implemented often, more cost-effective, mainstream products are reaching technology managers' ears. Meanwhile, integrators are struggling to find a comfortable medium.
We conducted a survey of our audience to learn more about the state of collaboration in 2019. We sought to learn about revenue generation from collaboration technology, markets most active in implementing this technology, and customer knowledge or collaboration technology.
What we found in addition was a growing knowledge of plug-and-play collaboration technology among customers – and an opportunity for bigger sales when discussing smaller products.
Let's dig into the numbers to learn more.
Collaboration Technology on the Rise
Collaboration has been a boon for integrators this year, according to our survey results. The overwhelming majority of integrators who responded say they expect gains in revenue from collaboration technology this year as compared to what they earned from it in 2018.
Respondents to our survey expressed overall growth in implementation of collaboration technology, with 61.5% of respondents experiencing revenue growth derived from collaboration technology.
Only 10.2% of integrators saw revenue around collaboration technology drop from year to year with 25.6% experiencing little change.
It's important to note that a significant 12.8% of integrators saw over 20% growth in revenue derived from collaboration technology.
These statistics make it clear that integration firms, on the whole, are seeing growth in revenue from collaboration technology.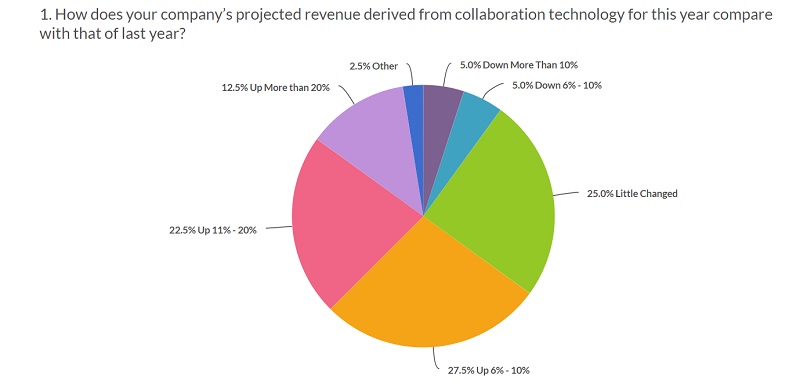 While it's fair to wonder if this is a result of more expensive equipment leading to a higher markup, the simpler answer is that more collaboration technology is being installed than last year.
When it comes to the typical cost of these projects, integrators indicated that most often customers are spending less than $50,000 on collaboration products, 79.5% according to our respondents.
In fact, 35.9% of customers spend less than $10,000 while 7.7% spend over $100,000.
Clearly collaboration technology isn't a massive spend area compared to, say, digital signage, but that may well be due to the markets that are seeing the most growth at this time.
We also asked about the vertical markets that have seen an increase in collaboration technology trends in the past couple of years. According to our respondents, 76.9% indicated medium-sized corporate customers as an area of significant growth.
Small offices and education came next, each with 59% of respondents indicating them as areas of significant growth.
It seems that the SMB market as well as the higher education market are following in the footsteps of enterprise corporations that have largely incorporated collaboration technology to date.
This growth in the SMB market may very well be a result of two factors: a more educated customer, and the rise of collaboration technology that is simpler to deploy.
Customers Get in the Mix
Certainly, the customer has more say in the type of collaboration technology that is installed in their organization than ever before. The first step of that discussion is learning what is most important to customers in a collaboration system.
We asked our integrator respondents what customers ask for in collaboration systems, and the top result was almost unanimous: ease of use.
More than 97% of respondents cited ease of use as something customers ask for in collaboration systems.
Flexibility (61.5%) and a simple setup (56.4%) were next in line, indicating that customers don't want a lot of fuss when it comes to collaboration systems.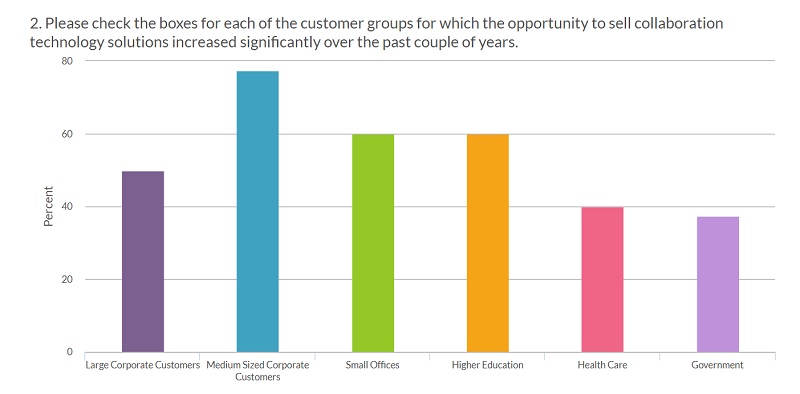 In fact, only 35.9% of respondents indicated that robust features were something their customers looked for in collaboration systems.
Technology managers are clearly looking for something that doesn't provide a hassle in their day-to-day lives. It's safe to assume that usability isn't a problem for a technology manager that spends their career understanding how technology works.
Instead, it's the laymen, end users at the organization who need a simple setup.
The easier the system is to utilize, the less calls come to the service desk, and the more time technology managers have to spend on more important things than helping an end user plug in to a collaboration system prior to a meeting.
In fact, customers are expressing the need for more help, with 53.8% of customers asking for post-installation support for their collaboration systems.
Customers Get in the Game
We've all seen that collaboration technology is getting more sophisticated from a capability standpoint. Conversely, certain collaboration products have gotten smaller and simpler as they've added capabilities.
In many cases, customers are asking for collaboration technology by name, either asking about a specific product or a brand they know develops collaboration technology.
While sophistication would lead many to believe that collaboration technology would be more complicated to install, the opposite is true for certain systems. As a result, end users have begun to assist in the installation process of certain collaboration technologies.
Call them mainstream, plug-and-play, DIY – whatever the nomenclature, the end result is that customers are able to implement them without the necessity of an integrator.
More than 81% of respondents said that they include these types of collaboration solutions that are well known beyond the integration channel among their offerings.
When asked whether they do entirely remote collaboration technology projects (i.e. shipping integrated systems that the client sets up), surprisingly one-third of respondents said that they have done such projects.
However, that still left two-thirds of respondents that have never done a remote installation in this manner.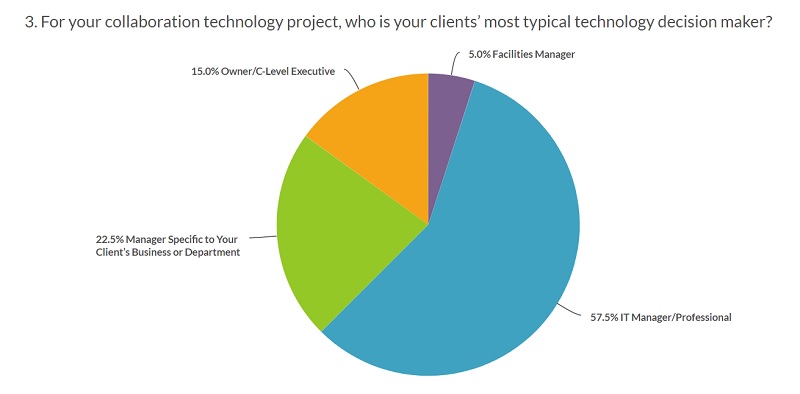 Customers Get in the Weeds
It isn't always sunshine and rainbows when customers start installing collaboration products on their own.
We asked respondents to our survey if customers ever called integrators onto a technology project after trying to do it for themselves. This is a common occurrence, it seems, as 82.1% of respondents said that yes, customers have called them to work on a project that went poorly when the customer tried to do it themselves.
When asked for the reasons behind the failure of these do-it-yourself installation attempts, integrators expressed four major reasons:
76.5% of the time the customer underestimated the complexity of the install, assuming that they could take care of it on their own before being toppled by the realities of systems more complex than they seem.
50% said they underestimated the features they needed, opting a likely simpler, easier-to-install system that didn't accomplish the goals they set out to achieve.
44.1% required ongoing support and weren't able to handle the strain of making sure the system kept working after the initial installation.
41.2% said the system was installed but ultimately too difficult to use, going for a sophisticated system with bells they couldn't strike and whistles they couldn't blow.
While the customer is getting more intelligent about choosing the right collaboration technology, there is still plenty of opportunity for integrators when it comes to installing the technology.
In fact, even systems that are easier to install can offer a chance to raise the overall revenue of the project.
Easy to Install, Easy to Upsell
When conducting the survey about collaboration technology, we had a hunch that simpler, easier to install collaboration technology could be a foot in the door that leads to larger gains down the line. It turns out we were on to something.
We asked respondents whether awareness of mainstream, easy-to-install collaboration technology products could be a gateway to more robust product sales and peripheral product sales and 87.2% of integrators said that yes, it could.
When asked to elaborate, the reasons were varied.
"It opens the door to deeper discussions about how the spaces are used. Once the conversation is started, it's much easier to discuss topics like control and audio performance," said one respondent.
"Most customers don't realize what all needs to go into a system to make it work. We are able to demonstrate different levels of systems to allow the customer to choose how advanced and integrated they want their systems to be," said another.
"It is requested more frequently, placing it in more areas and being used by more users, leading to more installation requests," said a third.
"The more clients are aware of the technology available to them, the more add-on features they will want to have along with it," said yet another.
Maybe all of our coverage of recurring revenue and managed services is finally starting to sink in with our loyal readers.