Zoom Expands AI Assistant Zoom IQ
Zoom is expanding its AI-powered assistant Zoom IQ and is leveraging models from ChatGPT to make collaboration more efficient.
Leave a Comment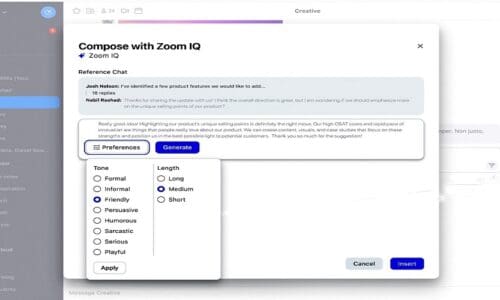 Zoom is expanding its AI-powered assistant Zoom IQ and is leveraging models from ChatGPT creator OpenAI to help make collaboration and meetings more efficient.
According to the videoconferencing and collaboration giant, the improvements are designed to help summarize chat threads, organize ideas, and draft content for chats, emails, whiteboard sessions, agendas and more.
The company says its approach to AI leverages its own proprietary AI models along with those from companies like OpenAI and some customers' own models. The flexibility to incorporate multiple types of models gives the company the ability to provide more value for its customers, as well as the ability to customize models for a customer's specific needs.
Zoom IQ, the company's smart companion tool, will have added capabilities that enable its use to help compose messages based on conversational context, in addition to changing message tone to customize suggested response.
The company is also harnessing new generative AI models to bring email draft suggestion capabilities that can respond to conversational context from prior Zoom Meetings, Zoom Phone calls and email threads. This feature will be initially available in Zoom IQ for Sales.
Zoom is also announcing a meeting summary feature in Zoom IQ that will enable users to generate a summary of a meeting and capture next steps. Summaries can be shared via Team Chat, Zoom Calendar and email without recording the conversation, allowing users who didn't attend the meeting to get easily digestible summaries without having to listen to the recording.
In a blog, the company says it has introduced new features for Zoom IQ over the past year, such as smart meeting recordings and Zoom IQ for Sales to leverage AI to capture insights from customer interactions to improve the sales performance and customer experience.
The expansion of Zoom IQ essentially makes the tool a smart companion to help empower collaboration, writes Smita Hashim, Zoom's chief product officer and the blog's author. By expediting mundane, time-consuming tasks, users will have more time for creativity and productivity.
"With Zoom IQ helping out with little things, you'll have the space to focus on the big picture: the connections you make with team members and the experience you provide to your customers," Hashim writes.
Zoom is planning to begin rolling out the following features to select customers by invitation in April: Zoom IQ chat compose, Zoom IQ email compose (initially available for Zoom IQ for Sales), and select Zoom IQ meeting summary features will be available more broadly.
Another version of this article originally appeared on our sister-site My TechDecisions on March 27, 2023. It has since been updated for Commercial Integrator's audience.
If you enjoyed this article and want to receive more valuable industry content like this, click here to sign up for our digital newsletters!