Jabra Releases New Speak2 Line of Speakerphones
Jabra is launching the Speak2, a new line of professional speakerphones designed for hybrid work featuring advanced full duplex audio.
Leave a Comment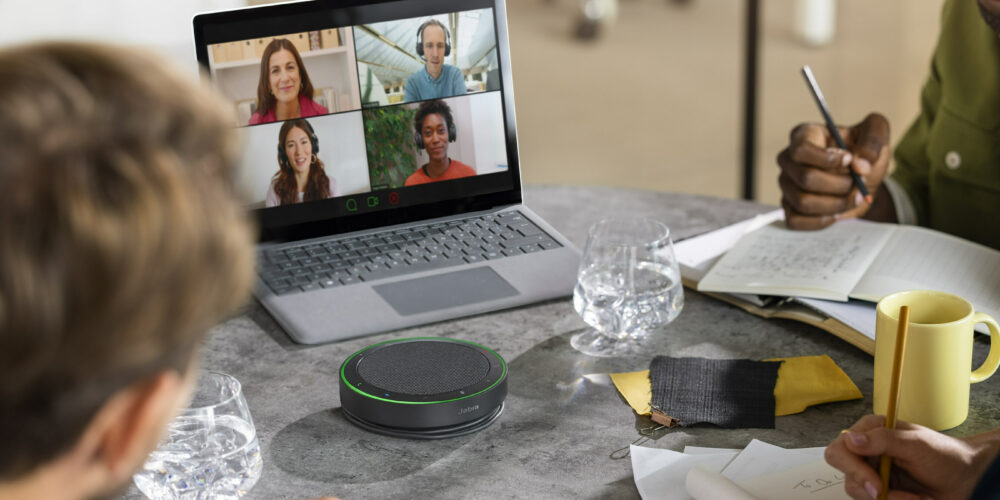 Audio-solutions provider Jabra launched the Speak2, a new line of professional speakerphones designed for hybrid work featuring advanced full duplex audio. The Lowell, Mass.-based company's new products are the Speak2 75, Speak2 55 and Speak2 40. This, Jabra says are intelligent speakerphones that can handle conference meetings, direct calls, streaming media, presentations and more.
According to the company, the Speak2 speakerphones go beyond standard speakerphone performance by providing full duplex audio. This allows users who are talking simultaneously to conduct more natural two-way dialogues that make it seem like each speaker was there in person without disrupting conversation flow.
Main Features
Jabra says each speakerphone in the Speak2 lineup features voice-level normalization technology. It also has beamforming microphones that eliminate background noise for superb voice pickup.
Additionally, the Speak2 75 features a custom-designed microphone quality indicator via a 360-degree light ring. This shows users how well their voice is being picked up by the microphones. It thus reassures users of their clear audio. The speakerphone also includes an advanced full-range 65mm speaker. This then provides a more powerful audio experience, and more efficient and productive meetings, the company says.
Also Read: 12 Steps to WFH Success
Jabra says the Speak2 speakerphones feature plug-and-play connectivity. As a result, users can quickly start or join a meeting. The Speak2 40 also connects via USB. Meanwhile, the Speak2 75 and Speak2 55 also feature wireless connectivity.
Each speakerphone can work with all leading virtual-meeting platforms, the company adds. In addition, the Speak2 75 can work with Microsoft Teams Rooms and Zoom Rooms, Jabra says.
In a statement, Aurangzeb Khan, senior vice president for collaboration solutions at Jabra, says sound clarity is fundamental when looking to ensure employees feel included in hybrid meetings.
"Therefore, Jabra decided to take on the challenge of re-engineering the world-leading Jabra Speak series for better performance and optimized experiences," Khan says. "Engineered for the hybrid worker who wants to hear and be heard in the most productive way, the new Speak2 range demonstrates to those working flexibly between home and office, that their voice matters too. So, get ready to speak up."
A version of this article originally appeared on our sister-site, My TechDecisions.
If you enjoyed this article and want to receive more valuable industry content like this, click here to sign up for our digital newsletters!