Konftel 800 Secures Zoom Phone Certification
Konftel 800 conferencing devices are now certified with Zoom Phone, the cloud phone solutions by Zoom Video Communications, Inc.
Leave a Comment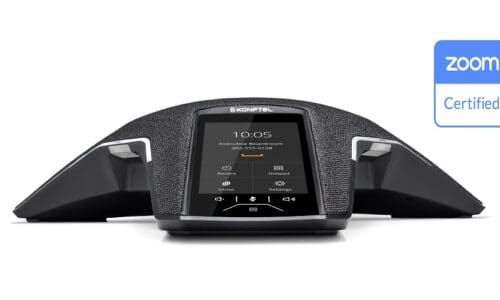 The Konftel 800 conference phone has been officially certified to work with the cloud phone solution from Zoom Video Communications, Inc.
"The Konftel 800 is the first in our product range to be certified to work with Zoom Phone, which, when [they're] paired together, deliver a natural and fluent meeting experience," said Konftel product manager, Torbjörn Karlsso, in a statement.
Expanding on the importance of the certification, Karlsson added, "Zoom Phone includes traditional PBX features that enable users to talk and interact in new ways for businesses of all sizes. It is also secure and reliable, delivering secure HD audio with enterprise-class reliability and quality of service. The Konftel 800 and Zoom Phone platform represents a seamless and natural fit, combining exceptional audio with flexibility, ease of use and quick setup."
According to the company, the Konftel 800 is suitable for small to very large meeting rooms, and it has been certified to connect to Zoom Phone as an SIP device. It also features smart microphone and daisy-chain capabilities to extend the audio pickup, as well as the listening range.
Benefits of the Partnership
Tommy Edlund, Konftel's director of global sales, noted that the new partnership strengthens the appeal of the Konftel 800 and addresses growing customer demand, as Zoom Phone continues to enjoy a rapid rise in popularity.
"Zoom Phone now has over two million seats across 47 countries and territories, doubling from 1 million to 2 million paid seats in less than nine months alone…. There's been a strong customer appetite for official certification, and users will now be able to appreciate in ever greater numbers the synergy, ease of use, reliability and high performance offered by Zoom Phone and the Konftel 800. It's a compelling combination," said Edlund.
Jeff Fox, senior product marketing manager at Zoom, concludes, "Over the past two-and-a-half years, we've focused on creating a phone solution that's easy enough for small and midsize businesses to use and deploy and [that] has all the advanced capabilities large multinational organizations require to support global users. [The] certification of the Konftel 800 further adds to the appeal of our Zoom Phone service."
The flagship Konftel 800 audio device also features OmniSound with beamforming microphones and audio-expansion capabilities.
Additionally, it is the audio centerpiece of the Konftel C20800 Hybrid and C50800 Hybrid video solutions and offers a wide range of video and audio solutions, which are all Climate Neutral certified. According to Konftel, this means that all greenhouse-gas emissions have been offset across every aspect of the business, which then ensures that organizations can conference with a clear climate conscience.