Logitech Unveils Zone Wireless 2 AI-Powered Headset for Hybrid Work
Logitech's Zone Wireless 2 headphones with AI-noise suppression ensure crystal-clear calls in bustling environments.
Leave a Comment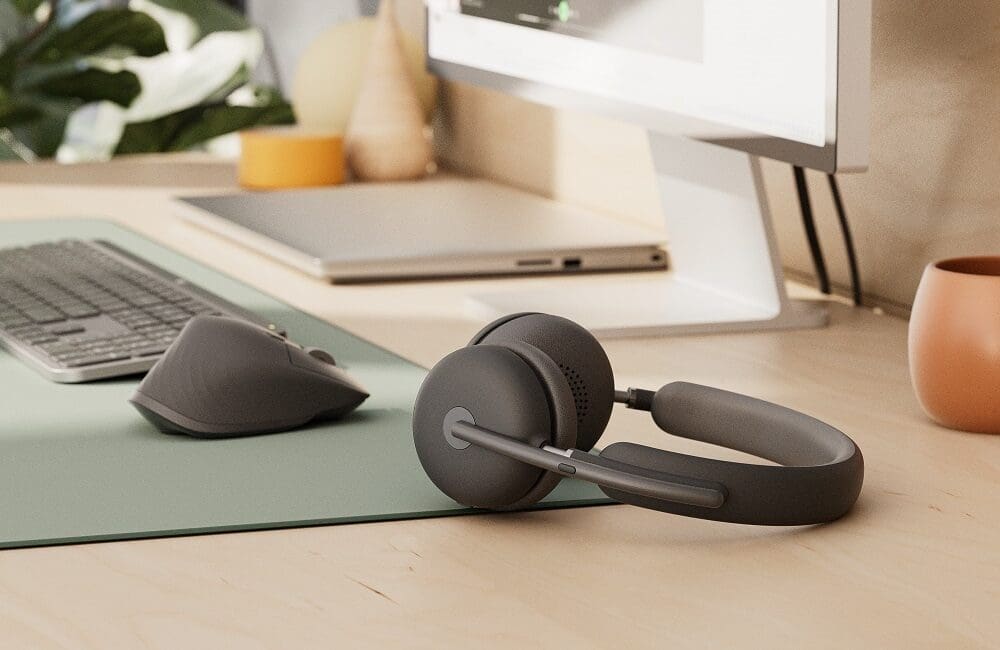 Logitech, the global hardware and software solutions manufacturer, has introduced the Zone Wireless 2, a business headset that uses AI to deliver two-way noise-free calling experiences. AI far-end noise suppression, noise-canceling mics, hybrid Active Noise Cancellation (ANC), and personalized stereo sound help professionals hear and be heard clearly in calls and meetings, especially in noisy environments.
In today's hybrid-work environments, individuals work from a variety of spaces, and in nearly every workspace, noise and poor sound quality can negatively affect collaboration and productivity. A recent Equipping Your Employees for Hybrid Work study found that 85% of work-from-home users struggle with audio issues, whether it's from background noise from other participants or poor sound quality through computer speakers. The same study found that hybrid workforces aren't properly equipped with modern collaboration tools, such as quality headsets.
"Zone Wireless 2 is Logitech's top-of-the-line headset for skilled professionals who need technology with a high degree of control, precision and innovation," says Prakash Arunkundrum, chief operating officer at Logitech. "We built Zone Wireless 2 with advanced technology for uncompromising performance at a lower carbon footprint."
Related: 10+ Hybrid-Work Solutions at InfoComm 2023
Zone Wireless 2 Features
Per a statement, the headset notably allows the user to suppress ambient noise from the other person's side of the call, even if that person is not wearing a noise-canceling headset. The Advanced Call Clarity feature, activated through Logi Tune, uses AI to separate the other caller's voice from their background. Noise-canceling mics suppress distracting sounds and near conversations through advanced beamforming technology that captures the user's voice, thus creating a two-way noise suppression system.
Hybrid Active Noise Cancellation (ANC)
Hybrid active noise cancellation (ANC) blocks out ambient noise around employee workspaces such as keyboard clicks, nearby talkers and HVAC noises; and transparency mode, which helps users stay aware of their surroundings while wearing the headset, the company states. Upon setup on Logi Tune, users can use the Personal EQ feature to customize the headset to fit their individual hearing range through a self-administered hearing test.
Bluetooth and Smart Enumeration
As professionals transition through different scenarios in their workday, they can stay connected with multipoint Bluetooth and smart enumeration. According to the company, the patent-pending feature solves the problem users often experience when they leave their computer, lose connection, then return to a setup that appears to be audio-connected but isn't. Smart enumeration is the result of communication among headset, USB-C receiver and the operating system to intelligently switch between headset and computer audio without the user having to manually toggle among audio sources or remove a dongle, says Logitech.
Battery Life
To power up professional busy work schedules, Zone Wireless 2 provides up to 40 hours of battery life, with talk time and listening time varying based on whether ANC is on or off. A quick five-minute charge provides up to one hour of talk time, says Logitech.
The headset include breathable earcups, available in graphite, off-white and rose colorways to suit professionals' personality and style. While enjoying immersive sound, style, and comfort, professionals can tap or swipe on the ear cup to control media and volume using smart touch controls or enable on-ear detection in Logi Tune to automatically play or pause media when wearing or removing the headset.
IT Management
According to Logitech, IT teams can deploy Zone Wireless 2 to their workforce — the headset is certified for Microsoft Teams with a microphone for open office, Zoom, Google Meet, Google Voice, and Fast Pair. Integration with Sync, Logitech's device management platform, provides a secure and scalable approach to remotely manage Logitech devices. Sync allows IT admins to update firmware and troubleshoot Zone Wireless 2, whether the headset is used remotely or in the office, from a single, cloud-based interface.
Zone Wireless 2 Sustainability Features
Sustainability is core to every design decision from the moment raw materials are sourced to the end-of-life of Logitech's products, says Logitech. Zone Wireless 2 is designed to give users the ability to extend the life of their device by including interchangeable earpads and a replaceable battery, keeping more headsets on heads and extending the life of the headset.
According to the company, the plastic parts in Zone Wireless 2 include 20% certified post-consumer recycled plastic to give a second life to end-of-life plastic from old consumer electronics, and the aluminum in Zone Wireless 2's decoration ring and temple extension are made by a process that uses renewable energy instead of traditional fossil-fuel energy.
The paper packaging of Zone Wireless 2 comes from FSCTM-certified forests and other controlled sources. Logitech says it is committed to creating a climate positive world by actively working to reduce our carbon impact. Zone Wireless 2 is certified carbon neutral. The carbon impact of the product and packaging has been reduced to zero due to Logitech's investment in carbon offsetting and removal projects.
Zone Wireless 2 Pricing & Availability
Per a statement, the Zone Wireless 2 is available globally on logitech.com and through authorized resellers. The suggested price for the headset is $299 USD. To purchase through retail channels, Zone 950 is available in the U.S. and Canada (graphite only).
If you enjoyed this article and want to receive more valuable industry content like this, click here to sign up for our digital newsletters!