Otter.ai Transcription Assistant Extends To Microsoft Teams, Google Meet and Webex
After partnering with Zoom, Otter.ai, brings Otter Assistant to Microsoft Teams, Google Meet and Webex for automatic transcriptions.
Leave a Comment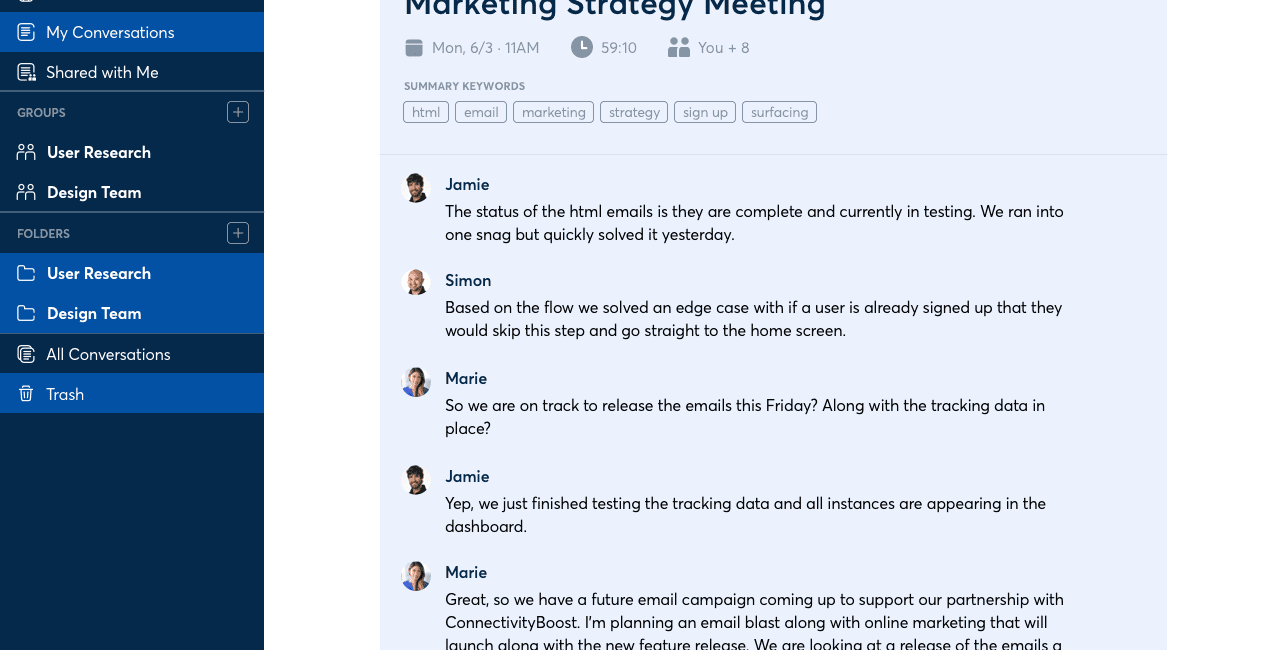 If your customers have been hoping for a meeting transcription service that can be used across several different meeting platforms, now they're in luck with Otter Assistant.
Otter.ai, an intelligent automatic transcription service that can automatically join Zoom meetings and take notes, is now extending that same service to Microsoft Teams, Google Meet and Webex.
The service is Otter Assistant, and it automatically joins calendared meetings to record, take notes and share transcripts with all meeting attendees. This allows participants to go back and simply search for keywords instead of listening through the entire meeting for important information. Or, they can skip meetings entirely and catch up after.
Otter Assistant was previously released for Zoom this spring, and the expansion into other leading videoconferencing platforms means end users aren't restricted to just one video platform and can keep their meeting recordings and notes across all platforms in either Otter.ai's web or mobile app.
Zoom may still be an industry leader, but Microsoft Teams, Google Meet are part of more complete packages of cloud-based business tools like email, word processing, spreadsheets, calendars and more. Cisco Webex, meanwhile, remains a valuable videoconferencing tool that has withstood the test of time.
The service is currently only for Otter Business plan users only, which plans starting as low as $20 per user per month.
The service integrates with a user's calendar and automatically joins meetings on time – even if the user is running late or has to miss the meeting. After, users can highlight, add images, comments or questions to the notes. They can also clean up transcription errors while listening to the audio.
This allows for a combination of both synchronous and asynchronous meetings in which some employees sit on the call while others follow up with the transcription and recording after. Many videoconferencing and collaboration experts have said that this is one way to combat videoconferencing fatigue that has begun to set in as a result of pandemic-induced remote work.
Now that companies are opening the doors to the office again, organizations are transitioning to a hybrid work model, which throws another wrench into an organization's collaboration plans.
The ability to view meeting notes and listen to the audio simultaneously can boost efficiency and lessen an organization's reliance on video calls.
Sam Liang, co-founder and CEO of Otter.ai, said as much in a statement with the news release.
"With more companies adapting to a hybrid work model where professionals work and take meetings in-office, at home, and on mobile, many are looking to Otter as a tool to improve team communication and collaboration," he said. "We're excited to make using Otter even easier and more accessible no matter where or how people conduct and participate in meetings."
If you enjoyed this article and want to receive more valuable industry content like this, click here to sign up for our digital newsletters!