AVer Launches TR333V2 4K Auto Tracking PTZ Camera
AVer's TR333V2 PTZ camera includes body, voice and hybrid tracking modes that provides users with flexibility in presenting in various rooms.
Leave a Comment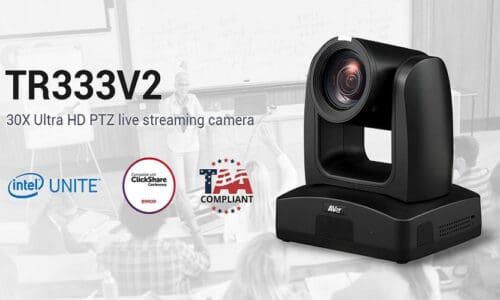 Fremont, Calif.-based AVer Information Inc. USA announced the release of TR333V2 4K 30X AI Auto Tracking PTZ Streaming camera, the latest in its lineup of artificial intelligence tracking cameras. AVer, is of course, the provider of video collaboration solutions and education technology solutions.
Per a statement, the TR333V2 includes 30X optical zoom and an 8MP camera with 4K Ultra HD. Like AVer's other newest generation TR models, it features built-in advanced artificial intelligence (AI) technology with a human detection algorithm. This allows one to track the speaker (full or half body) or pre-set shoot zones. Thus, users are free to present while the camera handles the rest.
Three Tracking Modes
The included firmware supports three specific tracking modes. These comprise Presenter Tracking (full or half body), Zone Tracking (for content) and Hybrid which combines the best features of Presenter and Zone modes. The TR333V2 can also combine with free AVer PTZ Link software and select microphone systems from Shure or Sennheiser. In doing so, it provides voice tracking to bring more versatility to meeting rooms and presentation halls.
Additionally, Presenter Tracking allows the camera to automatically follow the speaker anywhere around the room. Users can also manually follow any additional speaker with a simple click to track. According to AVer, this advanced feature is easily operated via remote control and intuitive Web UI.
Meanwhile, Zone Tracking offers automatic and seamless content capturing between four determined, preset areas. Hybrid mode allows a simple auto switch between Presenter and Zone mode. Here, AI auto tracking technology allows users to easily detect and capture human forms in seconds. Thus, there is no need for a dedicated camera operator. This functionality makes both cameras ideal for lecture halls, classrooms, home-based broadcasters, houses of worship and enterprise training environments.
The TR333V2 comes with 3G-SDI/HDMI/IP/USB output, Power over Ethernet (PoE), Visca control, and compatibility with all popular video platforms. With these features, users have all they need to connect with ease in any environment, says AVer. The TR333V2 also works seamlessly with all popular video conferencing platforms. These include Microsoft Teams, Zoom and Google Meet.
Additional Features
In addition, the camera is compatible with Barco ClickShare and the Intel Unite platform to provide other strong content sharing and collaboration options. The camera also features Wide Dynamic Range (WDR) which uses special algorithms to balance dark or bright lighting for one clear image. The tally light simplifies multi-camera live video productions with an illuminated red light on the top of the active camera.
Also Read: Almo Pro A/V To Distribute AVer PTZ, Tracking Cameras
The TR333V2 can be operated with a number of AVer's free software applications. PTZ Management software controls all AVer Pro AV camera functions from any PC operating Windows 10. Additionally, CaptureShare is a powerful application that allows easy video recording, livestream and captures still images during distance learning and real-time video conferencing.
What's more, PTZ Control Panel is a mobile application for iPad users to control AVer PTZ cameras through the network. PTZ Link is a voice tracking application that works with AVer PTZ cameras and certain professional microphone systems to track presenters based on their active voice instead of body movements. The TR333V2 is also protected by the industry-leading AVerCare three-year warranty with 24-hour equipment replacement.
"The TR333V2 brings 4K resolution with a 30X optical zoom and great tracking options from our artificial intelligence auto tracking platform," says Andy Teoh, director of product management, Pro AV, AVer Information Inc., Americas. "This camera provides the ultimate flexibility for our customers to use in the largest rooms to create the best video experiences."
To learn more about AVer's lineup of auto tracking and PTZ cameras, visit pro.averusa.com.
If you enjoyed this article and want to receive more valuable industry content like this, click here to sign up for our digital newsletters!