PTZOptics Acquires TallyLights For Multi-Camera Production Environments
The acquisition of TallyLights expands PTZOptics' video production portfolio and helps integrators offer more professional production services.
Leave a Comment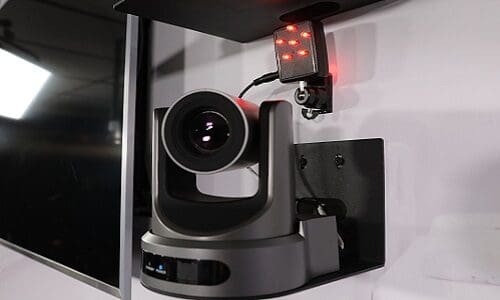 Professional-grade camera manufacturer PTZOptics has acquired TallyLights LLC, a provider of professional multi-camera video production devices that indicate which camera is live.
According to PTZOptics' announcement, TallyLights—as the brand will be called going forward—provides a flexible, affordable tally light system that helps onscreen talent identify which camera is live, and gives operators more control over the brightness of the LED lights that can be added to any camera or monitor.
TallyLights devices can be integrated with a wide range of existing PTZOptics partners, including NewTek, OBS, vMix, Wirecast, Blackmagic Design, Roland, JVC and NDI. Further, PTZOptic says TallyLights offers free-standing, rack-mountable and wireless controller options, as well as adapters for multiple TriCaster units.
Customers can also connect up to eight camera tally lights simultaneously and configure them to work with a majority of commercially available switches and camera control units, according to the company.
As part of PTZOptics, TallyLights will have access to expanded engineering, marketing and technical capabilities, in addition to its new parent company's distribution channels.
PTZOptics plans to continue manufacturing TallyLights products in the United States from its headquarters in Downingtown, Penn., and will begin selling TallyLights products at the start of the new year.
In a statement, Stephen Heywood, broadcast engineer for PTZOptics, said tally lights are becoming critical in production environments with multi-camera broadcasts and streaming environments.
"The TallyLights system gives operators fine control over the brightness of six talent-facing LED lights that can be added to any camera or monitor position," Heywood said. "Even if cameras are mounted on the far wall or ceiling, talent always knows exactly where to look."
Paul Richards, PTZOptics' marketing director, said the TallyLights brand is aligned with the company's goal of helping customers maximize the use of video ecosystems.
"Broadcast studios, houses of worship, event producers and more can instantly improve production by adding TallyLights into just about any system," Richards said.