Sony Electronics Launches Two 4K IP-Based PTZ Cameras with Built-in AI Analytics
The SRG-A40 and SRG-A12 PTZ cameras provide excellent image quality and enable remote control for seamless capture.
Leave a Comment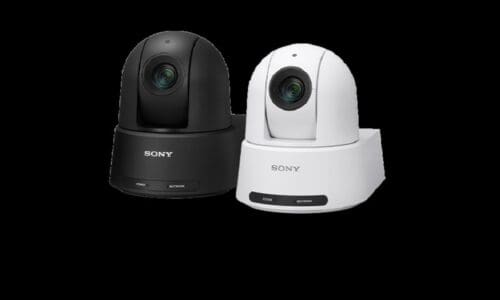 San Diego, Calif.-based Sony Electronics announced it is expanding its lineup of PTZ cameras with the addition of two 4K models with built-in AI analytics. The SRG-A40 and SRG-A12 cameras automatically and consistently track, and naturally frame presenters for seamless content creation and control — all without operating a computer. The new PTZ Auto Framing technology features automatic operation for quick object tracking and rediscovery. It also has multiple auto-framing options.
According to Sony, the cameras feature several highlights. These include image quality with automation, the flexibility of IP, powerful zoom, remote control, and easy configuration and operation. They are thus ideal for use in education, corporate, medical, government, broadcast, and faith applications, as well as for live events.
"Our latest PTZ cameras truly represent a new generation," says Rich Ventura, vice president of Professional Display Solutions, Sony Electronics. "While they incorporate the image quality that is Sony's bedrock, these efficient new models are even smarter than ever with the addition of built-in AI analytics which enable PTZ Auto Framing, paired with the potential resulting from remote control."
Ventua adds, "Our customers have told us that the way in which they capture content – and even the location from which they do it – has changed drastically over the last few years. We listened and created a new user-friendly series that enables mounting freedom, prioritizes location-free operation and creates a streamlined workflow that empowers operators with varying degrees of expertise to create extremely professional content while keeping operating costs down."
Smart Automation: PTZ Auto Framing
Sony's built-in PTZ Auto Framing technology with AI analytics improves usability and productivity. Multiple auto-framing angles provide well-framed options for close-ups, waist-up or full body images. This further enables additional creative freedom and customization options. With auto operation, the cameras begin to operate as soon as the power turns on. Here, it searches for and rediscovers an object to track. The cameras also employ a combination of advanced and consistent recognition technologies. These include facial recognition which can even detect masked faces. A new user-friendly tally light also allows users to easily identify which camera is actively in use and tracking movements.
Excellent Picture Quality
Both the SRG-A40 and SRG-A12 adopt a highly sensitive Exmor R CMOS sensor. This helps deliver high-quality, naturally vivid images with less noise that support 4K 30p and Full HD 60p. The SRG-A40 offers Clear Image Zoom technology which digitally doubles the optical zoom from 20x to 30x in 4K or 40x in Full HD. Meanwhile the SRG-A12 provides up to 12x zoom. With tele-convert mode, the SRG-A40 can extend up to 80x zoom. On the other hand, the SRG-A12 can extend up to 24x, all while offering smooth, fast PTZ movement between cameras. Day mode and night mode also help optimize capture in brightness and shadows.
Also Read: Sony Electronics Bows Device Management Platform for Professional Display Solutions
Flexible and Stable Production
The new models offer 3G-SDI, HDMI and IP connectivity (NDI|HX through optional license). Users can also remotely control the cameras through VISCA/VISCA over IP. They can do so by using a single network cable for power, output and control. The models also include Power over Ethernet Plus Plus (PoE++). This thus allows for simplified integration into new or existing environments, without separate power-supply cabling. The models thus feature robust connection and integration options.
According to Sony, these options allow the new series to take advantage of PTZ cameras' distinct ability to provide capture and control even in hard-to-reach locations. At the same time, it offers new angles and vantage points. Support for Real Time Streaming Protocol (RTSP) allows for remote viewing. Moreover, Security Reliable Transport (SRT) protocol enables safe, smooth, stable video streaming.
Easy Configuration and Operation
In addition to easy integration and installation, the cameras are simple to set up and use for operators with differing levels of ability. With the picture-setting file feature, users can quickly set up and duplicate menu settings from camera to camera. With this, they can thus create uniformity and instill familiarity. According to Sony, the new cameras' PTZ motion-sync feature also enables smooth and rapid PTZ movement to a target position at a maximum ±170 degrees pan/tilt angle range.
Additionally, pre-set recall allows for quick transitions from one camera to other pre-set angles. With this, users can capture critical moments. A picture-freeze preset can also be used to hold the last image captured in place, as the camera moves. As a result, it eliminates blurry transition shots and minimizing distraction. Additionally, the virtual webcam-driver software can turn up to five connected cameras into collaborative conference and lecture tools using a computer to provide professional image quality during web-based meetings.