Poly Adds Sync 10 to Line of Speakerphones for Remote, Hybrid Work
Poly's Sync 10 is a plug-and-play USB speakerphone designed to convert any space into a conferencing space via high-quality audio.
Leave a Comment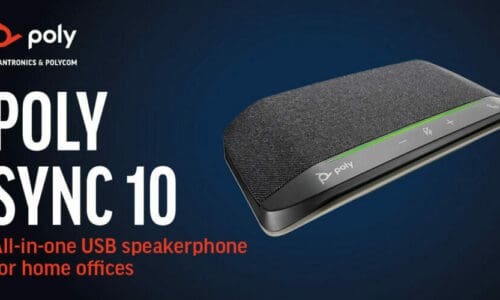 Conferencing hardware maker Poly is adding to its lineup of Poly Sync devices with the Poly Sync 10, a new plug-and-play USB speakerphone designed to convert any space into a conferencing space via high-quality audio.
The device is certified to work with Microsoft Teams, Google Meet and Zoom and works seamlessly with any other cloud-based meeting platform. The Sync 10 is the latest addition to the Sync portfolio, which already includes the Sync 20, Sync 40 and Sync 60.
While similarly a USB speakerphone, the Sync 10 is specifically designed for home offices as a easy-to-deploy and use solution that doesn't require support from the IT department.
The Poly Sync 10 features reliable, enterprise-grade hi-fi audio and power amplification, easy-to-sport call status, a USB-A cable with a USB-C adapter and dust-and water-resistant technology.
The Sync 10 includes a two-microphone steerable array that works in the background to ensure conversations focus on the user's voice and not background noise and full-duplex audio enables simultaneous conversation.
When not being used for collaborating with coworkers, the Sync 10 can be used as a high-performance Bluetooth speaker. Equipped with USB-A and USB-C, the Sync 10 can be used for any future technology upgrade, and it can be updated with Poly' new Lens Companion app.
For hybrid workers that want to go to the office, the Sync 10 is small and light enough to be taken back and forth.
"The Sync 10 is an ideal product for individual home workers looking to enhance how they work at home," the company said in a blog announcing the release." For IT departments it's also a great complement to the existing Poly Sync family and provides more choices for devices optimized for different workspaces with a consistent interface across all devices."
According to Poly, the Sync 10 is $99.95, the most modestly priced device in the Sync family.
The other Sync devices include the Sync 20, 40 and 60, which are essentially speakerphones designed for both remote and hybrid work, as well as some larger conferencing spaces. They can be daisy chained to adapt and expand the reach within varied conference room sizes
This article originally appeared on Commercial Integrator's sister-site MyTechDecisions.com.