Shure: Microflex Ecosystem First Audio Solution In Webex Compatibility Program
Shure says its Microflex Ecosystem of audio conferencing devices is the first audio solution included in Cisco's Webex Compatibility program.
Leave a Comment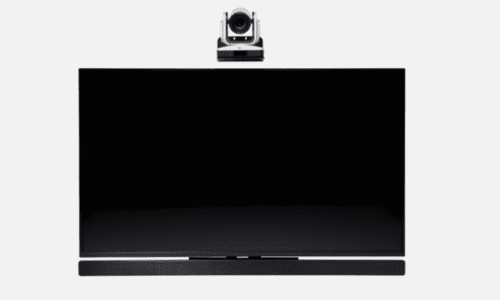 Audio manufacturer Shure has announced a collaboration with IT communications giant Cisco that includes approval of Shure's Microflex Ecosystem hardware devices as part of the Webex Compatibility Program.
According to Shure, the Microflex Ecosystem is the first audio solution included in Cisco's program.
Essentially, Shure's Microflex portfolio of audio collaboration devices are now certified as compatible with Webex, Cisco's flagship conferencing and collaboration platform. This comes after each company has independently tested and verified functionality across a wide range of devices.
The result is the assurance that Microflex Advance and Microflex Wireless products are optimized for select Webex devices with full installation guidance and other documentation, according to Shure.
The Microflex Ecosystem is a portfolio of networked audio solutions, including microphones, DSPs and loudspeakers. Now, installers and end users of those products and Webex will experience "superior audio and video conferencing" in rooms of all sizes and use cases, according to Shure.
"Our aim is to help our customers who have chosen to combine Webex Devices with Shure audio technology solutions ensure that their deployment is perfectly set up and reliable at all times to best suit their collaboration needs," said Finn Helge Lunde, Head of Strategic Development, Webex Rooms. "With this partnership, Webex and Shure seal an even closer cooperation to enable organizations for the era of hybrid work."
Including Shure's Microflex Advance in the Webex Compatibility Program leverages Shure's Steerable Coverage Technology and "cutting-edge industrial design" in all Webex-enabled rooms. This allows users to manage features like mute, LED sync and call status from the Webex Room Navigator touch panel without additional programming.
"Our goal is to elevate the conferencing environment and provide the highest quality meeting experiences that end users rave about," said Paul Gunia, Director of Technology Partnerships at Shure. "Our joint installation partners should feel confident installing Shure's premium audio products alongside Webex's world renowned IT endpoints."
To support IT teams, installers, designers and users, Shure and Webex have co-created a comprehensive reference guide for setup and system design to help ensure successful meetings when combining the Microflex Ecosystem solutions with select Webex video conferencing endpoints.  
If you enjoyed this article and want to receive more valuable industry content like this, click here to sign up for our digital newsletters!