Cisco Makes Statement With New Devices, Features In Webex
Cisco is aiming to take a chunk of market share away from Zoom and Microsoft with new features and devices for Webex.
Leave a Comment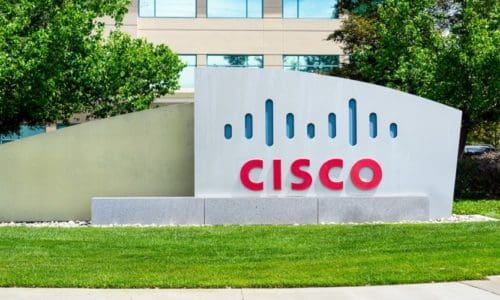 Zoom and Microsoft Teams are two of the most dominant players in the videoconferencing market, especially since the rise of remote work due to the COVID-19 pandemic and the torrid pace with which these companies are releasing features.
The companies are also aiming to make integrated hardware more affordable and scalable to meet the smallest or largest room demands.
Now, it seems that Cisco is trying to regain some of that market share and spotlight with new features in Webex, and now, new pricing plans for its integrated hardware.
According to a Cisco blog, the company is rolling out new cloud pricing for Webex Desk and Room devices, with some prices reduced by 50%.
Now, new or existing customers with a Webex meetings or calling Enterprise Agreement (EA) will qualify for substantial discounts on select Webex devices.
With a Webex EA, the Cisco Suggested Resale Price of the Webex Desk Pro will be $2,499, the recently announced Webex Desk will be $1,249, and the reimagined hotdesk with the Webex Desk Hub bundled with the Webex Desk Camera will be $699, according to Cisco.
Here's a look at some other new Webex features recently announced by Cisco:
A new remote to control the camera on Room USB devices.
Environmental sensors, capacity alerts, touchless calls and meeting joins.
People Insights, a new feature designed to deliver insights on the wellbeing of the user, their team and organization. Available this summer.
People Focus, a feature that can help users read the room during a Webex call using artificial intelligence and machine learning to individually reframe people in a meeting room.
Real-time translations that help break down language barriers by providing translations for more than 100 languages.
Immersive Share, available on Webex Desk Pro devices, that overlays the speaker's image on top of shared content.
Hybrid calling features that merge PBX systems and cloud-calling/
Webex Edge, which allows on-premise device users to tap not intelligent cloud features like advanced muting, facial recognition, name labels, host controls and bi-directional whiteboarding.
Improvements to Webex Control Hub for administrators.
Those are just some of the many new features Cisco has rolled out for its flagship unified communications and collaboration product, and there will likely be more as several key players jockey for position and market share in the increasingly crowded unified communications market.
For more insight, visit the company's website or watch keynotes and other sessions from the Cisco Live event this week.