For Conference Room System Integrators, 2021 Looms Large
Enterprise customers will return to the office in some capacity in 2021, and they'll need the expertise of the pro AV industry more than ever.
Leave a Comment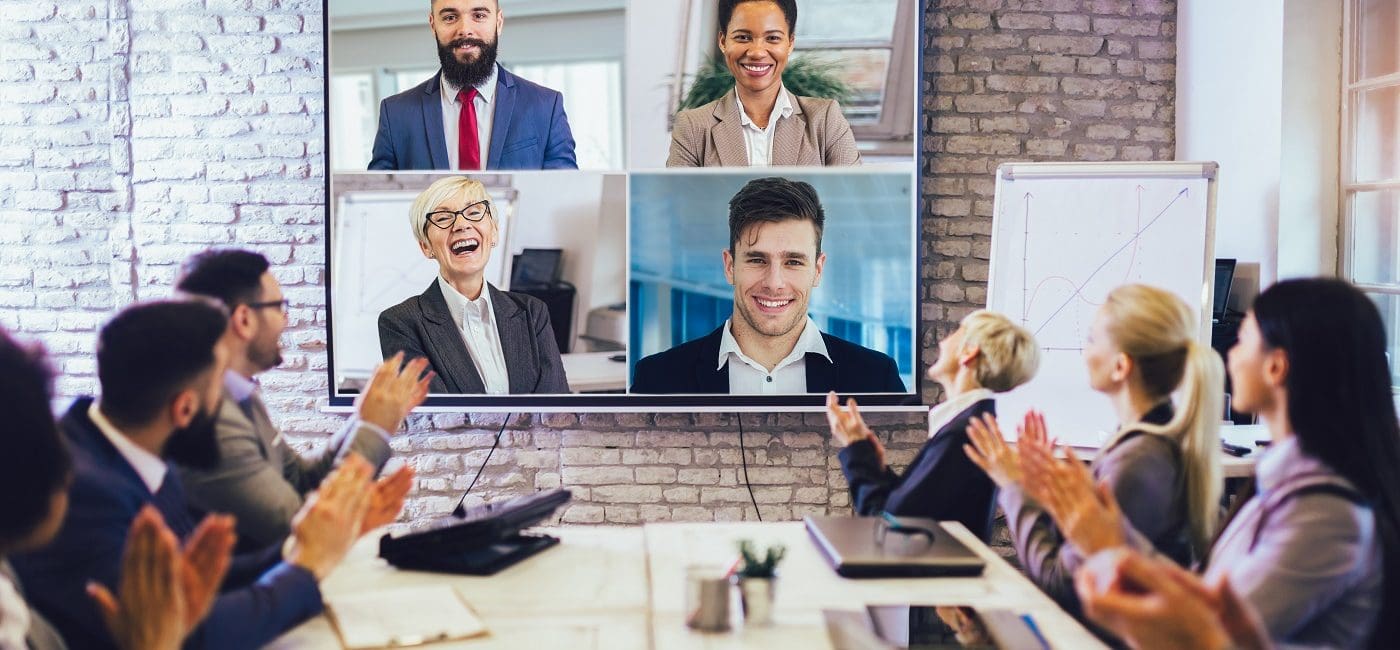 Although many have grown to enjoy the convenience of working from home, there is a growing body of evidence that many others are burnt out on remote work and want to return to the office.
With reports the FDA could approve a national coronavirus vaccine soon, enterprises are pondering their return to the workplace and are adopting a hybrid work model that gives employees the flexibility to work wherever they want, including the office or their homes.
That means workspaces and conference rooms must be equipped to connect a dispersed workforce with an equally dispersed customer base using new tools as the world looks ahead to a post-pandemic office.
This could set up integrators for a busy 2021.
When will employees come back to the office?
Many large enterprises already had no plans to return to the office before winter is over, but as COVID-19 cases skyrocket due to the holidays and cold weather, many could find themselves in the same boat.
Google and Facebook have said its employees will have the option to work from home through at least July 2021 with both leaving open the possibility for permanent remote or hybrid work for some workers.
However, Google employees in a recent survey indicated they want to return to the office at some point, but not every day.
Many Googlers will tell you that the thing they love most about work is the PEOPLE. So we were worried about how employees would feel about WFH. It has been an extraordinarily hard year for everyone, but we're seeing some silver linings: pic.twitter.com/vlskiWjo9S

— Life at Google (@lifeatgoogle) September 22, 2020

However, according to a survey on Blind, an anonymous community app for the workplace, more than half (55%) of employees at Facebook, Apple, Amazon, Netflix and Google said they don't want to work from home all of the time.
That means system integrators that before 2020 counted on corporate clients investing in videoconferencing systems don't have to start looking for new verticals.
Those employees will come back, and they will rely even more on these integrated solutions, says Travis Deatherage, a partner and president at Colorado-based integrator Linx Multimedia.
"I don't think most of them are going to change before June," Deatherage says.
Two major factors these organizations have to consider are the safety of their employees and the availability of vaccines as well as what is happening in schools.
Prolonged distance learning means employees need to make sure their children are cared for while they work, and requiring employees to come back to the office before schools are reopened could cause issues.
"I think in the short term, the hybrid, mostly remote working model continues until those two things are solved," Deatherage says.
Read Next: Navigating the Sea of Videoconferencing, Collaboration Apps in the Conference Room
What needs to change in the conference room
There is promising news that the end of the COVID-19 pandemic is within reach and perhaps just months away, mostly due to vaccines developed by several biopharmaceutical companies.
Distribution efforts in the U.S. and elsewhere will be underway shortly.
However, unified communication and collaboration providers like Zoom, Microsoft Teams, Webex, Google Meet and others have adapted to remote and hybrid work and have released new tools and features that make collaborating easier.
Now, companies have to ask themselves if their pre-pandemic suite of in-office conferencing tools and solutions meet the needs of workers who don't plan on being in the office every day – or at all.
"That tool set has changed for these organizations over the last 12 months," Deatherage says.
"There are so many organizations that weren't doing anything with Zoom or Teams 12 months ago, and over the last eight or nine months, they're totally ingrained in Zoom or Teams."
"That is the big opportunity for our industry – to help customers get those rooms upgraded, cost effectively, in a reliable way that's easy for them to use."
With social distancing still expected to remain in some form, conferencing rooms or huddle rooms may be spaced out further with fewer seats, but new technologies could help solve that problem, says Aaron McArdle, president and CEO of conference room installer RoomReady.
Now, customers are starting to ask about meeting spaces that aren't bound by four walls.
That was previously nearly impossible since nearby noise could disrupt a conference call, but new noise cancelling and acoustic technologies can help make open offices even more open.
"We used to think we had to be in a room to keep ambient noise down," McArdle says. "That's not the case anymore."
The second and third quarters could be very busy
With organizations beginning to plan a return to the office and vaccination campaigns about to get started, enterprise system integrators could be on tap for a very busy 2021 beginning in the second quarter.
With vaccines on the horizon, customers are now beginning to plan for those projects.
Commercial Integrator needs YOUR help!
Will you take just two minutes to fill out this end-of-year business survey? Doing so will help us complete our annual State of the Industry report — a valuable recap and forecast for the business year to come. It only takes a moment.
"Our pipeline is bigger than it's ever been and I feel like our customers will need us more than they've ever needed us, and they'll need our industry more than they've ever needed it in 2021," Deatherage says.
According to McArdle, the middle of 2021 could be among the busiest ever for conference room installers.
"They're starting to plan, but I don't think we'll see it get really crazy until after the new year," McArdle says.
Next month, Joe Biden will take the Oath of Office as the 46th president. He has said he plans an aggressive approach to tackle the pandemic and oversee a nationwide vaccination program.
Once the corporate world sees how the Biden administration handles the crisis and gets an idea of what to expect, then "we'll start seeing people move," McArdle says.
"I think we'll spend the first quarter planning and getting an idea of what we're going to do, and then I think come March, everybody's going to be scrambling to be ready for getting offices open in June and July," McArdle says.