Logitech Introduces Rally Bar Huddle for Small Meeting Spaces
Logitech's Rally Bar Huddle is all-in-one conferencing bar designed for the growing number of small meeting spaces and huddle rooms.
Leave a Comment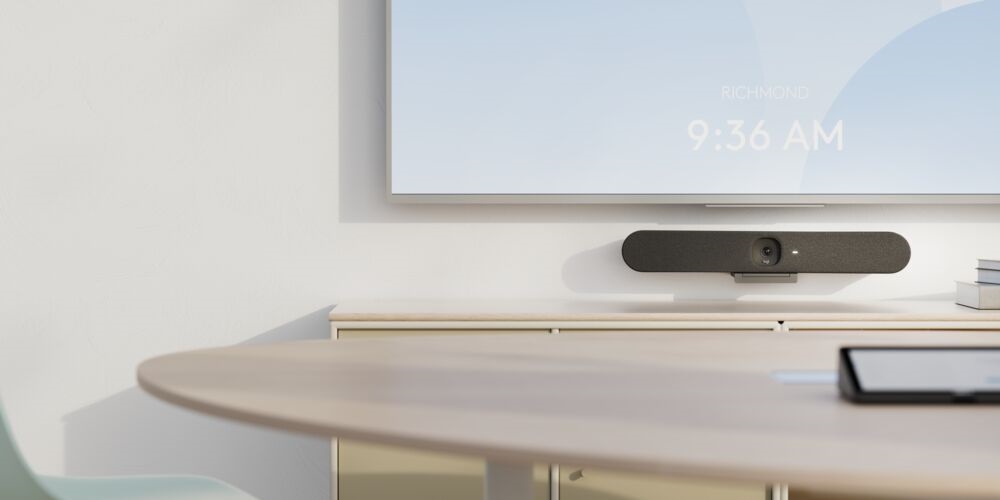 Logitech, which has long been offering all-in-one videoconferencing bars, is innovating off the success of their Rally Bar solution with the Rally Bar Huddle, a new all-in-one video bar designed for small meeting rooms and huddle rooms.
Like many others in the all-in-one conferencing bar category, Logitech says the Rally Bar Huddle is easy to set up, manage and integrate with Tap IP through CollabOS. The newest device for small rooms and huddle spaces joins the Rally Bar portfolio, which currenlty includes the Rally Bar Mini for small to medium rooms, the Rally Bar for medium to large rooms, and Rally Plus system for large to extra large rooms.
The Rally Bar Huddle comes as companies are heavily investing in conferencing technologies and outfitting meeting spaces with video and audio solutions designed to help support hybrid workers and turn office space into flexible conferencing spaces.
AI audio, video to support hybrid work
According to Logitech, the Rally Bar Huddle is designed for rooms of up to six meeting participants to ensure each is seen and heard clearly thanks to built-in AI video intelligence and 4K image quality. Six beamforming mics and AI-based noise suppression adds to the bar's ability to keep participants focused on the meeting.
In addition, a redesigned ported-audio system makes Rally Bar Huddle two times louder than Logitech's MeetUp solution, the company says.
Going even further, Logitech is adding ongoing software improvements to make Rally Bar Huddle even more intelligent, with updates that add advanced features.
Those advanced features include RightSight 2, Logitech's AI tool that tracks the active speaker while also showing the entire room and also gives each participant equal representation by detecting faces and zooming in on each person to give them their own frame.
These features are integrated with similar tools from Zoom Rooms and Microsoft Teams designed to solve some of those meeting equity issues inherent in hybrid work, the company says.
Logitech says Rally Bar Huddle can be deployed three ways: with a dedicated Windows or ChromeOS computer, in BYOD mode, or in appliance mode to support video conferencing applications without an external computer.
Easy for IT to deploy, monitor, manage
Like others in its category, the Logitech Rally Bar Huddle supports the most popular videoconferencing platforms, including Microsoft Teams, Zoom and Google Meet.
Again similar to other vendors in the all-in-one conferencing bar category, Logitech markets the Rally Bar as a simple solution that IT teams can deploy out of the box. IT can also monitor and manage the device with the company's cloud-based Logitech Sync solution, which now includes Sync Insights to give IT teams data on how meeting spaces are being used.
Citing research firm Futuresource, Logitech says 68% of companies plan to invest in AV technology for small meeting rooms and huddle spaces.
In a statement, Scott Wharton, general manager of Logitech B2B, says huddle rooms are popping up faster than companies can deploy conferencing devices to support them.
"We designed Rally Bar Huddle from the ground up to have the optimal AI functionality for modern equitable meetings while coming in at a price point that is affordable for every single huddle room out there," Wharton says.
When will Rally Bar Huddle be available?
According to Logitech, Rally Bar Huddle will be available globally in July 2023 through authorized sellers and logitech.com with a suggested retail price of $1699. RightSight 2 features will be available in Fall 2023.
Another version of this article originally appeared on our sister-site My TechDecisions on May 25, 2023. It has since been updated for Commercial Integrator's audience.
If you enjoyed this article and want to receive more valuable industry content like this, click here to sign up for our digital newsletters!