MAXHUB Debuts UC M40 360-Degree All-In-One Camera
MAXHUB introduced its UC M40 360-Degree All-In-One Camera as a conferencing solution for small to medium-sized meeting spaces.
Leave a Comment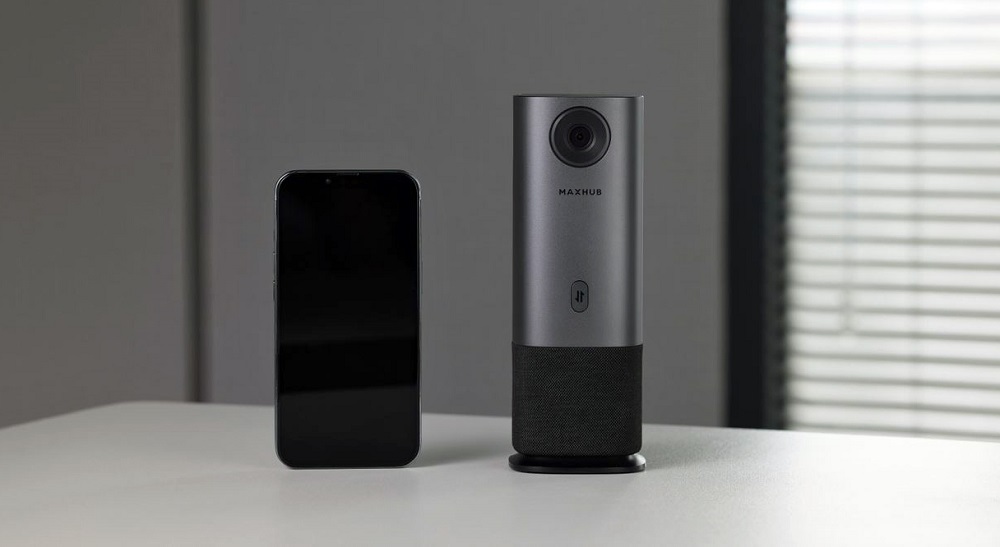 MAXHUB, provider of collaborative communication and interactive class delivery solutions, introduced its UC M40 360-Degree All-In-One Camera. Designed for huddle to small-sized meeting spaces, the UC M40 tracks every face and follows every word when placed in the center of the table. Thus it emerges as a highly functional meeting tool that is small enough to be carried in one hand.
The UC M40 integrates four 4k cameras to create a 360-degree camera, speakers, and voice-tracking microphones. In doing so, the design appears as portable as well as stylish. The camera also requires no external devices or time-consuming setup efforts. According to MAXHUB, this results in impressive performance and intuitive operation. Moreover, the new MAXHUB UC M40 combines 4-lens precision with intelligent speaker tracking for a true 360-degree immersive meeting experience.
The UC M40 also offers a rich feature set that makes operation easy. Its 360-degree panoramic wide-angle view allows each person at the table to appear front and center on screen. Additionally, it captures every meeting participant's face clearly and without any distortion with its 5MP 4-lens camera. Further, the one-tap mode switching and LED voice location indicator transforms even the most challenging spaces into productive meeting places.
Various Modes, Enhanced Meeting Experiences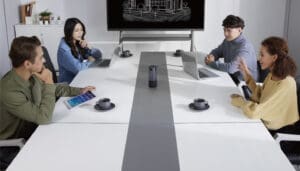 With seven modes—Discussion, Beamforming, Panoramic, Quad View, Portrait, Compose, and Split—meeting participants can be 'framed' in whatever manner best suits the preferences of the group.
For a more precise performance, the UC M40 also offers Professional mode. By activating Professional Mode, users can adjust a wide variety of settings. These include camera angles, custom display layouts as well as auto-framing settings. Even with its compact form factor, it offers boundless capabilities in terms of providing the exact preferred meeting experience.
The Compose mode combines a panoramic view of the entire room while viewing six key participants close up. Meanwhile, the Manual mode zooms into a specific area of the room. The Body fit mode focuses on all meeting participants while Grid mode shows four key meeting participants, each in their own quadrant.
Additionally, Presentation mode focuses on the whiteboard and the active presenter simultaneously. On the other hand, the Speaker mode displays the entire meeting room while focusing on all meeting participants.
Charles Montoya, director of UC Products for MAXHUB's North American operations, comments on the product. He remarks, "The UC M40 packs a tremendous amount of punch into a surprisingly compact meeting tool. With easy-to-use controls, users can select the framing that best suits the meeting participants." He adds that the camera's collaboration technology is compatible with all popular video conferencing applications. These include Microsoft Teams, Cisco Webex, Zoom, and Skype. Thus, users will "find it easy to integrate the system into their preferred meeting setups."
MAXHUB is brand of CVTE Group and is a solution provider of LCD driver products. For more information on the UC M40, click here.
If you enjoyed this article and want to receive more valuable industry content like this, click here to sign up for our digital newsletters!