Microsoft Rolling Out New Webinar, Presentation Features In Teams
Microsoft is rolling out Webinars, PowerPoint Live and Presenter mode in Teams to help users create engaging virtual experiences.
Leave a Comment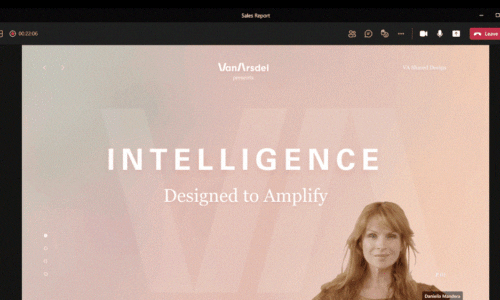 Microsoft is rolling out new features in Teams designed to give users ways to deliver professional presentations in webinars and meetings of all sizes.
Microsoft detailed the new features, Webinars, PowerPoint Live and Presenter mode in a Tuesday blog post.
According to the company, users can hold interactive meetings and webinars for up to 1,000 attendees directly in Teams using end-to-end webinar support that includes custom registration pages, attendee emails, presentation options, host controls and the ability to disable chat and video for other participants.
The feature also comes with post-event reporting so hosts can follow up with attendees.
For webinars of over 1,000 people, Teams accommodate a 10,000-person view-only broadcast experience. However, that feature is expanded to 20,000 through the end of 2021.
The PowerPoint Live feature brings presenter experiences from PowerPoint to the Teams app, and users can view upcoming slides, notes, meeting chat and the audience in a single view.
Read Next: Microsoft To Release New Teams Whiteboarding Features
Attendees can privately navigate the content at their own pace, or they can use high contrast mode and screen readers to make content accessible.
Microsoft also plans to bring slide translation capabilities to the feature, allowing users to select their native language and have slides automatically translated for them.
Presenter Mode, which is rolling out later this month, allows presents to customize their video feed and content, including showing the speaker's feed as a silhouette in front of shared content, displaying content as a visual aid above the speaker's shoulder like a news broadcast and showing content next to a presenter's video feed.
These features are a play at making videoconferencing and webinars more engaging and combatting video fatigue. Some of them resemble Mmhmm, a videoconferencing app that offers engaging ways to display and interact with shared content.
The features also reflect the collaboration industry's move towards post-COVID life, which will ultimately lead to a drop in videoconferencing and collaboration usage when workers return to the office. The video space has become crowded, with Zoom and Teams duking it out for the top spot.