MuxLab Introduces MuxMeet Product Line for Video Conferencing
MuxLab announced its newest MuxMeet product line-up designed for use in a wide range of conference room set-ups.
Leave a Comment
Canada-based MuxLab announced its newest MuxMeet product line for video conferencing. According to the company, the line-up offers products and bundles for conference rooms of all sizes.
Additionally, the product line offers hardware which can be used as standalone products or paired with each other as complete conferencing solutions for meeting rooms and office set-ups of all sizes.
MuxMeet Videobar

The MuxMeet Videobar is a plug and play all-in-one 4K-UHD Camera, beamforming microphone and full-frequency range loudspeaker. It also offers 120-degrees wide angle view and 5x digital zoom as well as pan / tilt support ±15 degrees.
Further, the built-in microphone offers a 19.5 feet pick-up distance. The videobar has a high quality noise reduction system with echo cancellation. It also has auto tracking and auto framing, Bluetooth 5.0 connectivity and local HDMI output.
The MuxMeet Videobar is easy to deploy, manage and use in small and medium rooms. Its plug-and-play connectivity makes it compatible with applications that support standard USB peripherals without the need to install drivers. Thus, it eliminates the need for technical assistance during initial setup. The MuxMeet Videobar can also be installed in a variety of configurations, including wall mount (above or below a screen) or table stand.
The MuxMeet Videobar works well with the most popular video conferencing platforms. These include Microsoft Skype, Microsoft Teams, Zoom, BlueJeans, GoToMeeting among others. Its USB connectivity enables the device for audio and video conferences or as a speaker for your local devices. Moreover, the Bluetooth connectivity support allows audio calls and music playback in real time from a mobile device.
Also Read: BYOD Systems Are Wildly Popular Right Now
MuxMeet Share BYOD Solutions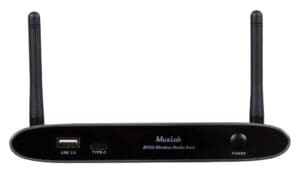 MuxMeet Share BYOD solutions provides a pure wireless presentation experience, per the company. Here, one can bring your own device with no cable mess. The solution supports native wireless mirroring protocols like Airplay, Miracast, and Chromecast. It also supports HDMI and USB-C dongles for wireless presentations and 4 split screen views. The MuxMeet solutions can be used with Windows, Mac or Android for wireless presentations. Further, it supports PoE, whiteboard and annotation with a customizable home screen page.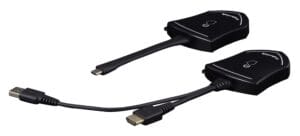 Sold separately, the MuxMeet Share dongles include the following:
HDMI: MuxMeet Share Dongle-H1 (model 500827)
USB-C: MuxMeet Share Dongle-U1 (model 500828)
Raviv Kramer, MuxLab's recently appointed CTO, further expands on the need for the new MuxMeet products. He adds, "…With MuxMeet, we deliver a smart solution that is easy to use, allowing people to focus on their meetings instead of wasting time fighting with the technology."
If you enjoyed this article and want to receive more valuable industry content like this, click here to sign up for our digital newsletters!