Check Out This Neat All-in-One Videoconferencing Display Being Used in the White House
President Joe Biden was captured using an all-in-one videoconferencing board from Neat to connect and take meetings remotely.
Leave a Comment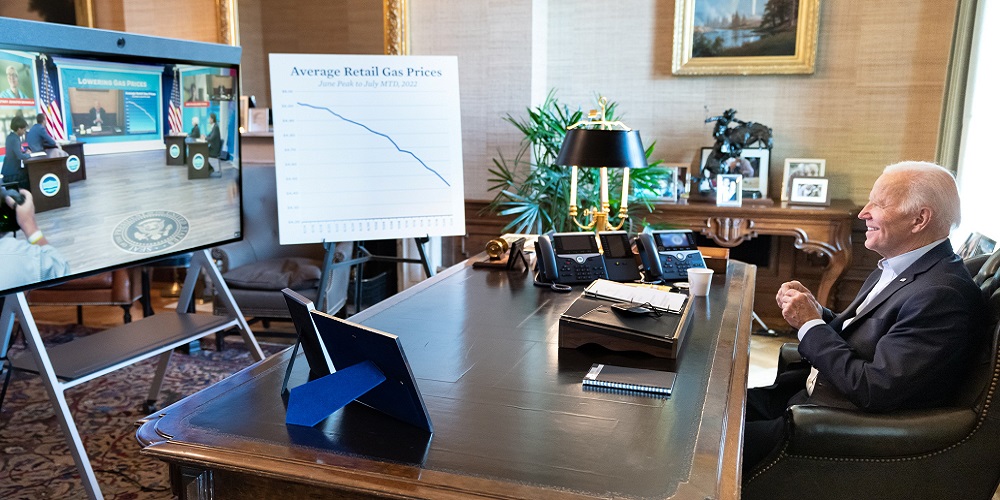 When President Joe Biden tested positive for COVID-19 last week, he—just like everyone else in the world with a similar diagnosis—was forced to work out of his home. That home, however was the residence at the White House, and his employer is the American people, so it's safe to say that he has access to resources that can help him continue to do his job while isolating.
One such resource that helped him tune in to meetings remotely was an all-in-one videoconferencing display from Norwegian manufacturer Neat. The President's official Twitter account tweeted two images of the commander-in-chief taking virtual meetings with the help of the Neat Board, a 65-inch videoconferencing display with an embedded camera, microphones and speakers.
Gas prices are declining at one of the fastest rates we have seen in over a decade – we're not letting up on our work to lower costs even further. pic.twitter.com/suEKuKXyKP

— President Biden (@POTUS) July 22, 2022
Earlier today, I was joined by industry and labor leaders to discuss the importance of passing the CHIPS for America Act to supercharge our efforts to make semiconductors right here in America.

I'm ready to sign this strong, bipartisan bill into law. pic.twitter.com/wNoSaWqcus

— President Biden (@POTUS) July 26, 2022
Like others in the same product category, (Microsoft Surface Hub, Poly, Avocor, LG, DTEN, Sharp/NEC) the Neat Board is designed to take the complexity out of meeting room systems by packaging all necessary components into one device, eliminating the need for a complicated conference room setup. Neat's device features a 4K screen, an integrated touchscreen and whiteboard tool, and a 12-megapixel camera with 4x digital zoom.
The Neat Board can be configured for either Zoom or Microsoft Teams, but the Neat Board captured in use by Biden's Twitter account was set up for Zoom, according to Justin Bondi, a lead product specialist at Neat.
Even though Neat is still a young company (launched in fall 2019), the company has roots in government work, with many executives and senior managers coming from the videoconferencing industry, with many boasting resumes that include Cisco, Pexip, Tandberg (acquired by Cisco in 2010), Huddly and others.
Videoconferencing equipment is common in the White House, including areas like the Situation Room, which is typically outfitted with secure, robust conferencing systems.
All-in-one videoconferencing displays like the Neat Board offer presidents and other government officials the ability to take calls anywhere, rather than having to go to rooms already equipped with complex and elaborate videoconferencing installations, Bondi says.
"What they like about this is that they can put it wherever they want, and roll it right into the Oval Office," Bondi says. "I think it speaks a lot more to the nature of the world now, where any meeting might end up being a video meeting. I don't want to have to go somewhere just to do the video."
The company was unable to say much more about the Biden Administration's use of the Neat Board, other than the fact that his administration has been using Neat Boards for several years.
The White House deployment—which appears to include the Board and a floor stand—goes for $7,280, according to the company's website. The images make it unclear if the White House is using controllers or scheduling displays, with cost $760 each.
This article originally appeared on Commercial Integrator's sister-site MyTechDecisions.com.
If you enjoyed this article and want to receive more valuable industry content like this, click here to sign up for our digital newsletters!