Studies: Telehealth Booms During Pandemic, Expected To Remain
Telehealth was in high demand during the pandemic and it is expected to remain, presenting an opportunity for pro AV.
Leave a Comment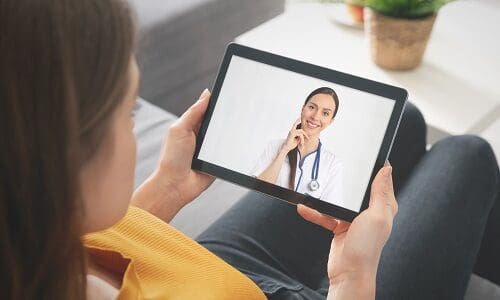 The COVID-19 pandemic helped accelerate a lot of digital trends across virtually every industry, including healthcare. Specifically, telehealth helped patients connect with doctors without having to travel to the hospital or medical office as organizations tried to limit the spread of the virus.
According to a new study, more than a third of privately insured health plan members in the U.S. accessed telehealth services, which should confirm for integrators that there is a market for videoconferencing systems to support telehealth solutions.
The J.D. Power 2021 U.S. Commercial Member Health Plan Study found that 36% of health plan members with private insurance used telehealth services, which was up from just 9% a year ago, contributing to a 10-point gain in overall member satisfaction.
The study also found that digital contact with insurers increased, with 32% of members saying they connected with their health plans via web, mobile app or text messaging in the last year.
Read Next: Telemedicine Tech Should Have Staying Power Even After Coronavirus Pandemic
What's increasingly clear is that remote communication technology adopted by much of society during the pandemic has great staying power, including telehealth.
Another study, this one published in JMIR Human Factors from Syracuse University researchers found that physicians want to expand the availability of telehealth permanently.
The survey found that more than 40% of physicians would continue with telehealth, and patient visits conducted via telehealth rose from a 13.1 average before the pandemic to nearly 60% during the crisis.
Further, physicians said they could deliver about 45% of patient visits via telehealth, representing more than three times the pre-pandemic delivery rate.
However, the study noted five major challenges of providing telehealth, some of which AV integrators can fix with custom-built hardware, integrated systems and training:
Limitations on ability to deliver certain types of care
Inadequate telehealth tech
Lack of support for telehealth
Insurance reimbursement obstacles
Inadequate telehealth training
Based on these studies, it's clear that telehealth will continue to remain a part of the healthcare experience and a significant opportunity for the pro AV channel.