VideoLink ReadyCam Simplifies Everything On-Air at University of Houston National TV
VideoLink ReadyCam simplifies on-air interviews for university of Houston National TV Program by letting the studio come to the interviewees.
Leave a Comment

There's a huge base of knowledge on any college campus, but the University of Houston discovered an innovative way to spread information on a wide range of topics that takes much of the legwork out of on air interviews — thanks in part to VideoLink ReadyCam.
Rather than roll recording equipment to the source, the source comes to the VideoLink ReadyCam studio on campus. Again, most campuses have a TV studio, but at this studio the recording happens without anyone physically running the camera.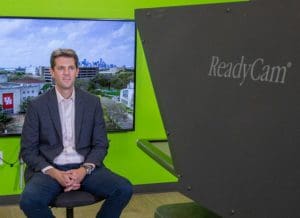 Instead, the ReadyCam studio is operated remotely by VideoLink technicians 24/7/365.
Remotely Operated TV Studio
The transmission of content happens over the Internet from the UH studio to the VideoLink production facility, making the hand-off seamless and effortless for studio guests.
The VideoLink professionals handle all of the production details, and will also stream the content to Facebook Live, YouTube and a variety of webcasting platforms.
Guests simply walk in, mic up, and record. They can visit the studio whenever is convenient, which eliminates travel and scheduling challenges.
Here's a synopsis of the process, according to a VideoLink brochure:
a producer/booker from a TV network arranges an interview with a guest
the network calls the 24-hour ReadyCam Operations Center and coordinates the technical details
the guest arrives at the ReadyCam studio and prepares for the shot
the interview goes live
"The University of Houston has a wealth of faculty expertise and this is especially true for issues that are indigenous to our geography and economy such as energy and immigration," says Mike Rosen UH executive director of media relations.
"By adding the ReadyCam studio on our campus, we hope to expend our reach of thoughtful analysis rooted in the fact and research and become a more valuable resource for journalists worldwide."
In addition to enabling UH to easily share its faculty's expertise and knowledge with news organizations worldwide, the ReadyCam takes all of the guesswork out of setting up an on-site studio.
Designed as a turnkey package and installed by VideoLink technicians, the studio comes with all of the necessary equipment to conduct professional interviews. Included are an HD camera, broadcast-quality audio and lighting, an electronic backdrop, and internet-based transmission.
"We are pleased to partner with the University of Houston in its strategic effort to share its faculty's expertise and knowledge with news organization nationwide," says Jonathan Robbins, VideoLink Director of ReadyCam Sales.
"UH will be better able to showcase its research and academics to wider audiences thanks to the convenience of the ReadyCam studio."