VisibilityOne App Monitors Videoconferencing Systems
VisibilityOne has launched a cost-effective videoconferncing monitoring solution and application for SMBs in a public beta.
Leave a Comment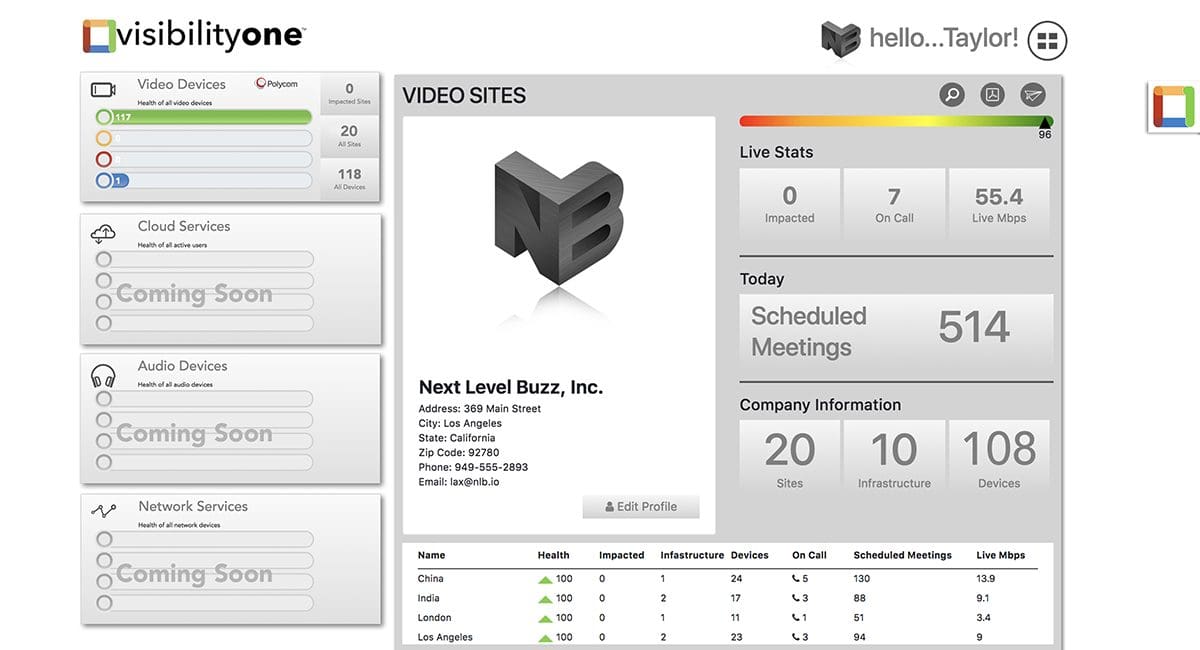 Editor's Note: This story was originally published on Feb. 11,2019 It has since been updated as of April 2023.
After eight months of private beta testing with clients like U.S. Foods, VisibilityOne has announced the public beta launch of its proprietary videoconferencing monitoring solution.
The public beta version of the VisibilityOne videoconferencing monitoring platform has been verified to help small- and medium-size businesses (SMBs) and enterprise organizations aid their IT support teams.
"Our solution prevents unnecessary downtime in video collaboration environments and reduces the engineering costs of supporting the environment," says Joes De La Paz, co-founder and CEO.
"With VisibilityOne's cloud-based UI [user interface] and proactive videoconferencing monitoring platform, IT can take control and proactively support their user base."
According to the company, the VisibilityOne platform provides real-time data and system health status information across vendors and cloud services.
How the VisibilityOne Platform Works
After downloading and installing the VisibilityOne app, which is supported by the Microsoft Windows workstation and Server operating systems, companies only need a single app per building or location.
Once in action, the app securely communicates with a building's video collaboration equipment and consolidates that data produced by the video collaboration system.
After gathering this information, VisibilityOne transmits that data to its cloud service and it will then display that information in the cloud user dashboard for users to instantly access the information.
"Clients won't have to worry about video conference calls going south, your IT team will feel empowered, and you will have more time for communication and collaboration that drives your business forward," adds Von Bedikian, co-founder and CRO.
VisibilityOne Features Summary:
Provides call disconnect information
Site-to-site quality of service (QoS)
24-hour meeting schedule viewer
Live performance data, including network throughput, jitter and packet loss
Videoconference device health statistics
Remote reboot
Microphone and camera disconnect alerts
VIP user priority video conferencing monitoring on cloud services
Management reports supporting ROI
Incident detail reporting
More from Von Bedikian, co-founder, VisibilityOne:
Having spent the latter 25 years in the VC and AV integration space, I along with my Co-Founder Jose De La Paz have seen our share of customer support challenges. Especially in the case of Video Conferencing systems. Was it user error? Hardware failure? Network issues? Regardless of the circumstances, the customer always assumed one thing and one thing alone — it's the integrators fault.

I know what it's like to be on that end of the call, as I was one of the top Polycom Integrators in the nation. Jose as well had invaluable experience leading the technical teams of multinational integrators and VARS.

Together we set course in 2017 to change things. We knew there had to be a better way to manage these technical problems and user errors, so we put together the team and a game plan to create VisibilityOne.

VisibilityOne is a game changer. What would take you hours if not days to assess via five or six different applications, is now literally at your fingertips. Its user interface is designed to be intuitive from the get go, you'll see your entire estate of rooms and devices, scheduled meetings, their status and performance over time.

You'll know why a call went down, or why the audio and video quality was unacceptable, from actual call disconnect reasons, to jitter, to Codec health stats, even how your cloud services perform, it's all available to you on one application with VisibilityOne.
If you enjoyed this article and want to receive more valuable industry content like this, click here to sign up for our digital newsletters!