Workplace Solutions Shift Into New Territory
Traditional room sign and event management systems remain important to the ecosystem, though organizations crave more flexible booking and planning technologies
Content from our Sponsor
Leave a Comment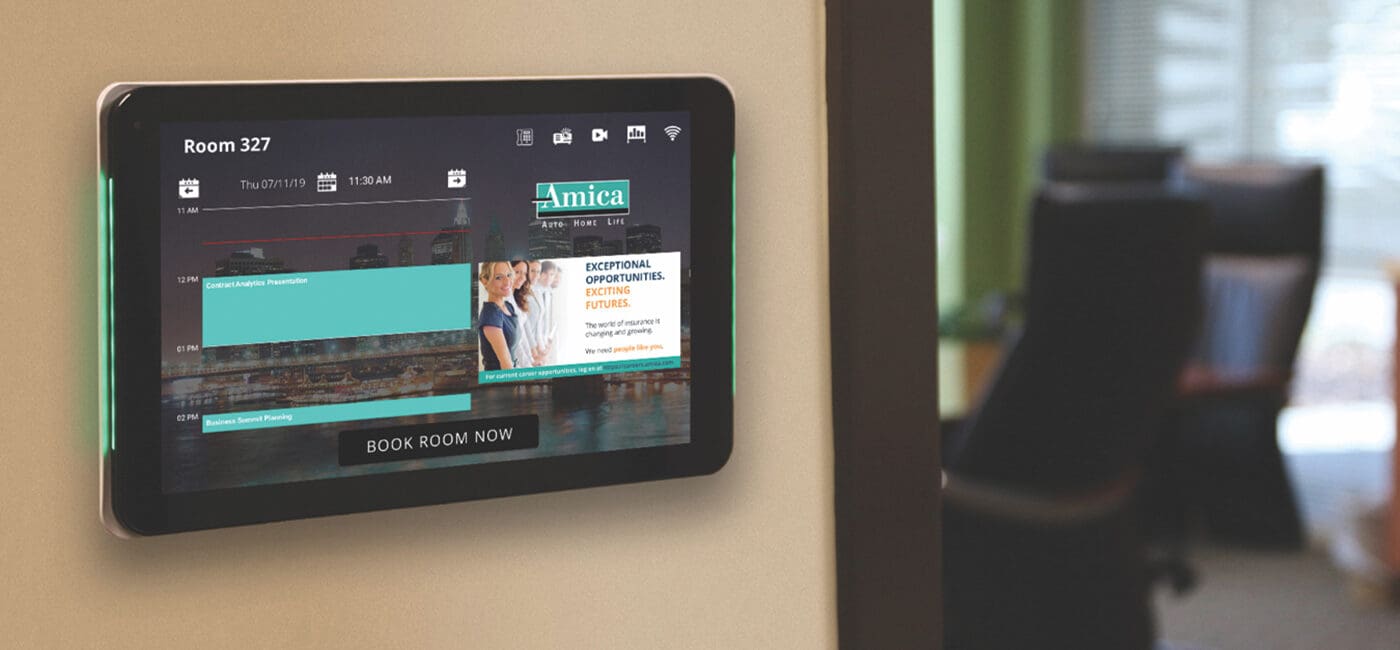 By Sean Matthews, CEO, Visix
Collaborative environments, and the development of ecosystems that simplify how people connect and interact, continue to be the hot topic in AV long after we have resumed office and campus life. End users have accelerated adoption of wireless presentation switchers, PTZ cameras, and beamforming microphones that make it easier to initiate and manage meetings, and bring physical and remote contributors together as equal participants.  
Same as inside these spaces, technologies just outside the doorway continue to evolve. Meeting room signs, once taken somewhat for granted, now provide essential guidance to people as they navigate dynamic business and classroom schedules. This is particularly true in corporate and office environments, where schedules often fluctuate by the hour.  
For many workers, it's a mystery as to which colleagues will join them on their scheduled in-office days. By extension, it makes sense that demand for simple meeting room signage has increased, as has the need to develop technology that satisfies modern scheduling and booking needs throughout the office. 
Pre-Pandemic Approach
While room signs are certainly a known entity to AV readers today, there is a reasonable impression that the technology is a pandemic-related innovation. There is no question that the pandemic fueled its evolution, though the technology originated nearly 20 years ago. Steelcase, an early innovator of the meeting room sign, introduced an intriguing hardware appliance that tied to its in-house booking system. Still in business today, Steelcase specializes in high-end furniture for business environments. Their innovation added a visually appealing, architecturally-refined meeting room offering — unique to today's common tablet designs — to pair with their furniture options for corporate clients.
AV manufacturers saw an opportunity to develop the feature sets and use cases of these then-novel systems. One early initiative extended meeting and event schedules visible on large hotel or convention center digital signage displays to the specific rooms where events occurred. These fundamental event management systems soon evolved to become actual space reservation systems primarily tied to a series of meeting rooms, ballrooms and shared spaces. The combination guided visitors to their destinations, which was soon made even easier by building availability lights into the architecture.  
Integrators also discovered a new business opportunity. While room signs themselves were (and remain) appliance-like in aesthetic design, their low-voltage components required some installation expertise. End users wanted their signs to blend well with the surrounding environment, which required contractors to neatly mount and recess signs into the drywall, and pull electrical and/or network drops to power the sign.  
Clearly, a large corporate campus, university, hotel or convention center with many gathering spaces, and a sudden urge to publish room information and show space availability, presented a new revenue opportunity with existing clients. Meanwhile, AV manufacturers adjusted product designs to become more adaptable, making it easier to stylize solutions that matched an organization's design, and customize visual elements including transparency, logos and clocks.  
Changing Attitudes
 In today's "post-pandemic" world," manufacturers have turned their attention to addressing the challenges of the hybrid lifestyle. Whereas event management systems emphasized room occupancy, the focus has now shifted to the broader landscape of "bookable spaces". Today, we see interactive solutions coming to market that allow people to book offices, desks and parking spaces in addition to meeting rooms. These are essentially reservation systems for on-property assets that can also build in familiar features such as wayfinding, while providing specific details on availability windows, ADA accessibility, amenities, and other important considerations that the person making the reservation needs to know.  
The inspiration behind these developments directly correlates with changing behaviors. Looking specifically at the corporate lifestyle, 26 percent of the US workforce works remotely today on either a part-time or full-time basis. Aggressive forecasts that the workplace would return to full-time office operations have dwindled.  
Whether willing or reluctant,  businesses have largely accepted that the hybrid workplace is here to stay. With that acceptance comes two needs for management: First, to ensure that staff on rotational schedules have places to work, meet and park during in-office days; and second, to understand precisely how bookable spaces are utilized through the power of analytics.  
Forging New Ground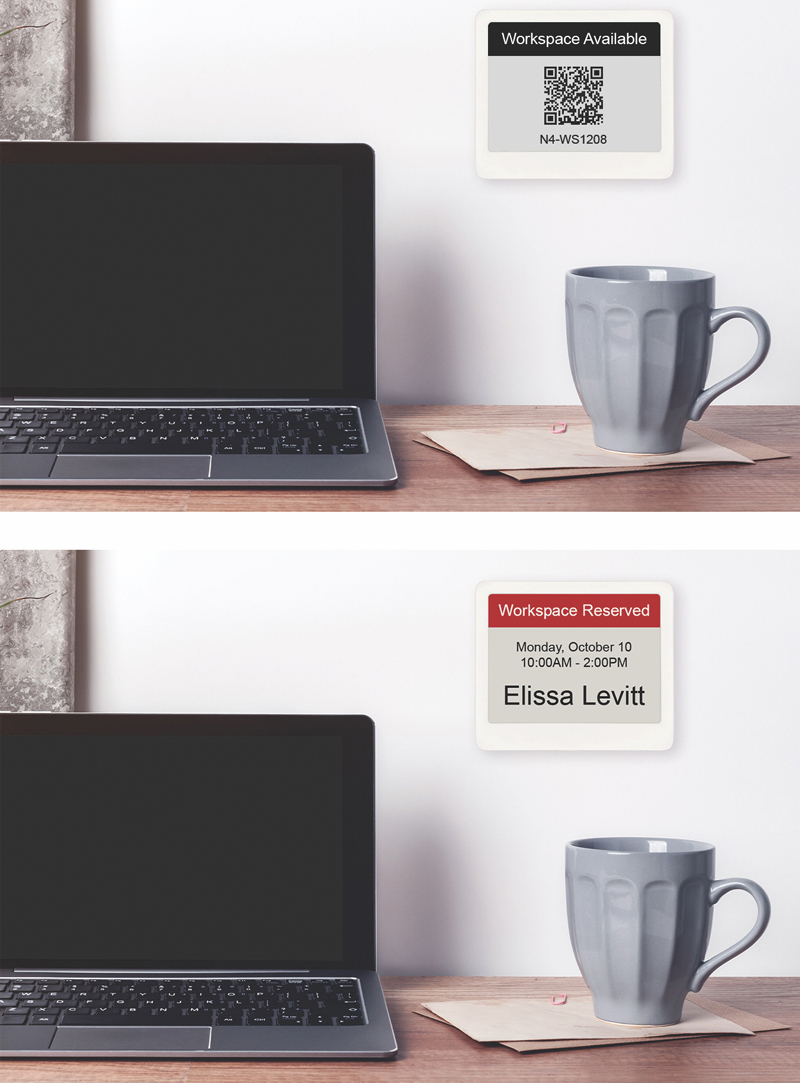 We have made our own changes at Visix headquarters that reflect how we work across the company. We've downsized our office space by 50 percent at our Atlanta headquarters, and provide 15 workspaces for staff, in addition to meeting and collaboration areas. Less than 20 percent of our workforce come to the office on a regular basis. Our example represents a microcosm of the larger corporate world, where the executives of businesses that occupy multiple floors of commercial real estate are questioning the value of renewing their leases. The motivation to have an office where teams can meet and collaborate remains strong, and businesses now want to understand how they can more effectively utilize their real estate. 
The challenge for our industry is clear: How can we help businesses achieve that goal? Most hybrid platforms that have surfaced post-pandemic are driven through apps and web platforms. App-based solutions allow customers to log on to a calendar system, view and book meeting rooms and desks. For desk hoteling and hotdesking, a common approach invites the user to scan a QR code and book a dedicated workspace from a visual floor plan. Walkup reservations on interactive room signs are increasingly popular, with green lights indicating availability for immediate bookings. 
The main barrier to most hybrid work platforms is that they require users to buy into the app. This can be especially challenging in the business world, where employees may be resistant to download apps onto personal devices. When it's the only means of booking a space, the business is essentially coercing employees into reluctant adoption. We see opportunities to level the playing field, and provide users with more flexible booking options across retinal scans, fingerprints, and other biometrics that remove the requirement of app adoption. 
What's Ahead For and Beyond InfoComm
The rise of workplace analytics brings additional value to the organization by empowering decision-makers. That empowerment comes through an ability to plan, manage and redesign their facilities and bookable spaces for changing business environments more effectively.  
Visix has addressed this emerging need through a partnership with Tango's Reserve by AgilQuest to give clients detailed occupancy analytics. These provide predictive capabilities to help businesses develop intelligent workplace strategies and make informed capital investment decisions with their existing commercial real estate. When used with our cost-effective Electronic Paper Signs, Connect interactive room signs or desk hoteling solutions, managers have access to data sets tied to space utilization throughout the business, with actionable insights as to how less-utilized spaces can be reimagined for increased productivity, or eliminated to save costs.  
Much has changed since the birth of this technology two decades ago, and we continue to see greater development thanks to the embrace of open APIs and intelligent backend software solutions that simplify connections to calendars, interactive platforms and analytics solutions. At the upcoming InfoComm show in Orlando, Visix will debut two new innovations that move scheduling and booking technologies in exciting new directions. The first is a disruptive technology that can display schedules and enable bookings through native AR support on smartphones, without the need to download an app or log into a website. A new ultra-lightweight, pocket-sized E Ink sign will also debut, providing an affordable solution with flexible mounting options to show reservations for all shared spaces throughout an office building or campus. 
While perhaps not the most exciting AV-related technology on the surface, workplace scheduling and booking has quietly become one of the most dynamic and fast-evolving areas of the industry because of its importance to the business and educational world. We anticipate many intriguing conversations about how far this technology has come — and where the technology is headed — at Booth 2942 on the InfoComm exhibit floor. 
Learn more about Visix's plans for InfoComm here. 

If you enjoyed this article and want to receive more valuable industry content like this, click here to sign up for our digital newsletters!