Patrons at Dubai's PLAY Restaurant & Lounge Can't Detect the ELAN Control System That Runs the AV
ELAN control system and Niles in-ceiling speakers fill the upscale PLAY Restaurant & Lounge inside Dubai's H Hotel with exceptional audio.
Leave a Comment
Like many architectural wonders across the Middle East, Dubai's PLAY Restaurant & Lounge exudes extravagance, with dark modern interiors and 36th-floor panoramic views.
This opulent eatery and lounge located in The H Hotel is bringing a whole new level of luxury to Dubai's famous Sheikh Zayed Road.
Much of that upscale experience can be directly attributed to the new ELAN control system that automates and controls the entire venue's lighting and audio without most guests ever even knowing it's there, said Nabil El Rayes, GM of local distributor and technology integrator Gal Tech LLC.
"The client asked Rayes and his team design and install a system controller for the club lighting, architectural lighting, background audio and club audio, he said.
ELAN "provides easy control for the staff while also allowing them to build out unique automated event scenes that create a variety of ambient moods throughout the day and night," said Rayes.
Rayes and his team installed an ELAN gSC10 Controller to control the LED lights, rotating club lights and six zones of audio. The team configured all audio to distribute through an ELAN S1616A Multi-Room audio amplifier and play through dozens of Niles CM7HD in-ceiling speakers.
Instant control of the lighting and audio at PLAY Restaurant & Lounge is accessible through an ELAN TP7 touch panel and Apple iPad, which are available for staff and the resident DJ to use.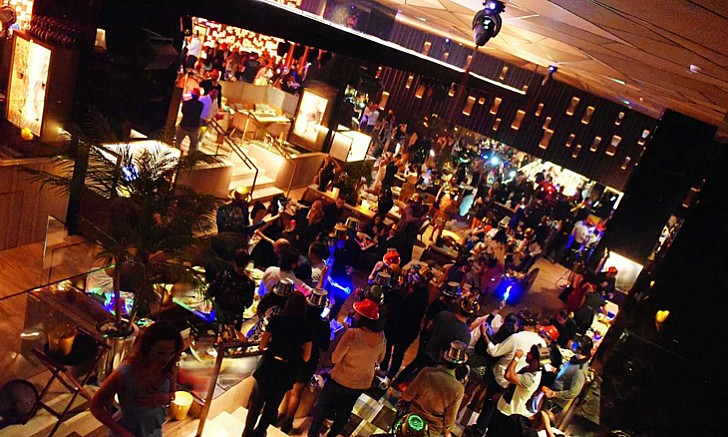 Lighting the PLAY Restaurant & Lounge
Lighting is one of the club's most important design elements because it helps to create a specific ambiance for guests, said Rayes. Gal Tech integrated 165 individual lighting channels into the ELAN control system, including LED and DMX Moving Head club lights.
At 9 p.m., the lighting and music at PLAY Restaurant & Lounge operates as the "dining" setting with dim lights and background music. At midnight, the lighting and music changes to the "club" setting, revving up in color and in volume.
The lighting integration was not without challenges for Rayes and his team.
"The main challenge during the entire project was to integrate the DMX Moving Head lights into the ELAN system," he said. "These lights are controlled using a 'lighting desk' and are not easily integrated for one-touch control or automation."
Rayes and his team built an ELAN driver that allows the DJ to synchronize club lights through the ELAN control system. He credited the ELAN platform for having the flexibility to allow such tweaks.
For audio, Gal Tech built two sound systems – one for background dining music, the other for club music. The ELAN control system automatically makes the switch between the two systems at midnight, transferring from 'background' music to 'club' music, said Rayes.
"None of the guests notice the change," he said. "There is no lapse in music. It's entirely seamless."
The PLAY Restaurant & Lounge is already making waves in Dubai's hospitality scene, said Rayes.
"The space leaves a lasting impression on guests, and much of that has to do with the technology that is perfectly integrated throughout the space," he said.