Extron Introduces TouchLink Pro Touchpanels with Built-In Control Processor
Extron TouchLink Pro control systems streamline system design by consolidating control system components and freeing up space to ease integration.
Leave a Comment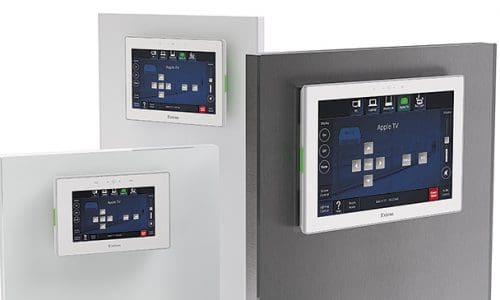 Extron recently introduced TouchLink Pro control systems, which company officials call "complete AV control solutions that combine a TouchLink Pro touchpanel with an integrated IP Link Pro control processor."
"This all‑in‑one approach streamlines system designs by consolidating essential control system components, freeing up space and easing integration," according to the Extron press release.
Through TouchLink Pro control systems, multiple devices can be controlled directly from the Ethernet port and the included port expansion adapter "makes it easy to add traditional control ports when needed, directly at the touchpanel," according to the Extron press release.
All TLC Pro control systems maintain the same stylish appearance and high performance of our TouchLink Pro touchpanels and are ideal for any environment requiring a customizable, all‑in‑one touchpanel control system.
"We designed these new TouchLink Pro control systems in response to customers' requests for a convenient, all‑in‑one touchpanel and control processor," says Casey Hall, VP of worldwide sales and marketing for Extron. "We've also added a number of control ports to the back of each touchpanel for convenient connections to a broad variety of AV devices."
The port expansion adapter provides control directly from the touchpanel, with two bi-directional RS-232 ports, one digital input, one IR port and two relays.
These new TouchLink Pro control systems can be customized using Extron GUI Designer software. GUI Designer offers ready-to-use templates for a wide variety of rooms and presentation environments. They are configured using Extron Global Configurator Plus or Global Configurator Professional software.
All TouchLink Pro control systems integrate with Extron's GlobalViewer Enterprise software for complete AV resource monitoring, management and control over a computer network. Features in future releases of TouchLink Pro control systems include support for programming, LinkLicense, and controller grouping.
More from Extron's TouchLink Pro Family
Last year, Extron released its TLP Pro 725M 7-inch wall-mount TouchLink Pro touchpanel.
Extron engineers redesigned the touchpanel "inside and out with a new, high-performance quad-core processor, eight times more memory, and a higher resolution, 1024×600 capacitive touchscreen built with scratch and smudge-resistant edge-to-edge Corning Gorilla Glass," according to the company announcement.
If you enjoyed this article and want to receive more valuable industry content like this, click here to sign up for our digital newsletters!