SAVI to Debut SAVI 3 Commercial Automation and Control System at Live Virtual Event
SAVI.Connect brings live demonstrations and discussions for a hands-on, immersive look at the new SAVI 3 system and its benefits for commercial AV.
Leave a Comment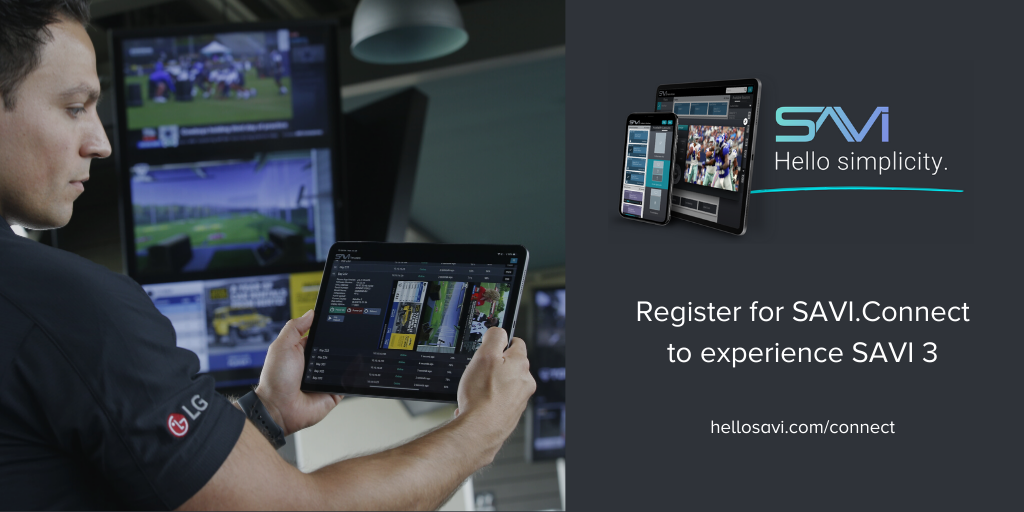 SAVI Controls today announced SAVI.Connect, the company's inaugural virtual event, is scheduled Aug. 26.
The event will mark the debut of SAVI 3 system and will include live presentations of the new technology and virtual booth tours to highlight features and use cases.
There will also be a live Q&A to demonstrate how SAVI 3 can help hospitality facilities, entertainment venues, sports arenas, restaurants, bars and other commercial businesses improve their AV systems.
"The commercial AV industry has made big strides in terms of technology and capabilities, but the user interface still leaves a lot to be desired," the SAVI Controls announcement says.
"Created by industry experts, SAVI 3 delivers a new vision for commercial AV installs with simple-to-use, flexible programming tools for streamlined installation that takes hours instead of weeks," according to the company announcement.
The SAVI 3 interface "is so easy to navigate that virtually no end user training is required," the company announcement says.
SAVI 3 "allows dealers to program directly from their laptop or tablet in the browser without needing to install software," according to the company announcement.
The new line of SAVI 3 hardware "reduces installation time and expense for commercial projects by eliminating the need for additional wiring and gear for installations," the company announcement says.
How SAVI 3 Will Help Integrators
SAVI.Connect will kick off on August 26 at 10 a.m. CDT with an unveiling of SAVI 3, followed by sessions from product experts and partners to discuss the capabilities that make the system radically innovative.
Dealers, partners and end customers are invited to register to learn more about how SAVI 3 "eliminates failure points with a reliable, robust solution that can support commercial projects of any size."
Interactive live demos will show off "sleek hardware and radically simplified programming software, as well as SAVI's intuitive, customizable end-user interface that can be used on any device," according to the SAVI Controls announcement.
The event will also highlight use cases and usability of the system and will wrap up with a live Q&A session featuring the SAVI team.
"We're switching up the old-school AV market by substantially improving the status quo for commercial AV control and automation, and by addressing the pain points affecting the industry with our latest technology," said SAVI Controls CEO John Dorsey in the announcement.
"The SAVI 3 system is going to revolutionize the market with a customer-first, immersive experience that is both easy to program and fun to use. Hosting SAVI.Connect is our way of sharing the excitement and passion for better commercial AV, which is ingrained in everything we do here at SAVI," he said in the company announcement.
If you enjoyed this article and want to receive more valuable industry content like this, click here to sign up for our digital newsletters!