Deliver More Value with LED Displays
Expand your expertise with indoor and outdoor display options
Content from our Sponsor
Leave a Comment

Between 2019 and 2024, the global digital signage market is expected to grow by 7.3%, from $20.8 billion to $29.6 billion.
But to truly succeed in this growing market, businesses need to adapt and grow. One strategy? Become a trusted partner and one-stop shop for all video display needs.
Few small and mid-size sign companies and AV integrators offer both outdoor and indoor installations. By becoming an expert in both, companies can penetrate new sales regions, develop stronger relationships with customers, and deliver more value.
Below, we explore a few of the differences between indoor vs. outdoor LED and considerations when looking to expand your offering. For a more in-depth report on this topic, download our guide to indoor vs. outdoor LED displays.
Consider the digital panel itself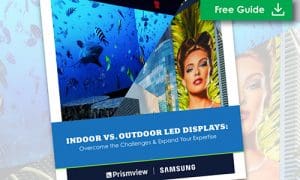 In the AV integration sector, LCD technology is still the industry standard for indoor. LCD became the go-to technology for AV integrators, thanks to its ultra-high resolution, but what you gain in image quality, you're likely to lose in brightness levels.
That's why LED is becoming more common for indoor use. Unlike LCD, LED bulbs are front and center – giving LED a huge advantage in visibility and making it the preferable choice.
Here's the good news: For experienced integrators, learning a new display technology isn't rocket science.
"When all is said and done, there's a rough equivalency between an LED display and a TV monitor," said Steve Sluder Sr., Prismview's System Integration Manager. "So it's generally not a big hurdle to cross."
Content is king
Creating content for LED displays requires a clear understanding of pixel pitch and conversion. Indoor displays tend to have a much tighter pitch. Meaning content created for indoor displays don't directly translate for outdoor use.
Learning pixel pitch can take time, but there are many resources to help with unpacking the ins and outs of how it applies to LEDs.
Without proper permits, there is no display
Of all the obstacles that come with outdoor displays, permitting may be the greatest. Here are what we call the three Rs to permitting success:
Research: Spend time reading up on permitting codes both wide-ranging and specific to the project's location.
Reach out: Connect with the planning directors and local officials in charge of governing sign projects within the community. This helps gain trust and respect for your project.
Rely: Turn to your sign manufacturer for guidance. Prismview is a trusted resource when it comes to permitting and can offer tips on tackling paperwork and planning board hearings.
For installing outdoors, look for helping hands
"Outdoor displays do require a considerable amount more in terms of planning and engineering," said Sluder. "It's the one thing I think that does tend to turn people off, but it's a roadblock that can be overcome."
The best advice is to either employ an experienced structural engineer (or team of structural engineers) inhouse or partner with a third-party engineering firm.
The worst advice is to try and go it alone. Doing so could sacrifice the project permit, provoke lawsuits, or worse: endanger workers on the ground or even members of the community.
It's time to bridge the gap
The digital signage industry is changing. The right products can pave the way to a small business' success, and the best products can promise this success continues for generations.
Prismview knows a thing or two about this kind of lasting expertise. As a longtime player in the industry, Prismview can help channel partners understand every aspect of both the outdoor and indoor digital signage process.
For the full report, download our free guide to indoor vs. outdoor LED displays.