How Digital Signage Fits into Upcoming Building Trends
What role will digital signage play in shopping malls, smart cities, municipalities, retail, and other promising markets? Dynascan answers.
Leave a Comment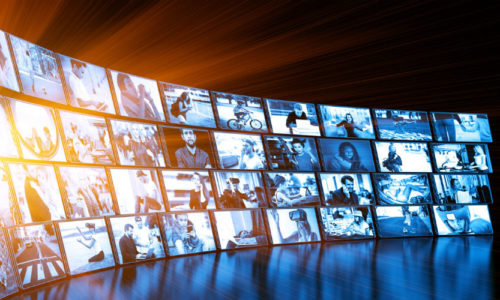 Will shopping centers and malls regain prominence in the coming years? If so, how will digital signage fit into these areas?
Shopping centers have undergone a transformation in recent years from simple collection of stores bookended by two or more anchor stores to well-planned community destinations that comprise dining, entertainment, and shopping.
Digital signage plays a key role in this transformation. First, the displays generate additional revenues from advertising, complementing the operator's main revenue from rents. At the same time, digital signage offers a true value to visitors by displaying pertinent information on activities, promotions, new stores openings, along with a range of wayfinding information.
Adding data capture and analytics to the digital signage allows mall operators to gain critical insights into their customer base, traffic patterns and dwell times, enabling them to readjust their tenant mix to better serve their audience base.
How can digital signage help retailers get shoppers back inside their stores as things open up again?
After more than a year of lockdowns and limited access to stores, retailers inevitably feel the pressure to restore traffic inside their physical locations. While online shopping has alleviated the loss of income for some retailers, a physical presence is needed more than ever to maintain brand loyalty and increase revenue.
Window-facing digital signage is the most effective and economical way to bring visitors back inside, enabling retailers to communicate and update the public instantly on new promotions, sales and trends. This is exceptionally helpful in industries such as fast fashion, in which styles are changing out on a continuous basis, and restaurants, where daily specials and new menu additions can be visually displayed.
A digital medium also allows retailers to match the speed of their in-store advertisements with those of their online shopping platform, and data collected from online engagement can quickly be applied to tailor in-store messaging based on online trends.
Retailers have also come to realize that displays in larger sizes, such as 65, 75, and 85", offer a better reach beyond the immediate vicinity of the storefront—even attracting customers from across the street—provided they are bright enough to overcome the ambient light coupled with the glare and reflection of the store window. While the initial investment may be higher for larger displays, the outcome of bringing more shoppers inside pays off in time.
How has online shopping changed the way retailers need to proceed in order to stay relevant?
Retailers understand that online shopping offers additional convenience to customers but does not negate the need for physical retail—it supplements it.
By its very nature, online shopping provides retailers with key data on shoppers and better predictions for inventory management. If combined with in-store traffic measurement and interactive POP displays, digital signage can help fill this gap by providing physical retailers key analytics and a better understanding of their customers.
Additionally, with online ordering and in-person pickup becoming increasingly popular, we have seen some locations moving to a "hybrid" environment that allows local brick and mortar locations to maintain more inventory resulting in shorter lead times for online shoppers.
What should integrators be looking for in terms of digital signage that will be in outdoor, high-brightness environments?
Outdoor digital signage solutions must withstand wide temperature variations, rain, snow, dust, and wind conditions—not to mention the unrelenting heat generated by solar load.
Components inside the solution are sensitive to extreme temperatures and humidity and could fail—sometimes immediately—but often over time should their operating conditions be exceeded. All the while, the outdoor solution should not require excessive maintenance and be easily serviceable in the field.
After many years of research and testing, DynaScan has developed proprietary outdoor solutions that address these challenges. With weather resistant IP ratings built directly into our full outdoor displays, we have given our integration partners one less thing to worry about when designing and deploying outdoor enclosures.
Obviously, digital signage is only effective and engaging if it can be seen. Display brightness is a critical factor in any application that will see direct (or even indirect) sunlight. With brightness levels as high as 5,500 nits, DynaScan high brightness displays are specifically designed to be clearly visible in direct sunlight without sacrificing color quality.
Will digital signage play a part in smart cities?
Digital signage is at the center of smart city initiatives. Without the visibility and engaging aspect of digital signage, the public might not appreciate the benefits of smart cities and might even perceive them as an invasion of their privacy.
However, with the right approach, digital signage can be an excellent facilitator between the public and city services by providing timely communication about city services. With dynamic digital signage, cities can easily educate their communities about local events and news, as well as promote local businesses and city services.
The public is also able to interact with the city, such as searching directories, downloading applications, and contacting emergency services when needed. Municipalities that manage the digital signage can gain valuable information about their community, including what they are interested in learning more about, which can be used to help guide them in planning new content based on their community's interaction.
Is there a way for municipalities that implement digital signage as part of a smart city plan to earn supplemental revenues using that digital signage?
Most smart city digital networks include a revenue-sharing element from advertising. As a consequence of the COVID-19 crisis, cities have been experiencing a decrease in tax revenue such as sales and hotel taxes, and an increase in spending such as rental assistance.
Digital signage offers a positive win-win solution for both the city and the struggling businesses by helping the city increase their income with advertising revenue and giving local businesses a platform to promote their products and services—a concern that is more relevant and time sensitive than ever before.