Camera Corner & SNA Displays Sets Up Digital Signage Network at Forest County Potawatomi
The Forest County Potawatomi's community center includes 13 new LED displays and around 22 million pixels of digital canvas from SNA Displays.
Leave a Comment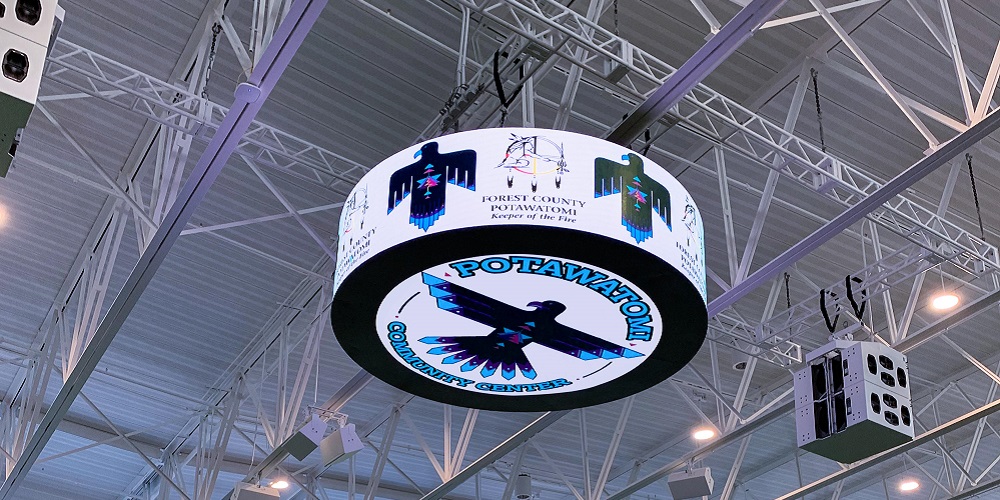 Photos & Slideshow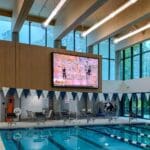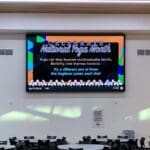 ---
The Forest County Potawatomi opened a community center that includes a network of 13 interior LED video screens from N.Y.-based SNA Displays' BOLD Interior display series. Located in Crandon, Wis., the 105,000-square-foot community center is a hub for cultural education, recreation, athletic training, competition, wellness and social events.
Camera Corner Connecting Point (CCCP), a technology integrator specializing in audio-visual solutions, managed the project and helped bring Forest County Potawatomi's vision to life.
"From the beginning of this project, there were four main goals," says Scott Tomashek, senior vice president of AV strategy at Camera Corner. "Deliver cutting-edge display technology, integrate flexible AV solutions, make the entire system easy to operate for community center users, and most of all, incorporate everything into the facility's existing aesthetic rather than detracting from it. Our teams have done a great job in accomplishing those goals."
The building's design was informed by the Forest County Potawatomi culture. It features two levels that follow the natural grade to lessen environmental impact. Its floorplan is also inspired by the form of an eagle in flight.
Among its wide array of features, the community center houses a 20,000 square-foot wood court gymnasium, 20,000 square-foot fieldhouse with synthetic field turf and an 8,000 square-foot pool. Additionally, the fieldhouse serves as a training and competition venue for field sports such as lacrosse and as a central venue for tribal events. It has a seating capacity for up to 1500 spectators. Here, the new LED screens function as scoreboards to share information with visitors.
Fieldhouse LED Chandelier
The most eye-catching LED display feature in the community center is the fieldhouse's digital chandelier. The 2.9 mm pixel pitch center-hung display has two main digital signage elements. These include an outward-facing, 360-degree ring display and a circular screen that actually faces down toward the field. Combined, the digital chandelier contains approximately 2.3 million pixels.
Also Read: SNA Displays Adds LED Center-Hung Feature to Columbus Blue Jackets Locker Room
Gymnasium LED Chandelier
After installing the fieldhouse chandelier, the Forest County Potawatomi decided to add a second center-hung to the digital signage network in the gymnasium. The gymnasium digital chandelier consists of only a ring section. Like the fieldhouse center-hung display, it also has a 2.9 mm pixel pitch.
The initial digital chandelier's original purpose was to provide creative content during events. However, the team implemented software upgrades so that both center-hung features can show scores for live events.
Common Area and Pool
The common area welcoming visitors to the center now includes three wall-mounted, high-definition 2.5 mm interior displays. Additionally, the architectural elements of the common area required multiple screens so all visitors had a clear view of the video content. Camera Corner thus provided a cloud-based digital signage network that allows each screen to show synchronized or unique content. The video-over-IP routing system also allows for flexible usage of the screens for the space.
The community center's pool area has two 2.5 mm displays used for exercise videos, informational purposes, and family night activities. Its LED display panels and internal components are thus conformal coated to withstand the high humidity levels in the space.
Community Center LED Displays
Display Asset Pitch Size (h x w) Resolution
Fieldhouse Center Hung 2.9 mm 3'3″ x 39'4″ 336 x 4,032*
Turf field (2) 2.5 mm 8'10" x 15'9″ 1,080 x 1,920
Gymnasium

Center Hung 2.9 mm 2'5″ x 24'7″ 252 x 2,520
Main 2.5 mm 8'10" x 15'9″ 1,080 x 1,920
Courts (3) 2.5 mm 4'5″ x 7'10" 540 x 960

Commons

1 2.5 mm 10'4″x 18'4″ 1,260 x 2,240
2 2.5 mm 8'10" x 15'9″ 1,080 x 1,920
3 2.5 mm 8'10" x 15'9″ 1,080 x 1,920

Pool (2) 2.5 mm 8'10" x 15'9″ 1,080 x 1,920
*Does not include downward-facing circular display
Peerless-AV engineered all mounting systems for the wall-mounted displays on campus. Each mounting system has a custom design with high engineering tolerances to ensure a proper fit during the installation process.
Polar Focus also provided design and engineering services for the intricate mounting structure for hanging the video circles in the fieldhouse and gymnasium. Moreover, the venue's roof structure slanted upward from the center of the room and also from front to back. Thus, it required a unique solution to suspend the large center-hung video display systems.
Overall, the community center project includes 13 new LED displays and approximately 22 million pixels of digital canvas.
Click on "View Slideshow" on upper-right corner to view images of SNA Displays LED chandeliers and screens at Forest County Potawatomi.
If you enjoyed this article and want to receive more valuable industry content like this, click here to sign up for our digital newsletters!