ClickShare Customers Can Get 6 Months of Signagelive For Free
Signagelive is offering ClickShare customers a free six-month Signagelive Standard License for each of their ClickShare devices.
Leave a Comment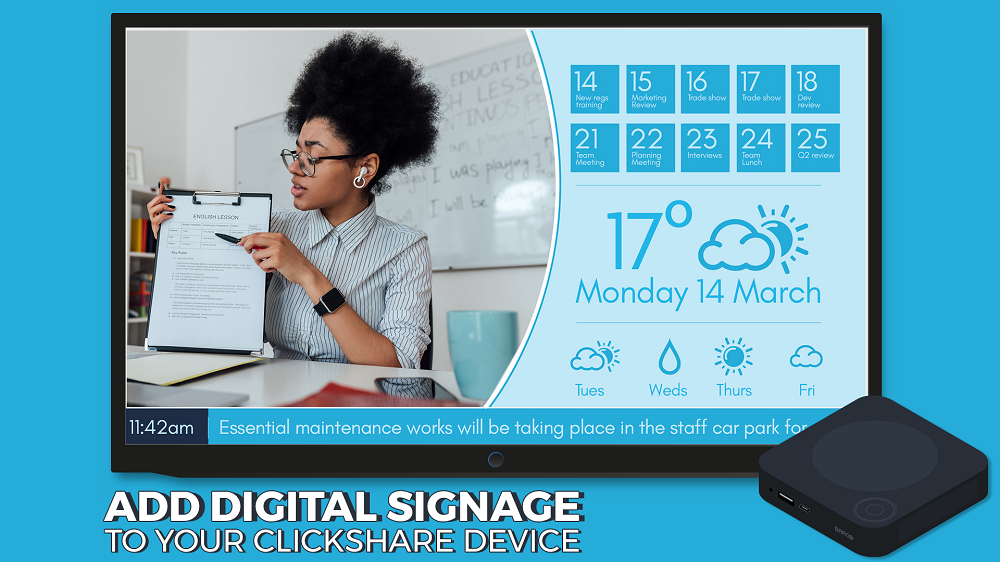 Signagelive, the U.K- headquartered, cloud-based digital signage software provider is offering a free six-month digital signage solution for anyone using ClickShare Present and Conference devices, managed by Barco's XMS Cloud Platform.
Signagelive will offer ClickShare customers a complimentary six-month Signagelive Standard License for each of their compatible ClickShare Present and Conference wireless collaboration systems.
For companies with over 100+ ClickShare devices, the only cost throughout the six-month free license period will be for the Signagelive support package. This package is required to facilitate the license activation and assist with the necessary training, says the company.
With Signagelive, ClickShare Present and Conference devices transform into enterprise-grade, all-in-one collaboration and communications systems. With this customers can then wirelessly collaborate and deliver their digital signage.
Running from April 1 through June 30, the Signagelive global initiative is, according to Signagelive CEO, Jason Cremins, another way to support multi-sector digital transformation. Cremins hopes that this offering for ClickShare customers will kick-start digital strategies put on hold by organizations.
Download: Large-Format Displays Present a Lucrative Opportunity
He continues, "…digital signage is yet to realize its vast market potential; with some businesses still deterred by the time, money and resources that it can take to run and maintain. Alleviating pressure on IT and marketing departments is precisely the challenge we aim to overcome, with a cost-effective solution that has fewer moving parts, requiring no additional hardware or software."
ClickShare, combined with Signagelive, will thus deliver a turnkey workplace communications system. Yannic Laleeuwe, segment marketing director workplace at Barco adds, "We're proud to finally kick-off the partnership with Signagelive. The integration of the content management platform with ClickShare will enable businesses to strengthen their digital communications strategies and optimize the management and full potential of their meeting rooms."
Simplified Digital Workplace Communications
With Signagelive, organizations can maximize the success of their overall workplace communications. The Standard License also provides access to 500+ content assets. This makes it easy for anyone to design professional-looking notifications.
Signagelive helps facilitate the communications process and immerses employees in all the most important company news. This includes publishing content about business updates and new starter announcements or sales forecasts.
Teams are able to deliver communications in any format from .jpegs and .pngs to video files through third-party platforms, such as YouTube and IBM Cloud Video.
The cloud-based digital signage platform enables content to be scheduled from anywhere. This can be either as company-wide, all-meeting room notifications or as targeted messaging for individual teams in specific meeting rooms.
Meeting Productivity
Signagelive can also help take meeting productivity to the next level, says the company.  The free-to-use integrated calendar applications make it easier to book meeting rooms. Here, teams can display their Google and Microsoft Office company calendars to check, at a glance, the availability of rooms, as well as individual staff members.
Other free applications, such as Google Slides and Sheets offer further support. To help staff prepare for meetings, the platform allows teams to create and share on-screen pre-meeting discussion point reminders. It also facilitates post-meeting debriefs.
For setup, the Signagelive-powered ClickShare solution requires users to enable Signagelive via the ClickShare XMS. Here, they can then configure their ClickShare Present or Conference device within the Signagelive user interface.
If you enjoyed this article and want to receive more valuable industry content like this, click here to sign up for our digital newsletters!