ScreenCloud Launches ScreenCloud OS
ScreenCloud OS powers employee communications and engagement channels and ​​enables IT to transform deskless workplaces into digital workplaces.
Leave a Comment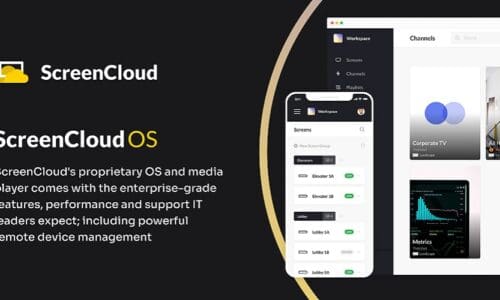 ScreenCloud, the Los Angeles, Calif.-based digital signage provider, announced the launch of ScreenCloud OS, the all-in-one digital signage operating system that powers employee communications and engagement channels, and ​​enables IT to transform their deskless workplaces into digital workplaces of the future.
Since 2015, ScreenCloud says it has recognized the untapped potential for screens and tailored its solutions to serve 9,000-plus customers. While the company has long-championed the use of inexpensive, consumer-grade devices like the Amazon Fire TV Stick for smaller networks with success; its growing enterprise-level client base requires technology purpose-built for the sophistication of digital signage at scale.
This technology is also imperative in reaching the global deskless and therefore digitally detached workforce. Working across industries like manufacturing and logistics, these employees don't have regular access to traditional mediums. These include email, collaborative work applications and intranets.
In order to unlock the true potential of digital displays and corresponding communications for current and future clients, ScreenCloud designed its own operating solution. Based on a stripped back version of Linux, it addresses these challenges.
Also Read: Microsoft Uncovers Vulnerabilities In 25 Widely Used IoT Real-Time Operating Systems
Key Features
The OS comes bundled on a media player device supporting the latest web standards, and includes full remote device management capabilities. It is a powerful but easy-to-use solution. It also has the following features:
Plug-and-Play Capabilities: Running on the high-performing Station P1 Pro media player (2X faster than the Amazon Fire TV Stick and up to 4X more robust), the ScreenCloud OS software comes pre-installed on the device, ensuring seamless set up and flexibility across all screens.
Fast, Multi-Screen Deployment: While other operating systems require up to 20 or 30 minutes to set up just one device, ScreenCloud OS can deploy in just 15 seconds — booting straight up for users to start immediately rendering their demanding content.
Remote Device Management (RDM): Once rolled out, users gain access to the RDM Dashboard within ScreenCloud OS. This allows them to check on their devices and troubleshoot them remotely. It also includes pushing over-the-air updates to keep everything up to date with ease.
Enterprise-Grade Networking & Security: ScreenCloud OS provides a wide range of network compatibility options, including support for enterprise networks, custom proxy, DNS, NTP and certificates. It also has automatic security updates that make it easy for IT managers to comply with their network standards and security policies.
"We engineered ScreenCloud OS with the needs of IT in mind," says Mark McDermott, co-founder and CEO of ScreenCloud. "IT departments are often the ones assigned to launch and manage these systems, and it can be an incredibly taxing endeavor. [This is] especially for large enterprises with hundreds or even thousands of devices across each of their locations. By building a robust, remotely managed operating system designed specifically for screens, we significantly reduce the dependency on having an IT professional on site, including costly field technicians. [And we] give back valuable time to these professionals to focus on what matters most to them."
He continues, "In addition to scalability, we're extremely excited to bring longevity for clients as well. Through over-the-air updates that deploy new features, the software will improve over time for all customers. As we continue to innovate, this will allow us to further push the envelope of how digital signage can not only improve employee and business performance across the world, but give our clients a way to fully embrace digital transformation in the deskless workplace like never before."